​Blu-rays boost reputations of forgotten films
by Christopher P. Jacobs | .(JavaScript must be enabled to view this email address) | Cinema | March 29th, 2017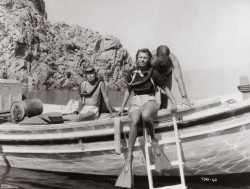 A few big-name stars or even an all-star cast certainly do not guarantee that a movie will be top-notch entertainment, but are usually an effective way to attract viewers. Sometimes it might even be a warning that the story may have difficulties holding interest on its own or is otherwise just a routine example of its genre.
With most movies, it's generally best if one watches without preconceived expectations, as overly-hyped films may easily be disappointing and overly-disparaged films might come off as minor classics or at least guilty favorites.
"Boy on a Dolphin" (1957) is the film that introduced young Italian superstar Sophia Loren to American audiences. The male leads were major stars Alan Ladd and Clifton Webb.
The film is a pleasant romantic archaeological adventure with Loren as a beautiful Greek sponge diver who discovers an ancient statue. She is torn between working with a rich but ruthless art collector (Webb) or a handsome and more ethical archaeologist (Ladd) to dispose of the artifact. Loren is wonderful in her role, and both Ladd and Webb give strong if predictable performances in their typical screen personas.
The lovely widescreen color cinematography by Milton Krasner is as much a star as the actors, as is the effective stereophonic recording of the Oscar-nominated score by Hugo Friedhofer.
Fans of the stars and anyone with at least a passing interest in ancient and/or modern Greece should find the film appealing, especially in Kino's fine Blu-ray edition, which has excellent overall image quality and sharpness (although colors sometimes seem slightly yellowish) and quite impressive stereo surround sound (if the DTS-HD 2.0 track is played through a Pro-logic decoder). The only bonus features are a standard-definition trailer plus trailers to five other Sophia Loren films.
BOY ON A DOLPHIN on Blu-ray -- Movie: B / Video: A / Audio: A / Extras: D+
"What a Way to Go!" (1964) is a good example of a lavish Hollywood would-be blockbuster comedy.
Seen over a half-century later, it can be appreciated for its accomplishments (it earned well-deserved Oscar nominations for some spectacular color art direction and Edith Head's often over-the-top costume designs), as well as its amazing all-star cast. On top of that are some unexpected Hollywood satire and dark comedy.
Shirley MacLaine gets involved in romantic relationships with Dick Van Dyke, Dean Martin, Paul Newman, Robert Mitchum, Gene Kelly, and Robert Cummings.
Her problem is that whenever she gets married, her husband soon works himself literally to death, leaving her an ever-wealthier widow. Fed up with all that money but thwarted personal fulfillment, she tries to give $200 million to the IRS on April 1st, and when they realize it's not an April Fool's joke she gets sent to psychiatrist Bob Cummings.
While it's far from a perfect film, and tends to overdo the slapstick at times, "What a Way to Go!" is a great treat for any movie buff familiar with its stars. The script is by the creators of "Singin' in the Rain" (and there are some obvious direct parodies of that film in the Gene Kelly sequence).
Director J. Lee Thompson, better-known for "The Guns of Navarone," the original "Cape Fear," and a couple of the original "Planet of the Apes" films, here does a decent job handling what looks more like a Blake Edwards comedy.
Kino's Blu-ray has great picture quality spotlighting Leon Shamroy's beautiful color widescreen cinematography, and the mono sound is fine. The only bonuses are a trailer and trailers to another Paul Newman film, another Robert Mitchum film, and another 1960s comedy.
WHAT A WAY TO GO! on Blu-ray -- Movie: A- / Video: A / Audio: A / Extras: D