​Bob Hope film classics new to Blu-ray
by Christopher P. Jacobs | .(JavaScript must be enabled to view this email address) | Cinema | July 19th, 2017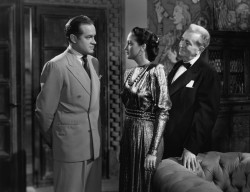 Fourteen years ago this month, entertainment icon Bob Hope died at age 100. Born in 1903, Hope performed in vaudeville and theatre in the 1920s and 30s, moved into radio and films in the 1930s, and by the 1940s was a major movie personality known just as much for his numerous USO tours to entertain military troops around the world.
He also was noted for frequently hosting the annual Academy Awards ceremonies from 1939 through 1977. From the 1950s through 90s he did more television and charity appearances, phasing out his film roles after 1972 except for a few cameo appearances.
Several relatively minor Bob Hope films from the 1950s and 60s have been on Blu-ray for some time, mostly from Olive Films. His entertaining musical short "Paree Paree" (1934) is an HD bonus on Warner's Blu-ray of "Silk Stockings" (1957).
Earlier this month four of Hope's best films from the late 1940s and early 1950s came out in impressive Blu-ray editions from Kino Lorber and a fifth is scheduled for late this summer or fall. The only bonus feature on each is a four-minute promo with clips from the five films, except for one that also includes an audio commentary.
"My Favorite Brunette" (1947) is arguably the best of three enjoyable comedies in a series including "My Favorite Blonde" and "My Favorite Spy." Here he plays a baby photographer who longs to be a private detective, as his office is next door to a classic hardboiled private eye played in a cameo by Alan Ladd.
When Ladd goes out of town, Hope is mistaken for the detective and gets drawn by client Dorothy Lamour into a complicated case that ultimately gets him condemned to Death Row (where the film begins and unfolds in flashback).
Peter Lorre and Lon Chaney Jr. are along to supply appropriately intimidating adversaries. It's a strong, solid Hope comedy with his usual topical and movie in-jokes, as well as a fun satire on film noir.
Kino's Blu-ray has a very fine HD transfer, with some minor wear in the print. Audio is also very good.
MY FAVORITE BRUNETTE on Blu-ray -- Movie: A- / Video: A / Audio: A / Extras: D-
"The Lemon Drop Kid" is a very entertaining remake of the classic Damon Runyon story about a con-man forced to pay off a gambling debt to a mobster (Fred Clark) before Christmas, so he organizes a Santa Claus charity to collect money for an old ladies' home, planning to use as much as he needs for his debt.
Then another gangster (Lloyd Nolan) moves in on his scam, complicating things. The classic Christmas song "Silver Bells" made its debut in this film.
Picture quality is truly outstanding on this Blu-ray, looking like it was shot yesterday, and sound is good as well.
THE LEMON DROP KID on Blu-ray -- Movie: A- / Video: A+ / Audio: A / Extras: D-
Some of Hope's most beloved films are the seven "Road" pictures he made with Bing Crosby. The first four from the early 1940s are on DVD from Universal -- but not Blu-ray -- and are the best in the series, especially the third and fourth entries ("The Road to Morroco" and "The Road to Utopia," but the fifth and sixth films are also well up to the previous standard and the later "Road to Hong Kong" makes a very good effort (and is on Blu-ray from Olive Films).
"The Road to Rio" (1947) might be a minor step down from the previous two road pictures, but is still lots of fun, packed with in-jokes and several songs, plus various intrigues and romance. After stowing away on a ship to Brazil to escape consequences for accidentally burning down a circus, they get mixed up with an heiress (Dorothy Lamour) who is literally under the hypnotic spell of her sinister aunt Gale Sondergaard.
This Blu-ray is a good transfer of UCLA's restoration of the film, but is often slightly dark compared to the others. Sound is good.
THE ROAD TO RIO on Blu-ray -- Movie: A- / Video: A- / Audio: A / Extras: D-
"The Road to Bali" (1952) is their only "Road picture" in Technicolor, with the boys on the run as usual, becoming deep sea divers hired to retrieve a treasure for the scheming cousin of an island princess (Dorothy Lamour), naturally getting into more than they bargained for.
It follows their standard popular formula of adventure, romance, pleasant songs, complications, and tons of gags, especially movie-related in-jokes. This one includes several surprise guest star cameos, as well as a very funny end title sequence breaking the fourth wall.
Kino's Blu-ray has a beautiful sharp and richly colorful HD transfer with very good sound. This is the disc that includes an audio commentary by enthusiastic film historians.
THE ROAD TO BALI on Blu-ray -- Movie: A- / Video: A / Audio: A / Extras: C+
A decade after "The Road to Bali," Hope and Crosby re-teamed for "The Road to Hong Kong" (1962), a pleasant conclusion to the series that blends spy intrigue and even science-fiction as they wind up in a space capsule.
A young Joan Collins is the femme fatale here, although Dorothy Lamour does make a cameo appearance. There are also brief bits by the great Peter Sellers and Robert Morley as well as other celebrity cameos.
Olive's Blu-ray, which came out in early 2015, looks excellent and sounds good, but has no bonus features except a trailer (in HD).
THE ROAD TO HONG KONG on Blu-ray -- Movie: B / Video: A / Audio: A / Extras: D
Hope fans may also want to check out the good-looking Olive Blu-rays of his somewhat lesser productions (in approximate order of entertainment value): "My Favorite Spy" (1951), "I'll Take Sweden" (1965), "The Facts of Life" (1960), "Off Limits" (1953), and "Boy Did I Get a Wrong Number" (1966).