​Brent Brandt bringing a little bit of Hollywood to town
by Greg Carlson | .(JavaScript must be enabled to view this email address) | Cinema | September 6th, 2017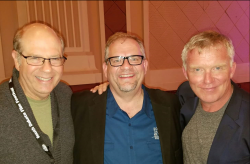 On Wednesday, September 13, actor and filmmaker Sean Astin will visit the Fargo Theatre to share conversation about his life in the movie industry. Cinephile, film festival producer, and enthusiastic LaserDisc collector Brent Brandt will co-host the event. Brandt talked movies with HPR film editor Greg Carlson.
High Plains Reader: After co-founding the South Dakota Film Festival and living and working in Aberdeen for years, you recently returned to Fargo-Moorhead. What brought you back?
Brent Brandt: Fargo-Moorhead has always been home to me. I went to MSUM and lived here for almost twenty years before a job brought me to South Dakota.
South Dakota was a great place to raise my family but I was excited to make the move back to the area when a job opportunity came up. I'm thrilled to be back in Fargo-Moorhead!
HPR: When did you fall in love with the movies?
BB: I can remember movies being a part of my life early on. I grew up in a rural community with no local theater, so when I did get to go to the movies it was quite a treat. I would watch old movies on television whenever I had the chance, sometimes very late at night. That's still my M.O.
At MSUM, I took film professor Ted Larson's New Hollywood course, which featured great stuff like "Annie Hall," "Jaws," "Taxi Driver," and "Rosemary's Baby." Ted was so passionate and knowledgeable about cinema, and it was exciting to be involved in the conversation.
HPR: What are some of your favorite moviegoing memories?
BB: I have so many, like seeing "Star Wars" on the big screen for the first time as a kid, watching "Die Hard" two times on opening night with a college buddy, or taking my son and daughter to "Toy Story" when they were young and "The Room" now that they are both in college. "The Room" is such a bad movie and so much fun to watch.
HPR: Through your involvement with the SDFF, you brought guests like Kevin Costner, Graham Greene, Molly Ringwald, Cary Elwes, Anthony Michael Hall, and Stephen Tobolowsky to Aberdeen.
BB: It's a thrill bringing that little bit of Hollywood to town. I get a great deal of joy seeing people get so happy meeting these movie stars and hearing stories from them. When Cary Elwes says "As you wish" to a fan who asks them to sign a copy of "The Princess Bride" DVD or Molly Ringwald hugs someone that says "Pretty in Pink" is their all time favorite movie, I'm pretty happy.
HPR: Can you tell me about HERO and "An Evening with Sean Astin"?
BB: HERO stands for Healthcare Equipment Recycling Organization. Our mission at HERO is to collect and re-distribute donated healthcare supplies to those in need. We help people all across the region and also around the world with mission trips.
Working together with the Fargo Film Festival on a fun event like this allows both of our organizations introduce what we are about to new people and raise some much-needed funds. It will be a great evening, hearing Sean Astin share some amazing behind-the-scenes Hollywood stories.
HPR: Best Sean Astin role: Mikey Walsh in "The Goonies," Daniel "Rudy" Ruetigger in "Rudy," or Samwise Gamgee in "The Lord of the Rings" trilogy?
BB: "Rudy." You wouldn't believe how many times I've cried watching that movie.
HPR: What are you most looking forward to asking Sean Astin?
BB: I'm really excited to hear details from the sets of the three movies you mentioned, and several others. Sean is also in the next season of "Stranger Things," so I'm curious what he has to say about being on that show, if he is allowed to say anything at all before it comes out.
Sean had such an interesting childhood -- he is the son of Oscar-winner Patty Duke and John Astin, who most of us know as Gomez on "The Addams Family." I'm curious what it was like to grow up in that environment, being a child actor, and how he has been successful in the business through adulthood.
I also want to know what happened to the map from "The Goonies," the Irish jacket from "Rudy," and the One Ring from "The Lord of the Rings."
Tickets for "An Evening with Sean Astin" are now available at etix.com.
IF YOU GO
An evening with Sean Astin
Wednesday, September 13, 7pm
Fargo Theatre, 314 N Broadway, Fargo