​Crime, passion, and both together in new Blu-rays
by Christopher P. Jacobs | .(JavaScript must be enabled to view this email address) | Cinema | June 21st, 2017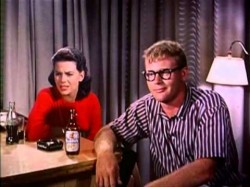 A couple of classic courtroom dramas and a romantic melodrama about theatrical ambition, all adapted from popular novels of their day, are among the recently released Blu-rays by Kino-Lorber. All were made by major filmmakers with famous stars, yet each is relatively obscure today and deserves to be better-known.
"Marjorie Morningstar" (1958) was a best-selling romantic saga by noted author Herman Wouk, probably best-remembered today for "The Caine Mutiny" and "The Winds of War," which became a hit film and popular TV mini-series, respectively.
Wouk published his latest novel in 2012 at age 97, a memoir in 2015 at age 100, and is still active at age 102.
Natalie Wood stars as the title character, a teenage Jewish girl who longs for a career as an actress and changes her name from Morgenstern after meeting the dashing director of a theatre company at a summer resort (Gene Kelly), who himself is hoping for a more lucrative career doing musicals for Broadway.
Naturally they fall in love and the film explores the conflict of following one's heart vs. the pressures of practical reality, family, and Jewish heritage over several years. Kelly gets in one good dance number near the beginning, but the film centers around Wood's character.
Wood dominates the picture, torn between sticking by the more worldly, self-centered Kelly and taking various other opportunities as their situations become more complicated. An all-star cast of character actors (including Claire Trevor, George Tobias, Martin Balsam, Ed Wynn, and Everett Sloane) flesh out the other people in their lives. Fitting nicely into the mix are Carolyn Jones and Martin Milner as the more daring best friend and a promising young playwright also in love with Marjorie.
Kino's Blu-ray displays good film grain structure and color, although splotches of emulsion damage periodically show up as colored spots. Audio dynamic range is quite good. The only bonus feature is a gallery of six trailers to other romantic melodramas of the era.
MARJORIE MORNINGSTAR on Blu-ray: Movie: B+ / Video: A / Audio: A / Extras: D
"Compulsion" (1959) was based on Meyer Levin's award-winning novel of the same name that fictionalized the famous Leopold-Loeb murder case of 1924 (which also inspired the Hitchcock film "Rope"), but was carefully based on the actual facts in the manner of later nonfiction novels like Truman Capote's "In Cold Blood" and Norman Mailer's "The Executioner's Song." To avoid lawsuits, names of characters in the film are all changed.
In the first half of the film, director Richard Fleischer effectively builds the characters of its two college-student protagonists (Dean Stockwell and Bradford Dillman), both from wealthy Chicago families and mentally brilliant, who decide to commit a murder as an intellectual exercise. The murder itself is not depicted on screen (to avoid disturbing 1950s audiences), but the detailed investigation quickly becomes the main focus, with Leopold and especially Loeb basking in the notoriety of their crime, even giving tips to the detectives.
Once evidence points to them, thanks to a clue discovered by their cub-reporter classmate (Martin Milner), the last half of the film settles into a courtroom drama. Orson Welles then pretty much takes over the movie as defense lawyer Jonathan Wilk, the fictionalized version of Clarence Darrow, who winds up with a gripping, heartfelt ten-minute speech against capital punishment (the actual legendary closing argument went on for twelve hours).
Also notable in the cast are E. G. Marshall as the District Attorney and Diane Varsi as Milner's girlfriend and a sympathetic friend to Stockwell.
The strong black-and-white CinemaScope cinematography is beautifully rendered in Kino's HD transfer, and the sound is also very good. Bonus features include a good, if sometimes sparse audio commentary and a trailer, plus trailers to three other suspense thrillers.
COMPULSION on Blu-ray -- Movie: A- / Video: A / Audio: A / Extras: C+
In "The Paradine Case" (1947), made the year before his take on the Leopold-Loeb case, "Rope," Alfred Hitchcock explored various techniques, character types, and themes he would continue to use. However, due to the overall control and final cut by producer-screenwriter David O. Selznick, the film often looks as much or more like a typically lush Selznick romance than a dryly satiric Hitchcock mystery.
The story begins with the beautiful Mrs. Paradine (Alida Valli) being arrested for poisoning her illustrious (and wealthy) blind war-hero husband.
Taking her case is London's star defense attorney (Gregory Peck), who despite being happily married to a supportive blonde wife (Ann Todd), very quickly becomes personally obsessed with his dark and emotionally cold client, including visiting her country estate to learn more about her.
There is also a strange and complex relationship between her and her late husband's darkly mysterious valet (Louis Jourdan) that Peck must unravel to discover the truth.
Along the way are many Hitchcockian touches, often critiques of the British patriarchal class system, but Selznick makes sure the romantic elements are the main focus.
Peck does not come across as very British but makes an effective emotionally confused, lovesick lawyer. The rest of the cast is fine, including Charles Laughton as the judge, Ethel Barrymore as his wife, and Charles Coburn as another lawyer.
This 114-minute re-release cut is a good 20 minutes longer than the television cut but is still about 10 minutes shorter than an earlier theatrical cut, which itself was seven minutes shorter than the 132-minute premiere version.
Picture quality on Kino's Blu-ray is mostly very good but sometimes shows video noise in the blacks. Audio is good. The generous set of bonus features includes a fine, fast-paced audio commentary by two Hitchcock experts, an isolated music score, separate interviews with Hitchcock by director-fans François Truffaut and Peter Bogdanovich, interviews with two of Gregory Peck's children, a 1949 radio play, a restoration demo, and a trailer.
THE PARADINE CASE on Blu-ray -- Movie: B / Video: A- / Audio: A- / Extras: A-