​Dark, troubled times call for noir thrillers
by Christopher P. Jacobs | .(JavaScript must be enabled to view this email address) | Cinema | March 8th, 2017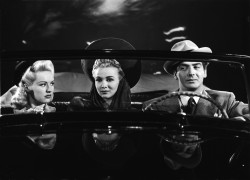 The genre, or as some say the style, of film noir, which deals with crime and various other unsavory activities usually happening at night, developed in Hollywood around 1940.
Its focus on mostly antiheroic protagonists and a pervasive sense of doom separates it from standard crime or mystery-thrillers, consciously or unconsciously reflecting the dark times of a troubled world during World War II. Even the "good guys" have their bad points and sometimes may be nearly as corrupt and/or cynical as the "bad guys," who may actually display some good points.
Film noir reached its most prolific period in the postwar decade from 1945 through the mid- to late1950s as uneasiness about the world situation competed with the benefits of an economic boom that didn't always bring what many people expected and a growing feeling that official authority could not always be trusted. A few examples of noir continued into the 1960s before being replaced by more standard crime dramas of "good guys vs. bad guys."
A generation later the genre revived as "neo-noir" with films such as "Body Heat" (1981) and the Coen brothers' "Blood Simple" (1984) consciously imitating the dark, expressionistic lighting and having no particularly admirable characters.
More recently neo-noir has become more frequent with "L.A. Confidential," the "Sin City" films, "The Killer Inside Me," and the like, even Christopher Nolan's "Batman" trilogy, again reflecting a disillusionment with a once-respected establishment.
More and more classic noir have been showing up over the past year or so on Blu-ray, an ideal format for its high-definition image's ability to bring out the textures and details of the genre's typically harsh lighting that often looks merely muddy or merges to black on old DVDs and streaming versions of the same films. Here are three that came out last November and one especially rare title from last October.
The evocatively titled "I Wake Up Screaming" (1941), directed by H. Bruce Humberstone, is an excellent early film noir mystery thriller that was also shown under the title "Hot Spot."
The police, especially intimidating detective Laird Cregar, are positive that a promoter and publicity agent (Victor Mature) murdered a fashion model he made famous (Carole Landis). Mature and the model's sister/roommate (Betty Grable) must try to figure out who the real killer is, as there are a number of other logical suspects.
The well-scripted plot is fun but the biggest draw is the stunning use of light and shadow and camera angles by cinematographer Edward Cronjager.
The image on Kino's Blu-ray is outstanding. Audio is good but a bit tinny with some pops at splices. Bonus features include a good audio commentary, an image gallery of photos and advertising, a trailer, plus trailers to four other film noir titles offered by Kino on Blu-ray. Inexplicably, the box cover lists a deleted scene, alternate "Hot Spot" opening title, and alternate advertising, none of which are actually on the disc.
I WAKE UP SCREAMING on Blu-ray -- Movie: A- / Video: A / Audio: B+ / Extras: B
Robert Siodmak's "Cry of the City" (1948) is another good noir thriller starring Victor Mature, this time playing a cop who is after a boyhood friend from his old neighborhood (Richard Conte), who is now a jewel thief and cop killer.
Shelley Winters and Debra Paget make brief but key appearances as the crook's two girlfriends, one who wants to help him escape and the other who wants him to give himself up.
Again, Kino's Blu-ray has a beautiful-looking picture, with good sound. Bonus features are an audio commentary, a trailer, and trailers to other five other noir titles.
CRY OF THE CITY on Blu-ray -- Movie: B+ / Video: A / Audio: A- / Extras: B-
Henry Hathaway's "The House on 92nd Street" (1945) incorporates a number of noir elements into a moderately interesting documentary-style spy thriller based on an actual case declassified after the war.
A young FBI recruit of German heritage (William Eythe) becomes a double agent hoping to expose Nazi spies trying to steal secrets of the Manhattan Project about the atomic bomb in 1939 through 1941. Lloyd Nolan plays the head FBI agent.
Kino's Blu-ray looks and sounds fine, although there is a fair amount of grainy stock footage especially at the start. Bonus features are a commentary, an image gallery, and trailers to six other noir films (but not this one).
HOUSE ON 92nd STREET on Blu-ray -- Movie: B / Video: A- / Audio: A- / Extras: B
"Private Property" (1960) is an obscure independent feature directed by Leslie Stevens, who later produced "The Outer Limits" TV series. Made in 1959, it was refused a seal of approval by the Hollywood Production Code and had only limited theatrical showings in 1960.
This well-made thriller follows two unstable and sometimes violent drifters (Corey Allen and a young Warren Oates) stalking a blonde in a Corvette (Kate Manx). They make serious plans to seduce her, especially after they discover the house next door to her upscale suburban home is empty.
The smarter of the pair realizes she is often frustrated by the frequent long absences of her businessman husband and tries to get hired on as their gardener, beginning a psychological cat-and-mouse relationship. A slow, deliberate, and very gradual building of characterizations and tension leads to a climactic nighttime sequence in the last ten minutes.
Although newly restored in 4k, the Cinelicious Pics Blu-ray still looks slightly soft much of the time, but the 1.66:1 picture is very clear, with fine audio. The only bonus features are a new interview with the film's still photographer, a trailer, and an enclosed leaflet with an essay on the film.
PRIVATE PROPERTY on Blu-ray -- Movie: B+ / Video: A- / Audio: A / Extras: C