Diverse classic indie films new to Blu-ray
by Christopher P. Jacobs | .(JavaScript must be enabled to view this email address) | Cinema | May 17th, 2017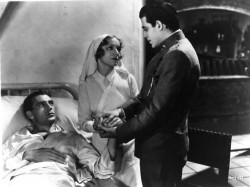 The number of vintage films getting new high-definition video masters and/or restorations has been increasing over the past year, with numerous new releases to the home market on Blu-ray from specialty distributors like Olive, Twilight Time, Criterion, and especially Kino-Lorber through its "Studio Classics" division.
Sadly, these rarely are carried in stores, so must be ordered online from the companies themselves or other online retailers. Last month two very different independent productions adapted from very different novels made their Blu-ray debuts from Kino, a gritty film noir thriller and a lush wartime romance.
Noted author Ernest Hemingway's semi-autobiographical novel about a World War I ambulance driver's affair with a Red Cross nurse, "A Farewell to Arms," became his first best-seller in 1929 and was adapted to the stage in 1930. The terse, moving blend of vivid anti-war imagery and touching tragic romance soon became an Oscar-winning film in 1932 starring Gary Cooper and Helen Hayes under the direction of romance specialist Frank Borzage.
A quarter-century later, independent producer David O. Selznick remade the film on a grand scale as a vehicle for his wife Jennifer Jones, opposite Rock Hudson, released by 20th Century Fox. Charles Vidor took over directing duties after Selznick fired John Huston.
Both film versions are worth watching, but for different reasons. Now that Kino has released Selznick's 1957 production to Blu-ray, home viewers have an effective way to compare the two looking much as they did on theatre screens when first released.
The 1932 film came out on a beautiful Blu-ray from Kino back in 2011. Borzage's classic 1932 film more closely captures the tight, stylized dialogue and general flavor of the original novel, aided greatly by the acting of Gary Cooper, Helen Hayes, and Adolphe Menjou. The 1957 film has more of the Hollywood blockbuster attitude and style exemplified later by films like "Doctor Zhivago," running more than an hour longer.
Selznick reimagines the story as a lavish epic romance punctuated by sometimes overwhelming sequences of battles, evacuations, and massive troop movements, basically trying to recreate the formula he had used so successfully in "Gone With the Wind" (even copying the sweeping opening title).
While much of the film feels overblown and many scenes run on far too long, it is often unfairly over-criticized, as it does contain some very powerful scenes illustrating the idiocy of war. The romance is more heavily stressed (again with portions dragging out longer than necessary), more Selznick than Hemingway, but Rock Hudson's fine performance is sorely underrated, Vittorio De Sica earned an Oscar nomination for Supporting Actor, and Jennifer Jones is credible if slightly older than her character was written.
Kino's Blu-ray presents a solid reproduction of Oswald Morris's beautiful color CinemaScope cinematography, although the lenses used yielded an image sometimes a bit soft. The original 4-channel stereo sound is remixed into 2.0 DTS-MA lossless audio that a Pro-logic decoder will play back properly. The only bonus features are a trailer plus trailers to four other classics from the 1950s and early 60s on Blu-ray from Kino.
Kino's old Blu-ray of Paramount's Best Picture-nominated 1932 version shows its glistening Oscar-winning black-and-white cinematography in outstanding film-like quality, with impressive reproduction of its Oscar-winning sound. Again bonuses are few, just a modest image gallery and some trailers to other Kino releases.
A FAREWELL TO ARMS (1957) on Blu-ray -- Movie: B / Video: A- / Audio: A / Extras: D
A FAREWELL TO ARMS (1932) on Blu-ray -- Movie: A / Video: A / Audio: A / Extras: D+
The 1946 crime novel "Hollow Triumph" was the only book by radio actor Murray Forbes, and it soon became the first movie vehicle produced by actor Paul Henreid (best-remembered as Victor Lazlo in "Casablanca") starring in a dual role as a scheming villain and his equally unsympathetic double, rather than his usual suave romantic interest.
The low-budget 1948 film is now best-known under the title used for its reissue and British release, "The Scar." Often overlooked, it has recently become recognized by film noir aficionados as an archetypal example of the genre, right down to the dialogue line, "It's a bitter little world full of sad surprises," emblematic of this film and all film noir.
Henreid starts out as a medical school dropout ex-con who stages a casino heist that goes bad, and then goes on the run from the gambler's hit-men. When he learns that a prominent psychologist looks exactly like him, except for a scar on his cheek, he decides it would be a perfect cover to duplicate the scar on his own cheek, then murder the doctor and take over his practice, romancing beautiful though cynical secretary Joan Bennett along the way.
As in all films noir, things never go exactly as planned. The darkness of the themes and story, loaded with fate-driven dramatic irony so well brought out by screenwriter Daniel Fuchs, are strikingly complemented by aesthetically harsh, low-key black-and-white cinematography from the great master of shadows John Alton.
Picture quality on Kino's Blu-ray is often excellent, displaying finely-detailed textures, drastically superior to typical Public Domain DVDs or streaming video copies, but does have quite a few softer, grainy, contrasty sections due either to optical effects or replacement footage. Sound quality is good.
The main bonus feature is a wonderful audio commentary by film noir expert and author Imogen Sara Smith, who discusses not only the cast and crew members but the cleverly crafted use of mirror imagery and the intense noir sensibility that ranks it among the top of its genre. It's like a mini-course in film noir. There are also trailers for five other fine noir films Kino has on Blu-ray.
THE SCAR on Blu-Ray -- Movie: A- / Video: B+ / Audio: B+ / Extras: B-