Emoji movie as 'meh' as its protagonist
by John Showalter | .(JavaScript must be enabled to view this email address) | Cinema | August 9th, 2017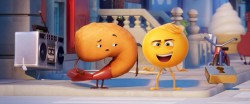 When I first caught wind that there was going to be a movie centered around emojis several months ago, I spent plenty of time ragging on it with friends (as did a lot of people I imagine, look at the like/dislike ratio on YouTube).
The trailers were almost physically painful to sit through and I joked that we had finally reached the nadir of American cinema by making a movie about something you put in text messages. That said, I'm going to say that I thought the critics overreacted about how terrible it was.
You're probably thinking, "What?!" right now. Don't get me wrong, "Emoji Movie" was certainly not a good movie by any stretch of the imagination. Hell, I went on matinee night because I refused to pay full ticket price for it. But as the credits rolled I thought that what I had seen was overwhelmingly mediocre rather than terrible.
When I half-jokingly made the suggestion to my editor that it would be fun to rip into this movie as a bit of levity from the doom and gloom in the news, I had every intention of tearing into the Emoji Movie zebra like a hungry lion. But as the credits rolled, I felt as meh about it as the protagonist of the film.
Any of my friends could tell you I'm something of a cinematic masochist: I have a passion for bad films. I am a connoisseur of so-bad-it's-good movies, and even with just bad-bad movies I can derive a lot of fun from riffing on them with others. There's a certain magic about seeing something incredibly inept put to film. However, I can't in good conscience say "Emoji Movie" belongs in either of those categories, and that perhaps is its greatest sin.
Here's a rundown of the movie, so spoiler alerts ahead (if you even care). "Emoji Movie" follows the trials and tribulations of a meh emoji named Gene as he tries to convince his longtime meh parents he's ready to receive the mantle of Meh and be the new Meh emoji in his human Alex's smartphone. See, the emojis in the film live inside the phone of a middle-school kid named Alex, in a city called Textopolis.
Gene explicates that when they're not just milling about the city like normal people they go to their day job being the emojis in Alex's text messages.
There's a corporation run by the very first emoji, Smiler, which provides its services to Alex. When they're on the job, they all step into a giant grid like Hollywood Squares (am I dating myself by referencing that show?). They chat and B.S. like employees do, but when it's showtime and Alex is going to use them, they have to strike their pose and get scanned by a giant robo-finger into the text message.
There's a VIP lounge for the emojis Alex uses the most, and the ones he never uses are banished to the Loser's Lounge (like the eggplant emoji -- obviously not an adult's phone, I thought). Following so far?
Naturally, Gene screws up his one job and has to go on the lam as Smiler sends anti-virus killer robots to delete him so that Alex doesn't take his phone in and get its memory wiped because he thinks something's wrong with it.
Joining him is High Five, who recently got kicked out of the VIP lounge for the fist bump. High Five tells him they can find a hacker named, well, Hacker, in the piracy app on Alex's phone (yeah, you read that right), so he can be coded to meh correctly and not get deleted. Hacker is a ham-fisted pseudo-feminist with a stocking cap and black-dyed hair, who you later find out used to be the Princess emoji and lamented that fate.
She is the worst offender of the three main characters in seeming like the invention of a boardroom of rich middle-aged men asking, "What do kids find cool and hip nowadays?" She even says "slay!" during a dance sequence and it made me cringe like those old PSAs from when I was a kid and DARE was a big thing.
While on the run, they end up in several different apps like Facebook and Candy Crush (Twitter even shows up as a deus ex machina and flies them away), causing Alex to want to go get his phone wiped at the mall.
Gene's parents, who are also trying to find him, rekindle their marriage along the way, they all make it back, and right before Alex wipes his phone, Gene becomes the perfect emoji to express his feelings toward the girl Alex likes, and he decides to keep the phone as is. Hooray.
Ultimately, this was a movie confused by what it wanted to be. Did it want to be a heartfelt children's story about being true to yourself even when it goes against the norm, a riff on our addiction to technology, or a 90-minute commercial for Sony phone apps?
Ultimately it doesn't do anything too groundbreaking with the first, it backs away sheepishly from the second, and it excels at the third.
There are a few moments where the movie verges on self-aware humor (Internet trolls as actual trolls who are also single and neckbearded) But they safely back off from that angle because you can't have people questioning the product, right?
The message (not a bad one, per se) is one we've seen a thousand times, done better in other children's movies. It's too bad that at the end the movie is about 90% Sony commercial and 10% any trace of human conflict and growth (and I'm being generous).
Now you're probably thinking, "Who cares, John? It's a children's film." I hate hearing that as an excuse for putting any shoddy product out as kid's entertainment. "Toy Story" may have had product placement galore, but it also had a heart. To say that it being a 'kid's film' gives you a blank check to not take pride in what you make betrays a cynical view of children as stupid little people who make adults buy stuff.
Then again, those kids were laughing awfully hard at the poop emoji (played by that Patrick Stewart), so what do I know?