​Killer serial makes Blu-ray debut
by Christopher P. Jacobs | .(JavaScript must be enabled to view this email address) | Cinema | May 24th, 2017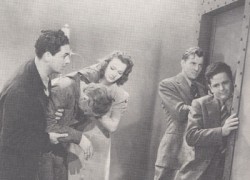 "Daredevils of the Red Circle." Who are they? What is it? Before the internet, before television, serialized drama was still a significant part of popular culture. Novels were serialized in magazines and newspapers going back to the 19th century.
By the time the movie industry was firmly established in the mid-1910s, weekly chapters of movie mysteries and adventures had become a regular part of many theatres' programs, with unresolved "cliff-hanger" endings designed to draw patrons back the next week to see what happened.
There were quite a few silent-era serials but their heyday was the 1930s and 40s, with the genre dying out theatrically in the 1950s with the coming of television.
The serial format has more recently been adapted to multi-film series of full-length features, from "Star Wars" and "The Lord of the Rings" to the "Harry Potter" films and the "Hunger Games" series, but short weekly episodes are now confined to television or internet videos rather than movie theatres.
Republic Pictures specialized in B-westerns and other low-budget features, but thrived on creating serials, releasing 66 "chapter-plays" from the 1930s through the 1950s. Subjects ranged from action-adventure to western to crime drama to science-fiction, or any combinations of those.
One of their most popular serials just appeared on Blu-ray last month from Kino Lorber, and over the past three years Olive Films released four of the studio's later (and generally less elaborate) efforts on Blu-ray.
"Daredevils of the Red Circle" (1939) was the fourteenth of Republic's serials, and fans of the genre consider it among the best. The "daredevils" are circus-performers, a strongman (Herman Brix, later known as Bruce Bennett), a high diver (Charles Quigley), and an escape artist (stuntman David Sharpe acting in a dramatic role); and the Red Circle is the logo on the chest of their athletic outfits.
After an arranged disaster at the amusement park during one of their performances, they are drawn into becoming private detectives so they can help police solve the complex criminal case behind it. The Red Circle later becomes identified with a mysterious hooded ally providing clues about upcoming disasters.
An elusive escaped convict who insists on being referred to by his prison number 39013 (Charles Middleton) has been terrorizing the city by systematically destroying the business assets of his millionaire former partner (Miles Mander), killing anyone who stands in his way.
The millionaire's granddaughter (Carole Landis) helps mediate between the three private investigators and her grandfather's business and security associates.
The action-packed crime adventure is well directed by William Witney and John English. Much is shot on actual locations including a real oil refinery, rather than studio sets, giving strong production values beyond the relatively low budget, with very little reliance on rear-projection effects.
Despite some plot holes, it's a skillful blend of genuine suspense and impressive effects with often-campy straight-arrow heroes, secret panels, clever disguises, and inevitable comedy relief.
Middleton, as always, relishes his role as arch-villain, and character actor Miles Mander is highly effective in a dual role as the victimized millionaire and as the villain masquerading as him. Of course a little boy and a very smart dog provide important plot points.
The twelve chapters get off to a rousing start with a 28-minute episode that sets up "The Monstrous Plot." The remaining chapters are just under 17 minutes each, and devoted to far more action, chases, and fistfights, always with a cliffhanging ending to be resolved in the next chapter.
A few of the episode titles give an idea of some of the situations: "Sabotage," "The Ray of Death," "Thirty Seconds to Live," "The Flooded Mine," "Ladder of Peril," and so forth. They tend to get more and more intense as the story progresses, so viewer intentions to watch a chapter per night or per week before watching some other movie as a main feature might eventually shift to binge-watching several episodes or the entire remainder of the serial.
Kino's Blu-ray was mastered from a new 4K scan of the original 35mm nitrate negative, and mostly looks excellent, like it was filmed yesterday. The opening titles to Chapter One are slightly out-of-focus, and the picture gets softer and grainier for optical effects and the recaps of previous chapters that begin each episode, but those portions are brief. Audio is also very good.
The only bonus feature is an entertaining and informative audio commentary spread across four episodes (chapters 1, 4, 9, and 12) that discusses most of the cast and crew and also sets the occasional bits of racial stereotype humor into proper context, with information about black actor Fred "Snowflake" Toones.
Although the box cover mentions there are trailers, none are to be found on the disc.
DAREDEVILS OF THE RED CIRCLE on Blu-ray -- Movie: B+ / Video: A / Audio: A- / Extras: C-
Those who find "Daredevils of the Red Circle" enjoyable may want to check out one or more of the Republic serials on Blu-ray from Olive, all of which also have outstanding picture quality and good sound, but absolutely no bonus features.
From 1950 are the amusingly campy "Flying Disc Man from Mars" and "The Invisible Monster." From 1953 is "Commando Cody: Sky Marshal of the Universe" (originally planned as a TV series but released theatrically first, and with self-contained half-hour episodes rather than shorter cliffhangers).
"Panther Girl of the Congo" (1954-55) is probably the most fun of these later serials, and was the second-to-last serial produced by Republic, incorporating a lot of stock footage from a 1941 jungle serial.
This entertaining if forgettable action-adventure follows the exploits of a nature photographer in Africa (Phyllis Coates) and her hunter friend (Myron Healey). They soon become entangled in the activities of an evil scientist (Arthur Space) who's created a hormone that grows normal crayfish to gigantic size to frighten the natives out of the territory where he's discovered diamonds.
It's all pretty formulaic with frequent repetition, but fast-paced. Chapter One is 20 minutes and the rest are slightly over 13 minutes each. The predictably cheesy ending almost seems thrown in so they wouldn't have to make any more episodes!
PANTHER GIRL OF THE CONGO on Blu-ray -- Movie: C+ / Video: A / Audio: A- / Extras: F