​Legendary tough guys on Blu-ray
by Christopher P. Jacobs | .(JavaScript must be enabled to view this email address) | Cinema | June 14th, 2017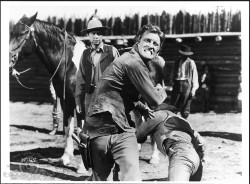 Kirk Douglas (1917- ), Burt Lancaster (1913-1994), and James Cagney (1899-1986) are iconic movie "tough guys" who had long film careers.
Only nine of Cagney's numerous films are currently on Blu-ray, the latest being his final starring role (not counting a TV movie made shortly before his death) and one of his rare comedies, released last week by Kino.
Douglas and Lancaster are much better represented on Blu-ray, with over 20 of Douglas's films and over 30 of Lancaster's, including four the two starred in together. Last month Kino released Blu-rays of dramatic Douglas production and a comedy starring the pair, while the Warner Archive Collection released the perhaps eerily timely political thriller "Seven Days in May" (1964) starring both Lancaster and Douglas.
"The Indian Fighter" (1955) is a reasonably effective western that bears certain similarities to the 1950 James Stewart film "Broken Arrow" in its sympathetic treatment of Native Americans.
It was the first film produced by Douglas's own company, trying to appeal to traditional western fans at the height of the genre's popularity, as well as admirers of the new wave of socially and environmentally conscious films coming out at that time.
The plot has plenty of action with Sioux warriors attacking a fort and members of a wagon train, yet it takes time to show the major Indian characters and how they have been wronged (primarily by a pair of slimy characters looking for gold and trading whiskey for it).
A major plot point is a romance that develops between Kirk Douglas's title character and the daughter of the Sioux chief, played by Italian model Elsa Martinelli in her movie debut. The film alternately deals with racism and exploits it before building to a reasonably satisfying conclusion.
About 200 local Native Americans played extras, but as usual Hollywood stars and character actors played the speaking roles. The film is loaded with familiar faces from Walter Matthau and Lon Chaney Jr. to Alan Hale Jr. and Elisha Cook Jr. Ubiquitous western character actor Hank Worden plays both a Union soldier and a whiskey-happy Indian in different scenes.
Attractive location scenery in Oregon, substituting for South Dakota and Wyoming, is a major highlight of the color CinemaScope photography.
Kino's Blu-ray has a fine HD image and good mono sound.
The main bonus is a moderately interesting audio commentary reciting plenty of facts and figures about the cast and director, plus a few production details, but almost never discusses the film's content or style and has numerous very long pauses between comments. There is also a trailer and trailers to a few other Douglas films on Blu-ray from Kino.
THE INDIAN FIGHTER on Blu-ray -- Movie: B+ / Video: A / Audio: A- / Extras: C+
"Tough Guys" (1986) is an amusing crime comedy/character study that was the final teaming of Burt Lancaster and Kirk Douglas.
They play aging ex-cons released after a 30-year prison sentence for robbing a train. Now they must try to survive in the drastically different Los Angeles of the mid-1980s with the help of a very young Dana Carvey (playing a straight dramatic role) as their sympathetic parole officer.
Naturally they encounter a variety of hip young toughs who must be put in their place. The story starts to drag a few times, but overall holds interest well.
At 70 (playing 67) Douglas is still in top shape, which leads to his character connecting with nubile, energetic young gym owner Darlanne Fluegel, including a date at a dance club featuring the Red Hot Chili Peppers.
Meanwhile, Lancaster's more leisurely character reconnects with old flame Alexis Smith at their retirement home to the music of Glenn Miller.
All the while, the aging cop who had arrested them (Charles Durning) is waiting for them to do something illegal so he can bust them again, and for some reason a myopic elderly hit-man (Eli Wallach) is trying to bump the pair off.
When they learn that the train they robbed in 1955 is about to take its own retirement run, they start new plans to recapture headlines.
Picture quality is superb on Kino's Blu-ray and the stereo sound is quite effective. There is a highly entertaining and informative audio commentary by director Jeff Kanew that was just recorded this March.
The only other bonus feature is a gallery of seven trailers to various films starring Kirk Douglas, Burt Lancaster, or both, all available on Blu-ray from Kino.
TOUGH GUYS on Blu-ray -- Movie: A- / Video: A+ / Audio: A / Extras: C+
In "One, Two, Three" (1961), the great writer-director Billy Wilder takes on politics, consumerism, pop-culture, and the American dream in a great, biting Cold War satire shot on location in Berlin (until the Berlin Wall suddenly appeared overnight during production, requiring some rapid rewrites).
James Cagney stars as a Coca-Cola executive hoping to be reassigned to London, suddenly saddled with entertaining his Atlanta boss's wild and impressionable teenage daughter (who sneaks into East Berlin and gets involved with a young communist agitator).
There are more than a few similarities to "Ninotchka" (1939), which Wilder had co-scripted, as well as numerous themes and situations from previous Wilder films (and Cagney films, among others).
Wilder twists movie clichés and reverses expectations throughout the film. The mile-a-minute dialogue and bits of physical business feature so many gags and in-jokes that it may take several viewings to catch them all (though many are identified in the very good audio commentary).
Wilder had such a feeling for his era that several gags and throwaway topical references turned out to be uncannily prophetic.
Kino's Blu-ray looks and sounds very good. Bonus features include a must-listen commentary, two brief video interviews with Wilder about this film and his career in general, a trailer, and trailers to two other films by Wilder and one by Cagney.
ONE, TWO, THREE on Blu-ray -- Movie: A / Video: A / Audio: A / Extras: B-