​Live music making movies live
by Christopher P. Jacobs | .(JavaScript must be enabled to view this email address) | Cinema | July 12th, 2017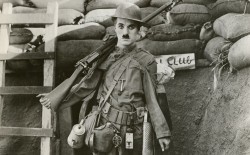 Music scores enhance viewer involvement with the stories, but during the so-called "silent era" they often went a step further. Musical accompaniment performed by a live organist or pianist became an interactive experience between the musician and audience as well as musician and the movie and the audience and the movie. This was especially true in the case of comedies where audience response is generally more frequent, bringing the movies to life in a way impossible with a prerecorded soundtrack.
The Summer Cinema Series at MSUM keeps this tradition alive, and began last Monday with silent comedy shorts by Charlie Chaplin, Buster Keaton, and Harold Lloyd. This 41st annual film series continues on Monday evenings for the rest of July with additional classic comedies of the silent era, accompanied live on the authentic "Mighty Wurlitzer" theatre pipe organ in Weld Hall's Glasrud Auditorium. Showtimes are at 7:30 pm, with preshow organ music starting at 7:15. Admission is $4.
Coming up Monday, July 17 is a relatively rare surviving Western comedy-romance starring popular cowboy hero Hoot Gibson and Virginia Browne Faire, "Chip of the Flying U" (1926). It was loosely adapted from the first best-selling novel by prolific Minnesota-born western writer Bertha M. Bower, which had been filmed in 1914 starring Tom Mix and was later remade in 1939 starring Johnny Mack Brown (with a substantially altered plot).
In this Hoot Gibson version, title character Chip Bennett is a shy, sensitive cowboy artist at the Flying U Ranch who falls for his boss's sister, Dr. Della Whitmore. He fakes an injury to attract her professional attentions, and she meanwhile submits some of his drawings to a publisher. Of course they fall in love but things backfire when deceptions are discovered until inevitably resolved by the end.
The film has recently been released on Blu-ray by Grapevine Video with a music score by Moorhead's own Dave Knudtson.
Preceding the feature will be the hilarious Buster Keaton western comedy, "The Paleface," in which Buster manages to become an honorary member of an Indian tribe and then tries to save them from being swindled out of the oil rights to their land.
On July 24 is a pair of Charlie Chaplin films from 1918 relating to World War I, in commemoration of this year being the centennial of America's entry into that war. First is "The Bond," a ten-minute comic propaganda film Chaplin made at his own expense to support the war effort, while still in production on "Shoulder Arms." Its brief, somewhat surrealistic skits promote the sale of "Liberty" bonds to help the U.S. finance the war. Following that will be "Shoulder Arms," which was released only weeks before the end of the war. At about 45 minutes running time, it marked Chaplin's transition from making short comedies of 20 to 30 minutes to feature-length comedies, although he did make a few more shorts before concentrating entirely on features.
"Shoulder Arms" is a war comedy consisting of various brief comic episodes of Charlie as an inept soldier in boot camp who eventually gets sent to France, where he goes through more adventures including wacky efforts to capture the Kaiser. Though some at the time were skeptical of making a comedy about the war while it was still going on, the film was a huge success.
The 2017 Summer Cinema series wraps up on July 31 with three comedy shorts sharing a nautical theme. First is the Buster Keaton classic "The Boat" (1921), in which he and his family set out to sea in a homemade houseboat, with predictably perilous results, especially after a storm arises. The boat's name is the "Damfino," a key element for a couple of the gags, but somewhat controversial at the time.
The second film is Harry Langdon's "Shanghaied Lovers" (1924), a rarely-seen early short by the fourth of the "Four Great Comedians" of the silent era. In this Mack Sennett comedy, Harry is abducted on his wedding day to work on a ship, where he must contend with a harsh captain and a sailor who seems unnaturally attracted to him.
Finishing off the evening is the great Harold Lloyd in "Captain Kidd's Kids" (1919), the last he made while he was still teamed with the vivacious Bebe Daniels, who soon went on to become a major feature film star in her own right.
Here, Harold plays a spoiled millionaire who finds himself on a sailing ship after a wild bachelor party. He has a number of comic adventures and dreams that the ship is captured by a band of female pirates led by the mother of his fiancée. After the final showing, audience members may stay for free treats in the hallway outside the auditorium.
Each movie program in the Summer Cinema series will be introduced by a film specialist from the area. Prairie Public Radio's Matt Olien is scheduled for July 17, MSUM film professor Dr. Anthony Adah is scheduled for July 24, and I will be down from Grand Forks to introduce the films July 31.
The series is organized by the Red River Chapter of the American Theatre Organ Society, which owns and maintains the 1926-vintage Wurlitzer pipe organ on permanent loan to MSUM and installed in Weld Hall's Glasrud Auditorium. Local members of the ATOS will perform the movie scores and pre-show music.
IF YOU GO:
MSUM Summer Cinema Series
Monday, July 17, 7:30-10pm
Weld Hall, MSUM Campus, 6th Ave S & 12th St S, Moorhead