​Monogram Mystery: horror for B-movie fans
by Christopher P. Jacobs | .(JavaScript must be enabled to view this email address) | Cinema | April 12th, 2017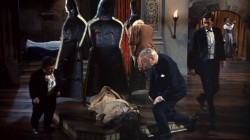 Sometimes one is not in the mood for a heavy drama, elaborate action-adventure, or even a light comedy. Sometimes it feels good to watch a simple formula genre picture unashamed of its low budget, be it a western, film noir crime story, murder-mystery, or horror-thriller. The latter two genres often blend together, as in two B-grade thrillers released in 1940-41 by the low-budget Monogram studio, both of which came out on Blu-ray from Kino a few weeks ago.
"Chamber of Horrors" (1940) is actually a British murder-mystery originally titled "The Door with Seven Locks," based on a novel by popular writer Edgar Wallace. When Monogram imported it, they naturally insisted on making it sound much more lurid than it really was by changing the title and promoting the few horror elements that are part of the plot. The malevolent family doctor (played with great relish by Leslie Banks), who is the primary villain, collects torture devices from earlier centuries that eventually figure into the action.
The film is mostly a pleasant "old dark house" mystery with plenty of comedy relief about a beautiful potential heir (Lilli Palmer) and her wisecracking best friend (Gina Malo), who travel from Canada to England to the ominous estate whose deceased owner had himself entombed with the family jewels in the house behind a door with seven different locks.
Somehow she winds up with one of the keys and quickly discovers various strange goings-on, murders, and conspiracies to get all the keys. Of course she also finds a handsome Scotland Yard detective (Romilly Lunge) and his eccentric boss (Richard Bird) to help unravel the complicated plot.
Palmer carries the film nicely as the central character and Banks has great fun hamming it up as the villain, recalling his performance in "The Most Dangerous Game" (1932). There may be some obvious formula, cheesy fight scenes, and minor plot holes, but overall the film is an entertaining example of the murder-mystery genre with just a tinge of horror.
Picture quality on Kino's Blu-ray at first is very disappointing, quite contrasty with a softness to details. It later becomes quite good through much of the film but varies from time to time. The audio quality is fair but the dialogue is clear and understandable. Optional English subtitles are available for those who need them.
The main bonus feature is an okay audio commentary by two horror buffs that provides some interesting information but mostly rambles on about various other horror films and actors until something on the screen suddenly catches their attention and they talk about that for a while. They don't really dislike the film but make no pretense that they'd rather be watching "The Most Dangerous Game."
The only other bonus is a collection of four trailers to other B-horror films Kino has available on Blu-ray: "White Zombie" (1932, in high-definition that ironically looks better than the Blu-ray release of the feature), "The Black Sleep" (1956), "The Undying Monster" (1942), and "Donovan's Brain" (1953), the last three all in standard-definition.
CHAMBER OF HORRORS on Blu-ray -- Movie: B+ / Video: C to B / Audio: B- / Extras: C+
"Invisible Ghost" (1941) was actually produced by Monogram and its ultra-low budget is even more evident than the low-budget "The Door With Seven Locks" that they imported the previous year. Like that film, it's mainly a murder-mystery-thriller that Monogram promoted more as a horror film, likely due to it starring legendary horror icon Bela Lugosi.
In fact there's very little mystery, since we learn very soon who is committing the murders and why, but have to wait until the end before things are resolved.
It's an odd film that has built up something of a cult following, partly because Lugosi has one of his most prominent roles after 1939's "Son of Frankenstein." Interestingly, his character is not a vampire, mad scientist, twisted servant, or one of the other stereotypes he has become remembered for, but is a straight dramatic part as a kindly head of a household whose wife had suddenly run off with his best friend some years before, apparently killed in a car crash with her lover. Again, we soon learn otherwise, but the rather odd film maintains the suspense and atmosphere throughout so that it still holds interest in a strangely compelling way.
The plot gets off to a great start with a really peculiar dinner ritual. Memorable performances from Lugosi, Clarence Muse as his loyal and dignified butler, and Polly Ann Young (Loretta's less-famous older sister) as his daughter help hold the film together through numerous plot holes and eccentricities. There's a weird telepathic hypnosis element that soon shows up, which drags the plot down a bit.
Nevertheless, the cast pulls it off reasonably well, although John McGuire is only adequate as the love interest and former Oscar-nominated silent film star Betty Compson is sadly wasted as Lugosi's almost spectral and now-insane wife.
Director Joseph H. Lewis makes up for the shortcomings of the script and the admittedly cheap-looking sets with effective and moody use of the camera, lighting, and movement of the actors.
The movie is best-remembered as one of Lugosi's all-too few truly starring roles after "Dracula" in 1931. While far from great, it's a must for Lugosi fans.
Kino's Blu-ray has truly excellent picture quality for the first 20 minutes, after a rough opening Astor reissue title, likely from an original 35mm Monogram print, then the rest is a fairly good dupe except for a few extra-sharp minutes near the end. Sound is adequate.
Bonus features include optional subtitles, a good commentary with interesting contributions from several historians packing lots of details into the brief 64-minute running time, and the same four trailers on "Chamber of Horrors."
INVISIBLE GHOST on Blu-ray -- Movie: B / Video: A+ to B / Audio: B- / Extras C+