Moorhead native rocks the 'Cradle'
by John Showalter | .(JavaScript must be enabled to view this email address) | Cinema | November 24th, 2017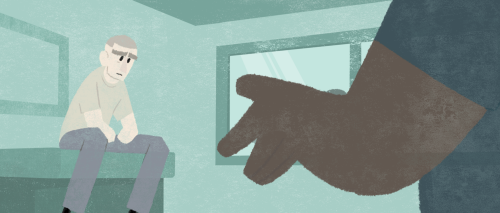 Animation and filmmaking have walked hand in hand since the beginning. From the days of "Steamboat Willie" to the advent of computer programs like Adobe Flash, making it possible for aspiring animators to make their own movies at home, animation has captured audiences around the world almost as much as its live-action counterparts in cinema.
Interestingly (and ironically) enough, sometimes filming real people can't capture a story with the "realism" that animation can. That is certainly what Moorhead native and animator Devon Manney thought when he made his latest short film, "Cradle."
Manney grew up in Moorhead, Minnesota. By age 10 he had already been drawing for several years. It wasn't until he saw the burgeoning world of Flash animations that he even imagined it was possible to make one's own animations at home. He taught himself to animate from books and tutorials, doing everything from his basement on a five-year outdated laptop.
At first his works weren't too ambitious. "I did whatever was fun," he said. At the time a lot of his videos were parody cartoons of the then-popular webpage Homestar Runner, done with his own voice-acting, on the built-in computer microphone.
It was in high school that Manney truly discovered the world of short film. With that inspiration, he eventually attended the School of Cinematic Arts at the University of Southern California. As his animation skills improved, he discovered a number of sources, such as the self-made animator Don Hertzfeld, who he said provided an "inspirational vision" to live-action directors such as David Fincher, Paul Thomas Anderson, and Spike Jonze.
Now living in Los Angeles, Manney keeps pursuing his animation dreams and has recently completed his most recent creation, an approximately 15 minute short animated film (and Student Academy Award winner) titled "Cradle."
His thesis film, completed in May, "Cradle" relates the story of a multiple amputee who returns from military deployment in Iraq. The veteran tries to achieve normalcy in his life with his wife and newborn daughter while missing his arms.Over the Thanksgiving holiday, Manney plans to return to his hometown of Moorhead and premiere the film, along with other animated works he has made.
Manney describes his animation style as "very simple," modestly assessing his skills by saying that he "can't draw very well." However, in the world of animation, complex visuals are not always a necessity. "In animation you can be less realistic," he said. "You can strip away complexity and show the bare minimum. You can play with constraints."
As mentioned earlier, sometimes one needs animation to tell a real story in a compelling fashion that live film can't quite touch. That is certainly the case with "Cradle."
Even though he does not personally know a veteran of the War in Iraq, he said that when he conceived this story, it connected with him on an emotional level.
To add authenticity to the film, he made the acquaintance of and spoke with several amputees, to whom he expressed gratitude for sharing their experiences. While you might occasionally see an amputee on film, very few films address the actual experience of living as an amputee, despite the fact that they are a sizable part of the population.
Apart from the issues with mobility that losing one or multiple limbs can cause, another issue many amputees deal with is "phantom limb." A phenomenon still not completely understood by the medical community, phantom limb is the perception of sensations and pain in a body part that one no longer has, such as a missing arm or leg.
The amputees that Manney interviewed discussed this phenomenon at length with him, which he portrays in his film and parallels with the main character's emotional states. "I couldn't think of any way to portray something like phantom limb pains in live action that didn't seem 'fake' or that wouldn't have audiences focusing on special effects," said Manney.
That is where animation can better capture the experience. "In animation there's a suspension of disbelief, you just go along with it," he said. This difference allowed him to portray a condition that, while not necessarily visible in any traditional sense, is nonetheless real to the person experiencing it.
The screening will take place at the MSUM King Lecture Hall, with refreshments provided. The parking lot is just north of 9th Ave S and 12th St S, on the south edge of the MSUM Campus. Walk north from the parking lot and you'll find it.
Those who are unable to make it to the event need not despair, as he will also be premiering the film online that morning on his website www.devonmanney.com. In either case, the audience is sure to enjoy a touching tale told by one of Moorhead's native sons about a subject that is very commonly overlooked.
IF YOU GO
'Cradle'
Monday, November 27, 7pm
MSUM King Lecture Hall Free and open to the public