​Noteworthy noir new to Blu-ray
by Christopher P. Jacobs | .(JavaScript must be enabled to view this email address) | Cinema | March 15th, 2017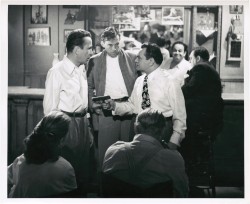 Big news for film buffs lately was the long-awaited February Blu-ray release of film noir classic "The Big Sleep" (1946). But three notable noir variations on a theme also came out on Blu-ray in recent months, another major classic and two lesser-known titles that deserve more widespread recognition. None is truly an archetypal film noir like "The Big Sleep," or say "Out of the Past" or "Double Indemnity," but all share a number of elements identified with noir (postwar alienation, impending doom, striking black-and-white imagery, and of course a crime-thriller plot) that give them a noir flavor.
John Huston's classic "Key Largo" (1948) is one of the iconic films in the group-held-hostage-by-criminal(s) genre, along with "Petrified Forest" a dozen years earlier. Humphrey Bogart this time is a disillusioned vet, a former officer who is more or less the hero and romantic interest even though he mostly tries to downplay his war record and to not get involved.
Huston and co-screenwriter Richard Brooks revised the 1939 play by UND alum Maxwell Anderson to bring in the World War II aspect. This both updates the story and gives Bogart's character the motivation to stop at the remote, rundown Florida hotel operated by the widow (Lauren Bacall) and invalid father (Lionel Barrymore) of one of his army comrades. There he soon learns that an old-time deported mobster (Edward G. Robinson) and his gang have taken over the hotel as a hideout until he can conclude a business deal and leave, causing a heavy undercurrent of tension among everybody there, exacerbated by the impending arrival of a hurricane.
A great deal of the plot plays out through the dialogue, but the all-star cast, combined with moody cinematography by Karl Freund, help the film overcome its stage play origins. Claire Trevor won an Oscar for her touching portrayal of the gangster's aging, alcoholic mistress.
The Warner Archive Blu-ray looks very good, with a wide contrast range and only minor wear, but the blacks often blend together, reducing detail in extra-dark scenes. Sound is good. The only bonus feature is a trailer for the film.
KEY LARGO on Blu-ray – Movie: A / Video: A- / Audio: A- / Extras: D
Cornel Wilde produced, directed, and stars in "Storm Fear" (1955), a tight, well-written drama of crime and domestic problems with a strong film noir sensibility. Scripted by the award-winning Horton Foote, it's an interesting variation on the familiar formula perhaps best-known in "Key Largo."
A family's remote snow-covered mountain home is invaded by criminals on the run. When the gang of three bank robbers arrives, we quickly learn their wounded leader Charlie (Cornel Wilde) is the estranged brother of the family's ailing father and had had a troubled relationship with his wife some time in the past. Family relationships become even more strained as Charlie gives their son the attention he craves and the boy becomes torn between admiration for his uncle's free-spirited life and uneasiness about his criminal deeds.
Meanwhile Charlie's partners are impatient to leave before the police discover their hideout, which is currently blocked by a recent snowstorm. The last third of the film covers their attempt to escape over the mountains as snow plows begin opening the roads.
"Storm Fear" is unusually heavy in characterization for a genre picture, motivating a few unexpected plot twists as well as some unexpectedly touching sequences. The effective script, strong performances by the entire cast, a fine music score by Elmer Bernstein and beautiful black-and-white cinematography by Joseph LaShelle help make the film a minor classic that deserves to be better-known.
Picture quality on Kino's Blu-ray is extremely good overall, very sharp with a good contrast although a few portions are somewhat softish, and the usual minor wear shows up periodically. Audio likewise is very good. The minimal bonus features are trailers to three other film noir titles that Kino has released on Blu-ray, including "He Ran All the Way."
STORM FEAR on Blu-ray – Movie: A / Video: A- / Audio: A- / Extras: D
"He Ran All the Way" (1951) is another well-made and underappreciated film noir about a criminal holding a household in terror as he seeks temporary refuge from his pursuit by the police. John Garfield, in his final screen performance, plays Nick Robey, a sullen layabout who lives with his bitter, alcoholic mother (Gladys George) in a New York tenement. With a couple of shady friends, he tries to pull off a payroll heist, but things go wrong and he's the only one able to escape. While on the run, he flirts with a shy, lonely girl named Peg Dobbs (Shelley Winters). She naturally falls for the macho lug, but he's plotting how he can use her as a cover. After she takes him home to meet her parents, he decides to hold the family hostage until he can make a getaway.
Garfield is in top form as the volatile young hoodlum who would prefer to lead a normal life if given the opportunity. Shelley Winters is also at her best as the working-class plain-jane who just might be his opportunity to change his life as much as he is hers. Of course the world of film noir promises an inexorable fate that is not likely to be what either wanted.
The film wastes no time in developing characters enough to grab audience interest and keep the plot moving throughout a tight screen time of 77 minutes. In fact, it might have been nice to see more backstory of several characters, including Nick's mother and Peg's family.
Kino's Blu-ray has an outstanding HD transfer of James Wong Howe's masterful cinematography (other than a brief digital glitch near the beginning). Sound is also good. Bonus features are the same three trailers on the "Storm Fear" Blu-ray.
HE RAN ALL THE WAY on Blu-ray – Movie: A- / Video: A / Audio: A- / Extras: D+