​RBG: Supreme Documentary Is a Must-See
by Greg Carlson | .(JavaScript must be enabled to view this email address) | Cinema | May 30th, 2018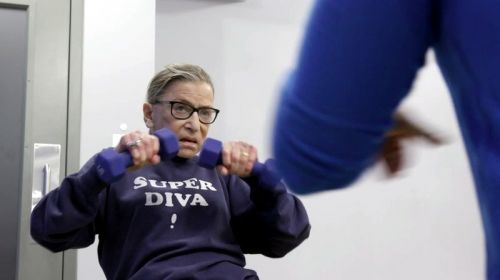 Betsy West and Julie Cohen assemble a welcome biographical portrait of Supreme Court Justice Ruth Bader Ginsburg, the octogenarian icon whose legacy already includes her groundbreaking work in the area of gender-based discrimination and her powerful dissents in cases decided by an increasingly conservative high bench. "RBG," which playfully alludes to the meme-based appellation linking the jurist to hip-hop's Christopher Wallace, a.k.a. the Notorious B.I.G., is but one boulder in an avalanche of nonfiction features attempting to untangle, in whole or in part, the roller coaster ride of the Trump presidency. To the credit of the filmmakers, their movie juggles the (sur)realities of our current moment without pulling focus away from the small-in-stature, large-in-accomplishment superstar.
For the many younger viewers who might only know Ginsburg from her later-blooming cultural popularity on and in jabot-accessorized Halloween costumes, coffee mugs, screen-printed tees, and endlessly shareable images on the internet, "RBG" does a terrific job filling in the blanks of the associate justice's life prior to her confirmation in 1993 as only the second woman in U.S. history to sit on the Supreme Court. To that end, West and Cohen shape several prominent narrative threads into a deeply human love story tracing Ginsburg's marriage to and partnership with Martin D. Ginsburg and her tenacious and strategic brilliance as a litigator fluent in every possible legal nuance of women's rights via the Equal Protection Clause of the Fourteenth Amendment of the U.S. Constitution.
Alternating between explications of important cases like Frontiero v. Richardson and anecdotes from friends and family members attesting to the relentlessness, grit, and determination demonstrated by Ginsburg in her public and private journey, "RBG" calls up an impressive group of interview subjects. And where new testimonials were simply not available, West and Cohen -- aided by skillful editor Carla Gutierrez -- seamlessly integrate archival content. One of many highlights in this latter category is an exploration of the unlikely friendship between Ginsburg and fellow justice and operaphile Antonin Scalia. Glimpses of joint public appearances, including a witty retort explaining why the feminist Ginsburg sat behind Scalia on the back of an elephant during a trip to India, add nuance to the film and remind us that collegiality is possible even when philosophies are virtually incompatible.
Ginsburg's more controversial 2016 criticisms of Republican presidential candidate Donald Trump, which resulted in a formal apology following the sizable outcry from many quarters of the media, merits its own short section in the film. Despite longtime Ginsburg friend Nina Totenberg's acknowledgement that Ginsburg's comments about Trump were "inappropriate," the filmmakers aren't too bothered or dissuaded, doubling down by including footage of Ginsburg's non-singing appearance in the Washington National Opera's production of "The Daughter of the Regiment," during which Ginsburg alluded to Trump's "birther" position and other moral and intellectual failings.
That stuff, as well as clips of Ginsburg working out with trainer Bryant Johnson and laughing at Kate McKinnon's antic, vitamin-chugging parody on "Saturday Night Live," is more colorful than some of the audio clips of Ginsburg arguing before the Supreme Court and the images of her carefully facing down the male legislators firing off questions at her confirmation hearing. But West and Cohen are so deeply committed to laying out the hard-fought details of Ginsburg's role in American history that "RBG" keeps careful track of the discriminatory realities experienced by their hero.
Jeffrey Toobin noted in "Heavyweight: How Ruth Bader Ginsburg Has Moved the Supreme Court," his 2013 profile in "The New Yorker," that "...her reputation as the Thurgood Marshall of the women's-rights movement exceeds her renown as a Justice." Once Ginsburg's tenure concludes -- which supporters hope will not happen for at least an Oliver Wendell Holmes Jr. or John Paul Stevens length of service -- one wonders whether Toobin's statement will need to be rebalanced.