​Robots and rocky romance on Blu-ray
by Christopher P. Jacobs | .(JavaScript must be enabled to view this email address) | Cinema | September 27th, 2017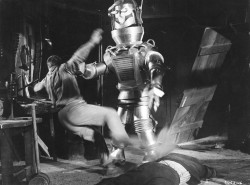 Artificial Intelligence, robotic workers, unmanned space travel, fatherless children, and Korean conflicts are all recent hot news topics. In September of 1954 all of these were major themes of a low-budget sci-fi thriller targeted at children but with enough plotting and subtext to keep adults interested (perhaps more so today as a cultural artifact than during its original release as popular entertainment).
Earlier this month Kino-Lorber released "Tobor the Great" to Blu-ray. Also new to Blu-ray from Kino this month is the once-daring Oscar-nominated romantic comedy-drama from a decade later, "Lovers and Other Strangers," dealing with casual sex and abortion.
Republic Pictures was a small but prolific film studio operating from the1930s through the 1950s, specializing in "program pictures" and genre films designed to entertain small-town audiences, with an occasional higher-budget prestige film.
Besides westerns, one of the most popular genres of the fifties was science-fiction and/or horror, including thoughtful sociopolitical allegories and obvious exploitation films.
"Tobor the Great," as some critics have noted, might have been a minor classic of the genre if it had a few major stars, a stronger director, and a more polished plot.
By the time it went into production in January 1954 its cast was made up of competent character actors who often had uncredited bit roles in bigger films, but here got a chance to be the stars. The end result was an archetypal fifties sci-fi film that remains entertaining throughout but does not stand out as one of the era's key classics.
The plot begins with a prologue of stock footage depicting nuclear explosions, a nuclear submarine, rocket testing, and early U.S. Navy experiments in conditioning volunteers for space travel.
As the story itself gets underway, a scientist angrily interrupts a centrifuge G-force test, denouncing the procedure as a danger to humans who should never be used as guinea pigs or sent into space without knowing in advance what they might encounter.
The main focus soon shifts to an elderly scientist who feels the same way, and who is privately developing an intelligent robot ("Tobor") that is able to develop human feelings. His intention is to convince the military that it is practical to replace humans for experimental space travel.
Naturally communist spies are out to steal his secrets. This scientist's precocious 10-year-old grandson quickly becomes the primary force behind much of the action, while his widowed mother and the younger scientist develop a minor romantic subplot that is never fully explored.
There are a few nice action segments and futuristic technology on display, though a few aspects (like ESP and telepathic thought communication) get a bit far-fetched. Overall the tightly-paced 77-minute film is still a lot of fun for fans of fifties sci-fi.
Kino's Blu-ray looks very good for the most part. A few parts seem softer than others, and of course all the stock footage is much grainier. The sound is very good with wide frequency range in explosions.
The main bonus feature is a pretty good audio commentary loaded with information about the cast, crew, and other films related to this one (through themes, cast, and/or crew), plus a good amount of production information. There are also trailers (in SD) to five other sci-fi films of the era available on Blu-ray from Kino.
TOBOR THE GREAT on Blu-ray -- Movie: B / Video: A- / Audio: A- / Extras: C+
"Love with the Proper Stranger" by underrated director Robert Mulligan ("To Kill a Mockingbird") premiered Christmas Day in 1963 and played throughout 1964.
Superstars of the period Natalie Wood and Steve McQueen lead the cast, both getting the chance to demonstrate a dramatic range outside their popular studio-controlled screen images in this 100-minute independent production released by Paramount.
Sometimes billed as a romantic comedy, for an American mainstream film of its date it's an unexpectedly gritty, frank, and darkly dramatic romance dealing with working-class New York Italian families, focusing on young Macy's shopgirl Angie Rossini (Natalie Wood), whose oppressive and overprotective home life has led to an impulsive one-night stand with a free-spirited musician, who typically gets by from week to week and lives with his stripper girlfriend (Edie Adams).
When Angie discovers she's pregnant she tracks him down for help obtaining a quick abortion, learning his name is Rocky Papasano (Steve McQueen). Naturally he doesn't remember her, but the revelation gets the plot moving quickly and with a serious intensity.
Wood carries the film in a brilliant and often-touching performance, while McQueen shows he can handle both heavy drama and light comedy beyond his then-current image as an action star.
By the last half-hour the story gradually evolves into a more traditional romantic comedy (with Tom Bosley in his first screen role as a klutzy romantic rival), although it retains an edginess and ambiguity rarely seen in studio movies. Wood deservedly earned an Oscar nomination, as did the incisive screenplay, the moody black-and-white cinematography, meticulously-detailed art direction, and costume design.
Kino's Blu-ray has a fine film-like HD transfer with a few spots of minor film wear visible, and the lossless mono audio is also very good.
The main supplement is a very dense and analytical audio commentary discussing the director, relating Wood's and McQueen's personal backgrounds to the characters they play in the film, comparing the film to European trends like neo-realism, the French New Wave, British "kitchen-sink" dramas, and Hollywood studio productions, among other things.
There are also three trailers to other 1960s romantic comedies (all in HD), one starring McQueen and another featuring Edie Adams.
LOVE WITH THE PROPER STRANGER on Blu-ray -- Movie: A- / Video: A / Audio: A- / Extras: B-