​Spanish Film Club presents inspiring stories
by Ben Haugmo | .(JavaScript must be enabled to view this email address) | Cinema | February 15th, 2017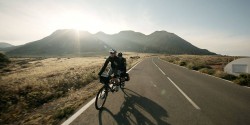 Two brothers, Juan Manuel and Sergio, stand in the middle of a field of ripe, green wheat. The wind causes the plant life surrounding them to sway and hiss, and is refreshing after their day of travel by tandem bike. The brothers have been riding for a long time, but are nearing the end of their 800 mile journey from Cuenca, Spain to the Atlas Mountains in Morocco.
Sergio, who is blind and autistic, cannot see his surroundings, but nonetheless sways his head almost in time with the tall wheat surrounding him.
True Smile (La sonrisa de verdadera) is a film documenting Sergio and Juan Manuel's journey, and will be showing on Thursday as part of NDSU's Spanish Film Club's ongoing Spanish Film series. Community members are invited to attend and watch as Sergio overcomes his limitations and undertakes a remarkable adventure.
The film series is the first event of its kind for NDSU, and has so far been a great success. Heath Wing, a Spanish professor at NDSU, attributes the festival's popularity to the variety of films that have been on offer.
"The first two films we showed," said Wing, "one a comedy and the other a thriller, were really well received by those who attended. Our audience got into them and were quite surprised by how much they enjoyed the movies. Its seems word of mouth got around a bit because our last film, an animated love story about Cuban jazz, had the best turnout of about 80 people."
Chloé Smith, an International Studies student, will be describing her research before the screening of True Smile. Her research into the differences in disability infrastructure in Spain and the United States correlates well with the film.
"I had chosen the topic for my thesis in early summer," said Smith, "so the fact it related so well to the film was an absolute accident!"
It is Smith's hope that her research will lead to real change for people with disabilities in the United States.
"I am collecting information on both physical and mental disabilities," said Smith, "and how federal policy can work to better integrate disabled persons into society. I am also using Spain's interdependence-focused culture as a platform to start a conversation about how American culture may be holding back possibilities for those with disabilities. I am hoping that analyzing the social climate and how it relates to federal policy will allow us to see a more holistic view of our current state and encourage improvement."
True Smile is the second-to-last offering for the Hispanic Film Festival, and will be followed next week by Even the Rain, which is about the neocolonialism in Bolivia during the Cochabamba Water Wars.
Two chances remain to experience tales of inspiration, sacrifice, and discovery from the Spanish Film Club. Save the dates, and stop by for a truly unique cultural experience.
IF YOU GO
Spanish Film Club: the new wave of Ibero-American cinema
Thursday, February 16, 7pm; Thursday, February 23, 7pm
NDSU Minard Hall 230: 1210 Albrecht Blvd., Fargo
Q&A: True Smile director Juan Rayos, Friday, Feb 17 at 2pm,
NDSU Quentin Burdick 422, 1322 Albrecht Blvd, Fargo