​Start your engines: Soderbergh is back with "Logan Lucky"
by Greg Carlson | .(JavaScript must be enabled to view this email address) | Cinema | August 23rd, 2017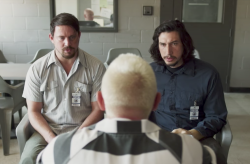 Steven Soderbergh's "Logan Lucky" ends the filmmaker's short-lived "retirement" from directing theatrically-released features, and his return to cinemas is a welcome one.
Extending his well-documented penchant for pseudonymous tomfoolery, "Logan Lucky" spreads the wealth to cinematographer Peter Andrews and editor Mary Ann Bernard, two of the director's common disguises. The screenplay is attributed to newcomer Rebecca Blunt, and a recent "Hollywood Reporter" article suggests that like Andrews and Bernard, Ms. Blunt is also a fictitious person.
Whoever wrote "Logan Lucky" deserves praise. The caper is filled with solid characters and incisive observations.
Channing Tatum makes his fourth appearance for Soderbergh. Playing a West Virginia hard hat whose bum leg gets him canned from a job at the Charlotte Motor Speedway, Tatum's Jimmy Logan cooks up a wild robbery with his younger brother Clyde (Adam Driver), a bartender and veteran who lost a hand and part of his arm in Iraq.
Hoping to escape Clyde's superstitions regarding a family curse, the siblings visit incarcerated safecracker Joe Bang (Daniel Craig) to enlist the con in a wild cash grab involving everything from gummy bears to color-coded cockroaches to the pneumatic tube pipelines that dump piles of greenbacks underneath the sprawling racetrack.
Soderbergh's films unfold with professionalism and competence, and this one capitalizes on the strategy to withhold just enough of the Logan plan to keep the viewer invested.
Soderbergh's sly sense of humor is also in full effect: the simpleminded rednecks of "Logan Lucky" are anything but, and the NASCAR milieu is just as likely to host a hilarious riff on George R. R. Martin's delayed "Game of Thrones" books as it is to take easy shots at backwoods caricatures.
The usual complaints apply: actors of color are scarce, and talented women from Riley Keough, as the third Logan sibling, to Katherine Waterston, as Jimmy's former classmate, are not given enough to do.
A few critics have gone fishing for any signs of overt or covert political commentary embedded within the goofy heart of Soderbergh's antidote to "Ocean's Eleven," but for my money, they keep coming up empty.
One of the best readings, courtesy of Anthony Lane, argues that Soderbergh's catalog of red-state tropes (including fighter jet flyovers, LeAnn Rimes belting "America the Beautiful," and a sincere singalong to John Denver's "Take Me Home, Country Roads") examine "confused cultural attitudes toward the heartland." Lane notes that Soderbergh plays this stuff straight, and warns, "mock it at your peril."
But while the spectacle of the Coca-Cola 600 race simmers in the background as but one of a complex number of moving parts in the heist (a great directorial choice, by the way), Soderbergh cruises to the checkered flag without breaking a sweat.
The secret, to a large extent, is in the actors' elan and the effortless sense of fun the filmmaker brings to the party. With its David vs. Goliath theme of inequitable wealth distribution and the economic hardships of the working class, "Logan Lucky" is the comic cousin to David McKenzie's "Hell or High Water." Jimmy's adorable daughter -- a beauty pageant contestant, no less -- does the heavy lifting when it comes to the heartstrings.
Soderbergh never takes "Logan Lucky" too seriously, and that attitude invites a wide grin and repeat viewings.