​"Thoroughbred": Cory Finley's promising Sundance debut
by Greg Carlson | .(JavaScript must be enabled to view this email address) | Cinema | June 21st, 2017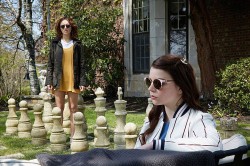 First-time feature filmmaker Cory Finley adapts his own play and comes up with one of the year's most diabolically pleasurable movies in "Thoroughbred," a taut exercise in moral darkness.
One of the most sure-footed debuts at the 2017 Sundance Film Festival, the movie is certain to attract a devoted audience when distributed by Focus Features.
"Thoroughbred" injects jet-black comedy into the tightly and deliberately constricted premise of carefully plotted parricide, placing the sensibility closer to the dreamlike fantasies of "Heavenly Creatures" than to psychological devastation of "We Need to Talk About Kevin."
Anya Taylor-Joy's Lily and Olivia Cooke's Amanda are wealthy, East Coast nightmares of entitlement and privilege. Childhood acquaintances (and maybe even once-upon-a-time friends) brought together again by parental decree, the girls initially circle one another carefully, poking and testing for weaknesses and vulnerabilities.
Both are troubled: Lily has been busted plagiarizing an essay and Amanda is a social pariah after an "Equus"-like incident with a valuable horse. The former has been retained to tutor the latter, but just who is the teacher and who is the student proves too slippery to guess as Finley toys with audience expectations.
As Lily and Amanda spend more time together, they progress toward a stomach-turning conspiracy to murder Lily's stepfather Mark (Paul Sparks), and Finley constructs a perfect storm of paranoia and dread as the stakes get higher. We are constantly unbalanced by the dangerous unreliability and untrustworthiness of the young women, who could as easily be playing each other as working together.
The addition of small-time drug dealer Tim, engaged by the girls to dispatch Mark, escalates the suspense and, like classic noir, multiplies the ways things can go sideways. Tim is played by Anton Yelchin in one of his final roles, and the actor brings an excitement to the screen that will be missed.
While the virtually single-location dialogue underscores the drama's stagebound origins, Finley capitalizes on the noteworthy skills of his collaborators. In addition to the perfectly modulated performances of his dual leads, the director transforms the elegant mansion where the action is set into a recognizable character, working with talented cinematographer Lyle Vincent, whose contributions to "A Girl Walks Home Alone at Night" testify to his expertise.
Louise Ford's editing, Jeremy Woodward's production design, and Erik Friedlander's score form another cinematic hat-trick. Roland Vajs' sound design, especially the evocative, Poe/Melville-worthy relentlessness of Mark's rowing machine, adds another layer.
Taylor-Joy and Cooke make a formidable pair, exploring the thematic contours of amorality with arresting ease. Amanda, who practices a terrifying ability to feign empathy every time she gazes in the mirror with her dazzling but phony smile, can simulate emotion for any occasion. A scene in which she offers a master class in on-demand tears is one of several that elevate "Thoroughbred" into a sly metanarrative exploration on the nature of acting and performance.
That sort of icebox talk, so closely associated with Alfred Hitchcock (as well as obvious inspiration Clouzot in "Diabolique"), often manifests as imitative flattery, but in Finley's case, the comparison to earlier masters is to be taken as a compliment.
"Thoroughbred" will be released theatrically later in 2017.