​Two recent Blu-rays: Japanese takes on World War II
by Christopher P. Jacobs | .(JavaScript must be enabled to view this email address) | Cinema | July 26th, 2017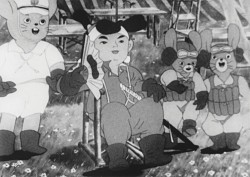 Noted American director Josef von Sternberg flourished in the late 1920s and 1930s, especially remembered for his silent classics "Underworld" (1927), "The Last Command" (1928), and "The Docks of New York" (1928), plus several major films that made Marlene Dietrich an international star in the early sound era including "The Blue Angel" (1930), "Morocco" (1930), "Shanghai Express" (1932), and more. He continued making films until his final feature in 1953, which he revised in 1958.
That film, "Anatahan," came out on Blu-ray this April from Kino Lorber in a new restoration of the uncensored 1958 director's cut (plus the complete 1953 cut for comparison, which is essentially the same length but with slightly different editing and minus the nudity). They were mastered from film elements preserved by the Library of Congress and Cinematheque Francaise.
Von Sternberg filmed "Anatahan" independently on a modest budget in Japan, largely within a studio with some location shots. The plot was loosely inspired by a memoir of one of the survivors recounting the true story of several Japanese sailors marooned on a Pacific island near the end of World War II, and not realizing that the war had been over for six years when they are finally rescued in 1951. The only other inhabitants on the island are a man at an abandoned plantation and a beautiful young woman. Naturally this causes various power struggles among all the men, in addition to their official military duties and devolving sense of official discipline.
The film is an interesting exercise in style and exploring human emotions under stress, although its approach may be problematic for viewers until adjusting to its unusual narrative tactics. The director provides his own somewhat odd voiceover narration/commentary on the action, instead of presenting a straight dramatization with English subtitles. This tends to make it feel more novelistic, like a storyteller, and takes some getting used to, although it does make sure we understand the director's views on his characters and human nature.
There is plenty of the recognizably von Sternbergian artistic use of light, shadow, shooting through nets, carefully-designed studio sets, etc., as well as effective performances by the actors.
A more traditional dramatic narrative might have made it more effective, but it remains an interesting experiment. A few too-obvious cheap effects shots distract in a couple of scenes, and the film tends to drag at times, but the overall visuals make up for that.
Kino's Blu-ray has a mostly beautiful HD image scanned from the original camera negative (on the 1958 cut, but the 1953 cut looks mostly very good as well). Audio is adequate, reflecting the film's low budget.
The modest but nice selection of bonus features, all in HD, includes trailers, a reminiscence by von Sternberg's son, outtakes shot for the revised cut (with plenty of aesthetically tasteful nudity), a visual essay, newsreels of the actual Japanese survivors' rescue, and the full-length reconstructed 1953 theatrical cut assembled from several sources of varying quality.
ANATAHAN on Blu-ray -- Movie: B / Video: A / Audio: A- / Extras: B-
Momotaro ("Peach-boy") and his four animal friends were long-time Japanese folk heroes/fairy tales that became animated short films in the late silent era. With the expansion of the Japanese Empire in the 1930s, they were pressed into service beyond their folktale roots to support patriotic (and militaristic) themes.
Several of these original short cartoons (plus numerous other early examples of Japanese animation) are available for viewing online thanks to the Japanese Animated Film Classics website from the National Film Center of Tokyo at http://animation.filmarchives.jp/en/index.html (with English translation).
In 1943, a 37-minute sound cartoon "Momotaro's Sea Eagles" dramatized the attack on Pearl Harbor ("Demon Island"). It can be found online. Then in 1945, Japan's first feature-length animated cartoon was another Momotaro wartime propaganda adventure, "Momotaro: Sacred Sailors." This past May, FUNimation Entertainment released a Blu-ray edition that includes that historically significant feature plus another, non-propaganda (or at least far more subtle propaganda) cartoon short, "The Spider and the Tulip" (1943).
"Momotaro: Sacred Sailors" is a fascinating look at World War II propaganda from the perspective of Japan against the British and Americans. It has plenty of beautiful black-and-white animation and several catchy songs.
Even at only 75 minutes, it does tend to drag on a bit at times, emphasizing its didactic messages about selfless cooperation in the war effort, including teaching simple islanders Japanese customs and language. The plot assumes its audience is familiar with the characters so it never gets around to exploring them as much as the earlier shorts from 1928, 1931, and 1932 had done.
When their paratroop mission captures the island navy base, it's especially interesting to see that among their prisoners are Popeye (with spinach can!) and Bluto, considering that there were some rather intense anti-Japanese Popeye cartoons circulating around the same time this was made.
The FUNimation Blu-ray looks quite good overall, with occasional slightly soft portions likely due to the film itself. A bonus short is the lovely 1943 cartoon "Spider and Tulip," along with trailers to a few recent anime films, plus a nice little illustrated booklet with a couple of essays and restoration information.
"Spider and Tulip" is a cute, beautifully animated 15-minute musical cartoon (also in black-and-white) about a spider trying to seduce a ladybug who gets protective help from a friendly tulip. The style appears to have a heavy influence from Disney's Silly Symphonies and the MGM Harmon-Ising nature-oriented cartoons of the 1930s.
MOMOTARO: SACRED SAILORS on Blu-ray -- Movie: B / Video: A- / Audio: A- / Extras: C