​Vintage westerns remastered for Blu-ray
by Christopher P. Jacobs | .(JavaScript must be enabled to view this email address) | Cinema | May 10th, 2017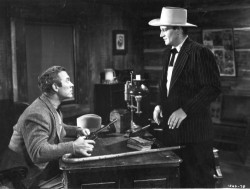 Republic Pictures was a small movie studio that was active from 1935 to 1959. Although it produced and distributed a wide variety of genres, it is best remembered for its low and modest-budget B-westerns starring the likes of John Wayne and Roy Rogers, and its action-adventure serials.
Representative examples of each cowboy star's Republic work made their high-definition debuts this spring on Blu-rays from Kino Video.
John Wayne's first starring role was in the 70mm western epic "The Big Trail" (1930), but when it bombed theatrically, due mainly to theatres unwilling to invest in widescreen equipment at the start of the Great Depression, Wayne became stuck for nearly a decade in ultra-low-budget B-westerns running about an hour or less, mostly at Republic.
His appearance in John Ford's "Stagecoach" made him a major box-office attraction, but he stayed mostly at Republic for more than another decade, this time with somewhat bigger budgets and better scripts tailored to his screen style.
In "Dakota" (1945) Wayne has the key role of John Devlin (he often seemed to play characters named "John"), a free-spirited gambler who in 1870 elopes with strong-minded railroad heiress Sandra Poli (Vera Hruba Ralston), hoping to settle in California and search for gold.
Sandy, however, has other plans, and has bought train tickets to St. Paul and stagecoach passage to Fort Abercrombie in Dakota Territory so they can take a riverboat north to Fargo. There, the business-minded bride tells her new husband, they can use the $20,000 she "borrowed" from her father to buy up land rights because she knows the railroad will soon be coming through and they can sell it back at a profit.
Things start to happen on the boat, when they're robbed and quickly realize that the crooked businessman (Ward Bond) who pretty much owns Fargo is behind it, since he has his own plans to profit from the railroad's inevitable arrival.
The routine formula of land-grabbing investors scheming to cheat the local farmers is handled well enough in this reasonably proficient 82-minute B-western with a fine cast of character actors, and there are a few impressive sequences (notably a wheatfield fire).
However the comedy relief is too frequent and annoyingly forced (including an over-the-top Walter Brennan as a riverboat captain and some unfortunate racial stereotype humor from Nick Stewart as his assistant), detracting from the main conflict and romance elements of the plot.
Also there are far too many poor rear-projections on soundstages taking the place of location shooting, saving on the budget but lowering production values.
Devotees of Fargo and regional history will also find the mountain-desert landscape on the stage ride across central Minnesota to be amusing, not to mention how large the town of Fargo is depicted at a time when there were only a few scattered settlers in the area.
Hollywood historical research is rarely accurate, but they do differentiate "Fargo in the Woods" from "Fargo on the Prairie." However, the town of Fargo wouldn't become as viable as it's shown until a few years after this story supposedly takes place, shortly after the railroad actually did arrive. Still, it's fun to see a Hollywood movie set in Fargo, including references to Grand Forks and "Pem-beena" as riverboat stops.
Kino's Blu-ray starts off rather soft-looking but gets sharper as the film progresses and much of it looks excellent, albeit with periodic scratches. Sound quality is fairly good.
The main bonus feature is an often-sporadic audio commentary by western historian Toby Roan, giving background on the major cast and crew, but never really discussing the film, story, or historical period. There are also HD trailers to five other westerns available from Kino.
DAKOTA on Blu-ray -- Movie: C+ / Video: B+ / Audio: A- / Extras: C+
Roy Rogers was a popular country singer on the radio and records in the early 1930s. He got into western movies in 1935 at Republic Pictures as a singing cowboy, a once-popular subgenre of westerns, where he rose to a top box-office attraction from the late 30s through the mid-50s, and then had a popular TV series.
His early films concentrated on incorporating several songs within a typical western formula plot, although he occasionally had non-musical western roles. After World War II, most of his films were directed by leading Republic action director William Witney, who shifted the focus from songs to action and used Republic's proprietary low-budget color process Trucolor (which used two complementary colors instead of three primary colors).
"Sunset in the West" (1950) is a fine example of Roy Rogers at the height of his career. The film is a nicely plotted story about rancher Roy helping an old sheriff friend and his niece deal with gun-runners who have been hijacking freight trains. It is paced effectively in a 67-minute running time, including a few above-average songs worked appropriately into the action, good footage of a vintage steam engine, well-staged, well-edited fight scenes, and just enough character development with a clearly-defined conflict of good guys vs. bad guys in a town of citizens quick to jump to conclusions.
All this plays out in crisp, pleasant-looking Trucolor whose limitations to oranges, blues, and browns with acceptable fleshtones were well-suited to the needs of western color art direction.
Picture and sound quality are outstanding on Kino's Blu-ray, mastered from a new 4k restoration from the original camera negative. A few very brief sections are grainy and contrasty, sourced from other film elements where the negative was missing or too damaged to use, but they are rarely more than 10-15 seconds at a time.
There is an audio commentary that is pretty good (also by Toby Roan) but has increasingly longer pauses as it progresses. There are also trailers to four other westerns available from Kino.
SUNSET IN THE WEST on Blu-ray -- Movie: B+ / Video: A / Audio: A / Extras: C-