​"You Were Never Really Here": Ramsay and Phoenix team for instant cult classic
by Greg Carlson | .(JavaScript must be enabled to view this email address) | Cinema | March 28th, 2018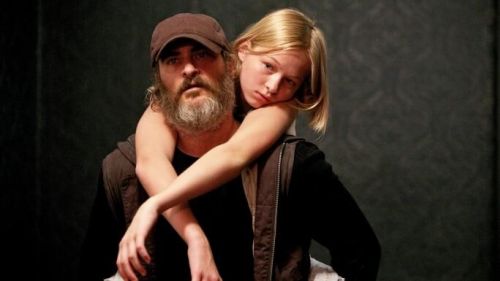 Only Lynne Ramsay knows the details behind her departures on a couple of movies, but we have been fully rewarded by her picky, methodical project choices. With just a trio of previous features, all undeniably brilliant, the Scottish filmmaker delivers an instant cult classic with her fourth, the visceral "You Were Never Really Here."
Once upon a time, Ramsay circled "The Lovely Bones," "Jane Got a Gun," and a long-rumored sci-fi "Moby-Dick" without completing any of them. While the latter could still happen, the first two surely suffered when Ramsay moved on. Incapable of the ordinary, the undistinguished, or the routine, "You Were Never Really Here" easily cements her position as one of the most exciting visionaries working today.
Making the most of a completely engrossing central performance by Joaquin Phoenix that rises to the level of his work for Paul Thomas Anderson, Ramsay also creates magic with several other key collaborators, including, but certainly not limited to, composer Jonny Greenwood, cinematographer Thomas Townend, and editor Joe Bini.
Ramsay's films are all about the details, and like the best of Ramsay's best, "You Were Never Really Here" establishes an idiosyncratic and original landscape that engulfs the willing viewer in a universe so subjective, our level of identification with the central protagonist feels at times almost physical.
Phoenix is Joe, a deeply damaged ex-FBI agent and combat veteran who now retrieves the missing, the kidnapped, and the lost by any means necessary. Working under the radar as a private contractor, Joe -- often armed with a standard hardware store construction hammer -- is freakishly good at his terrifying vocation.
As the grim events unfold, it dawns on us that Joe's fearlessness is wired directly to a deep well of self-loathing and suicidal ideation. It's one of Ramsay's great gifts to us, deliciously complicated by the wonderful presence of Joe's mother (an outstanding Judith Roberts) and a handful of "Psycho" references.
"You Were Never Really Here" has also drawn multiple comparisons to "Taxi Driver," with which it shares a relentless and not entirely stable antihero, themes bringing Joe into the world of politicians, and the violent rescue of a young woman being sold for sex.
In addition, the grit, the sleaze, and the nocturnal New York action are braided with enough pounding heartbeats of woozy mania to make you wonder just whose fantasy is being visited.
Not everyone will thrill to Ramsay's adaptation of the novella by Jonathan Ames, but if you are game, the filmmaker proves she can run with -- and in several cases outrun -- Chan-wook Park, Jee-woon Kim, Dan Gilroy, Nicolas Winding Refn, and other contemporary crafters of cinematic cool.
In each of her previous films, Ramsay has applied varying layers of sticky black comedy to grave and horrific circumstances, and "You Were Never Really Here" continues the streak with generous opportunities for death to laugh at Joe and those unlucky enough to be in Joe's path. The self-destructive tough assuredly smiles back, and some of the most electrifying moments in the movie catch you laughing in shock and disbelief.
As always, Ramsay has a way with the perfectly placed pop song. Even though "You Were Never Really Here" doesn't drop the needle as frequently as "Morvern Callar," a scene featuring Charlene's "I've Never Been to Me" is as funny/sad and perfect as anything you are likely to see this year.
["You Were Never Really Here" was screened at the Sundance Film Festival, ahead of a United States theatrical release beginning April 6, 2018.]