​Hot toddies for cold nights
by Sabrina Hornung | .(JavaScript must be enabled to view this email address) | All About Food | November 2nd, 2016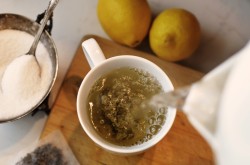 As much as we hate to admit it, cold and flu season is in our midst, and there's nothing we can do about it other than load up on Vitamin C, hunker down, and hope for the best.
But if you get sideswiped by the bug, I can definitely suggest a few libations that may aid in the recovery process. I'm not an expert on the matter by any means, but I'm a firm believer in home remedies.
The first on my list is the ever classic Hot Toddy, Grandma's go-to. Though we're at the tail end of allergy season, local honey does the immune system some good. Feel free to dig out your favorite mug, hunker down and curl up beside the heater with a copy of your friendly neighborhood High Plains Reader.
Hot Toddy
1 cup of black tea
1 lemon wedge
1 teaspoon of honey
1 oz brandy
Stir it all together and what do you get--a calming sensation and a little bit of sweat? Simple enough, right? If brandy isn't your cup of tea you can substitute rum or whiskey as well--and if you had a really bad day, you'd better make it a double.
Another personal favorite that strikes a sentimental chord is a rendition of what my old boss Rachel at Dakota Soda called a Honey lemon ginger brew. She never gave me the exact recipe,but I found something similar. Naturally, we didn't have whiskey at the soda shop--I've found other variants of this recipe that include a simple syrup. This concoction was unstoppable. It could be added to soda water for a light refreshing summer drink or added to tea. But yet again, feel free to add your own flourishes.
I suggest honey because it's a great aid for a sore throat as well as an allergy aid. In fact a spoonful of honey goes a long way when you have a frog in your throat and it tastes a lot better than your average over-the-counter cough medicine.
Honey lemon ginger toddy
1 cup water
1-inch piece ginger root (or more, to taste), peeled and grated
1/2 lemon
1 teaspoon honey, or to taste
1 oz whiskey (optional)
In a small pot over medium heat, bring the water, ginger, lemon, and honey to a gentle boil. Strain the mixtures into a mug and add whiskey if you so desire.
Ginger is a wonder root, a natural remedy that is known to serve as a digestive aid and to help with nausea. Ancient Chinese sailors were reputed to keep a piece of ginger root in their pockets to combat nausea induced by sea sickness; expectant mothers have also been known to eat ginger to curb morning sickness.
One of my absolute favorites is my grandmother's fennel tea. Fennel too is a digestive aid and helps out a sour stomach, and according to my grandma fennel tea was given to colicky babies in the nursery to calm them and to settle their little stomachs--my dad would even ask her to brew some up when his ulcers acted up.
In true grandma fashion, nothing is measured out precisely, so if your tea is too strong, just add more water. And if you don't drink all of it, save it. It's also good cold.
Fennel Tea
1 teaspoon of fennel seed
1 small pot of water brought to a boil
Honey to taste
Put the seeds in the water bring the water to a gentle boil, and once the water is a golden color, pour it into a cup and add honey.