​Luna Fargo's first-ever block party, in the alley behind
by HPR Staff | .(JavaScript must be enabled to view this email address) | All About Food | June 7th, 2017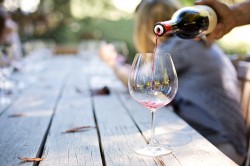 I remember when I was growing up, how excited we would all get when we heard the words "block party." In my neighborhood we held one every year or two and they were a ton of fun.
The powers that be would block off the entire street, someone would roast a pig, a bunch of beer (for the parents only of course) was flowing, we all stayed up way past our bedtimes and there was just a whole lot of community bonding happening in that one little block on that one little night. New friendships were formed, games were invented, neighborhood crushes were revealed, and if you were lucky, there was a drunken parent sighting or two. These were some good times.
This year Luna Fargo will be hosting their very first neighborhood block party in the back alley behind the restaurant and it's going to be a doozy! There may not be a pig on a spit but the fact that Chef Ryan Nitschke is in charge means there will most definitely be pork on the menu and a whole bunch of other delectable options as well.
For this occasion, Chef Nitschke asked each member of his team to come up with one signature block party dish of their own. There will be hot dogs, pork belly, fry-bread tacos, along with corn, potato salad, and the list goes on and on.
For the vegetarian folk, as usual Luna has not forgotten about you either, offering up an incredible sounding Harissa Lentil Bowl to round things off. Chef Nitschke describes the day's menu as a "worldly street fare theme" that includes Korean, German, Midwestern, Moroccan, Mexican, and Native American influences. One staff member compared the food offerings to a "Luna food truck without the truck."
As far as beverages go, they should have every age group pretty well covered. In true Luna style there will be some intriguing beer selections from some of their favorite local beer partners: Fargo Brewing Company, Junkyard Brewing, and Drekker Brewing Company.
There will also be a Sangria bar presented by Certified Sommelier Jean Taylor of Small Lots Wines, along with a beer and wine sampling courtesy of Ed Phillips and Sons. Next door neighbor Bernie's Wines & Liquors will be present and carrying the party inside, where there will be a whiskey tasting for those who need something a little stronger than beer and wine.
If alcohol is not your thing, Stumbeano's Coffee (the coffee of choice for Luna) will be on hand and there will be plenty of kid-friendly options as well, since we all know that if your kid is thirsty you aren't staying too long!
No party is complete without some great entertainment, and for this party there will be plenty of it. For your listening pleasure, local bluegrass band The Cropdusters will be performing on and off throughout the day. Luna neighbor and friend Vinyl Giant will also be on hand with their extensive vintage and contemporary collection of records. For added entertainment, Deep Dish Improv, a local comedy group consisting of former members of The Line Benders will be in the house…or rather in the alley!
It is only appropriate that an outdoor Luna gathering include a bunch of farmers. Among the Luna family of farmers making an appearance and selling their wares will be Becky's Plants and Flowers, Scattered Acres Farms, Doubting Thomas Farms, and Dirt Head Microgreens.
In addition, there will be a variety of arts and crafts vendors, chalk art, candy, cupcakes and there is even some talk of some temporary tattoos for the kids. Wrist bands are $10 at the door and include one food and beer ticket. Children under 12 are free.
IF YOU GO
Luna Fargo & Friends Block Party
Sunday, June 11 12-8pm
The alley behind Luna Fargo, 1545 University Dr S, Fargo
$10 per wristband. Children under 12 get in free.