​Oysters
by HPR Staff | .(JavaScript must be enabled to view this email address) | All About Food | April 18th, 2018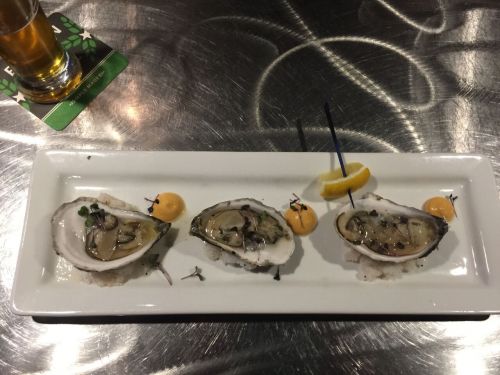 By Ben Myhre
benmyhre35@gmail.com
As a North Dakota native, raw oysters are just not a food staple that I think about. We are about as far from the coasts as we can get and we have a backyard full of tasty local cuisine, like walleye and catfish. It was just a few years ago that I tried oysters for the first time and I discovered that I love them. There is no reason that we can't have excellent oysters in the FM area. Great oysters can be shipped in and the reality is that the little buggers are still alive until just before being served. Today we are going to take a little tour of some places that serve raw oysters in the FM area.
What is a Good Raw Oyster
Before we get into the nitty gritty of local places, I feel it is important to talk about what a good oyster is. First, an oyster should be cleaned well. If there are little bits of shell in there, it is not ideal. The meat should be completely separated from the oyster shell so that I can pick up the shell and slurp up that oyster in one motion. Most importantly, however, is the taste.
For me, the perfect raw oyster should bring the flavors of the sea to your mouth. In one bite, I want to get a mouthful of the meat and clear liquor (what they call the liquid in the oyster). Then I want to be able to chew on that little guy and enjoy the subtle flavors of the meat that compliment the ocean flavor.
There is a notion among wine drinkers of 'terroir,' or that the grape's flavor is a unique combination of its environment. For example, all else equal, a grape seed that is planted in Burgundy will have slightly different flavors than if it is planted in Absaraka. The soil, microclimate, water, and everything else combine to make something that is truly unique. There is a similar notion in the oyster world called 'merroir.' I think this idea is very important to the flavor of an oyster. I want to taste the ocean when I eat an oyster, unless that ocean is right next to ground zero of an Exxon Valdez oil spill. I want to be brought to the place where that oyster was raised.
What is Served With Raw Oysters
Hopefully, you get some raw oysters. Beyond that, you might receive a lemon, hot sauce, an aioli, cocktail sauce, or any other number of things to add to your oyster. Some may put a small amount of something in the oyster shell itself. In my Fargo oyster tour, one place added shallots and a few put small microgreens on top. My recommendation is to try the oyster first by itself, or naked.
From there, feel free to try all the other stuff, but for me, the best oysters don't need all of the other stuff. A great oyster should be able to stand on its own.
The Toasted Frog
The Toasted Frog has made national news recently with their fried pickles. And they really do have spectacular fried pickles, but I also recently fell in love with the raw oysters they serve. In my opinion, it was the best oyster experience I had in town. It is my understanding that this is not a regular menu item, but they try to get them in on occasion. I cannot promise that the oysters will be there, but if you happen to show up and they have them in stock, give them a whirl!
What I really liked about these oysters is that they were big and flavorful. There were only three on the plate, but that fresh ocean flavor stayed with me for a while. They served a variety of items with it, including microgreens, a lemon, and an aioli sauce, but I really did not need any. When they have oysters, I highly recommend the Toasted Frog.
Deep Blue Seafood
The second place I want to point out is Deep Blue Seafood. I happened to try this place on a Wednesday during the lunch hour, which apparently is the best time to do so. The oysters were a buck a piece! Definitely the best bang for the buck that I found.
Additionally, the oysters were great. They were served on a big plate of ice with lemon and cocktail sauce. The taste was good and one thing I really appreciated about this service was that these oysters were well prepared. This is the only place I visited where I felt the oysters were prepared perfectly and simply. The meat was separated from both shells. There were no bits of shell in the liquor. There was ample oyster liquid in the shell.
Also, they left the oyster alone. Every other place I visited put something in the oyster and did not allow me to just enjoy the thing for what it is… an oyster. And the little details like pickled shallots and microgreens are great, but when I just want to eat a naked oyster, Deep Blue Seafood is the place to go. Particularly on Wednesday during lunch.
Luna
The last place I want to mention in my oyster tour is Luna. Luna takes great pride in its ingredients and it shows in the oysters. While I enjoyed the flavor of the Toasted Frog oysters just a bit more, this came in a close second.
They were big and came with a little pickled shallot inside that made for a pleasant taste. I tend to like my oysters naked, but the shallots really do complement the ocean flavor. The prices at Luna are a bit steeper than all the others, but to offset that, go during happy hour. They have a great selection of beer and bubbly on discount during that time.
Those were the highlights of my oyster tour of the FM area. If you haven't had an oyster yet and are up for some culinary exploration, give one of the places above a try. If you already are an oyster lover and have a joint in town that you love, drop me an email. If you are an oyster newbie, get on out to try what is available. Even though we are about as far from oyster country as we can get, there is no reason we can't find great raw oysters.
[Editor's note: Ben is the mind and the tastebuds behind https://ramshacklepantry.com/]