​Plans that bear fruit
by Ben Haugmo | .(JavaScript must be enabled to view this email address) | All About Food | December 21st, 2016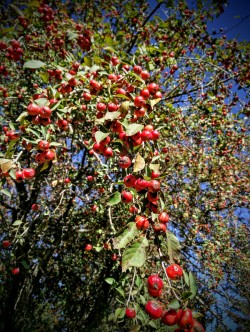 Photo by Sabrina Hornung
With winter finally beginning to kick in, some people might want to escape to the refuge of memory. Recollections of warmer, sweeter times, of climbing a ladder to pluck fruit from the trees of the family farm's apple grove, provide a brief respite from winter's barren chill. Wouldn't it be nice for those fruit trees to be not only a memory, but a future promise, something to look forward to rather than something to look back on?
Until January 20, the North Dakota Department of Agriculture will be offering grants to applicants seeking to start their own orchards, through the Community Orchard Project. This is a great opportunity for participants to build bonds with nature and with their fellow community members.
Grant awards range from $500 to $7,500, and a decision on the requests is expected in March. Grants will be reviewed and scored individually by a review panel, and then the scores will be tabulated to determine which grant receives funding.
A community orchard can provide many positive benefits. The fruit grown can be donated to those in need or used in community meals and harvest events. The fruit can be distributed to schools or community centers. A community orchard can also be used as a tool for learning, educating people on how to grow and maintain an orchard, and on what plants grow best in the area.
What would grow best in the area? According to the NDSU website, we're not just limited to apple orchards in North Dakota. Crabapple, pear, plum, cherry plum, apricot and cherry trees will prosper in our region. The website, https://goo.gl/ZL7r1v also provides insight into how to select your fruit trees and how to care for them.
Jamie Good, of the Department of Agriculture, notes that a community orchard can inspire homeowners to begin growing fruit trees on their own properties.
"With this knowledge a resident can make a more educated decision about what type of fruit trees they would want to plant on their own property. And trees just add beauty to an area and transform otherwise useless space into productive space. A well-maintained orchard will benefit the community for many years."
Community Orchard Projects have been undertaken in the past, and have proven successful in the cities of Sheyenne and Aneta, North Dakota.
An important aspect to note about growing an orchard is that most of the expense comes from starting it. Thanks to the Community Orchard Project, much of the initial cost can be covered.
YOU SHOULD KNOW
Consider applying for the Community Orchard Project at https://www.nd.gov/ndda/program-info/local-foods-initiative/community-orchard-project