​Rosey's: a decadent destination dedicated to deliciousness
by Logan Macrae | .(JavaScript must be enabled to view this email address) | All About Food | April 5th, 2017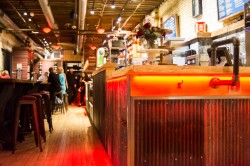 I visited Rosey's twice on Saturday to get a real feel for the bistro. My first visit was at around 2:30pm. They were coming to the end of their lunch service, and it wasn't very busy. The second was a much different affair. As I visited around 11:00pm, the environment was lively and much more spirited.
Rosey's is beautiful. The interior is gorgeous. Everything is conducive. The tables are naturally cut wood, and usage of visible stainless presents a fantastic aesthetic. My inner artist was at peace. The space is well used with a sophisticated feel, but an accessibility that encourages both casual and elegant occasions.
My lunch visit was a bit disappointing, I was one of three tables being served, and although there was what appeared to be only a single server on, I didn't feel that I was much of a priority. I realize that the other table had more guests, and their needs may have been more demanding than my own, but I am of the belief that every table takes priority.
I wasn't sure what to order initially. I glanced at all the grilled cheese options as this is what Rosey's is known for. I was excited as I saw a Greek-inspired "grilled cheese." I enjoy Mediterranean flavor, and Kalamata olives are one of my favorite foods. The Greek, as they called it, wasn't so much a grilled cheese as a pita flatbread pizza.
The Greek was missing more than just being a grilled cheese, though. It was expected, definitive, and, honestly, not creative.
There are so many more flavors used in Greek food than just olives, salty meat and feta cheese. If the sandwich is being served open-faced, it should be owned. A tomato slice or two would have been a welcome addition. A shake of thyme or oregano, a few leaves of spinach, maybe a slivered onion. It could then be topped with a drizzle of tzatziki.
All of this would have been expected, but the overwhelming lack of effort made this pita bread with meat, cheese, and tamponade extremely sodium-rich. There was nothing to balance the flavor. It was just salty. After eating it, I wondered if this specific item was just a simple creation that was an easy place-holder on the menu. If this is the case, it should be removed or improved. It's better to do less well than more poorly. The phrase "quality over quantity" applies.
On a positive note, the tater tots were fantastic.
I returned to Rosey's that evening, and this is when the charm truly set in. I explored their cocktail menu a bit, and had another grilled cheese. This time I just went with the standard, which is called Mom's Classic. Their cocktails are enjoyable, and the use of in-house infused vodka gives a nice touch. Much like their grilled cheese concept, it gives the customer something unique to look for.
I had a variation of a Moscow mule titled the Garden Mule, which was excellent. It contained cucumber-infused liquor, blueberries, candied ginger, and the necessary ginger beer. It was quite enjoyable. My second cocktail was their old fashioned, which was well prepared.
After two cocktails, I got a bit peckish. A couple of friends of mine randomly appeared, and exclaimed very excitedly that they wanted a grilled cheese, so I joined them, as I hadn't eaten much that evening either.
Mom's classic grilled cheese is exactly what you're expecting, but this time it was situated. The buttered white bread and cheddar cheese is a new Downtown comfort food, and is so terribly simple and domestic that it should have been present sooner. A grilled cheese like mom makes it at almost midnight on a Saturday is the next best thing to being at home drinking beer with your family. It's familiar, familial, and somehow way better than a slice of pizza or street food.
Rosey's is a welcome addition to the downtown. I plan on going back to try more of their signature cocktails and other grilled cheese creations. Their menu also contains multiple types of seafood, including Rockefeller oysters delivered 3 times a week. They serve a grilled shrimp cocktail, smoked salmon, and multiple different types of artisan cheeses. The diversity and depth of their menu could be overlooked, but that would be a mistake. Returning to try new things could turn into a fun weekly event.
I look forward to returning to Rosey's and indulging my culinary interests. The unique blend that is offered could only be defined as eclectic. This is a good thing, considering we are a bit north of normal.
YOU SHOULD KNOW
Rosey's Bistro
212 Broadway N, Fargo
Tues-Sat, 11am-midnight, Sunday & Monday closed
551-0777, www.roseysfargo.com