​Beer cocktails: beyond the boilermaker
by Chris Larson | .(JavaScript must be enabled to view this email address) | Beer Snob | March 1st, 2017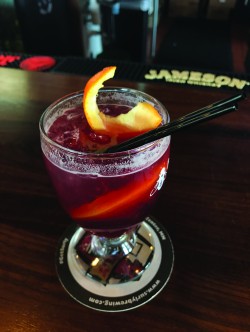 Last Saturday, my wife invited a friend over to catch up and have a drink together. When she pulled out a Redd's Wicked Blood Orange "beer" and took a sip it was decidedly too sweet for their tastes. Then inspiration struck me and I suggested they drop a shot of Sauza 901 tequila into the mix. The results were not only pleasant but became part of the inspiration for this week's Beer Snob.
You might call it "a beer and a bump" or a "shot and a chaser". In Philadelphia it's called a "citywide special". The Dutch call it a "little headbutt" and the German call it a "gentleman's menu". The most common name it is known by is "the boilermaker" and while in the U.K. it was a half and half mix of draught ale and brown ale, here in the U.S it used to consist of a simple shot served with (typically) a pint of domestic lager.
Then came the "depth charge" form of dropping the shot directly into the glass of beer and now, like most everything else in the beverage industry, the influence of craft beer is starting to be felt on the traditional boilermaker as more and more mixologists are serving up beer cocktails for adventurous customers seeking to bring the best flavors from both the beer and spirits worlds together in one drink.
Even the semifinal round of this year's Bartender's Battle required our competitors to incorporate New Belgium's Lime Citradelic beer into a cocktail featuring a spirit chosen by the judges. All four competitors seemed skilled if not at least comfortable using at least a splash of the lime flavored brew in their delicious creations.
Winner, Elijah Larson, added in some lime vodka, Chambord, chocolate bitters and egg white to present us with a delicious dessert-style drink that got him into the final round.
Runner up Andrew Hardy seemed more than comfortable splashing Lime Citradelic suds into his rum creation to earn him a spot in the finals. When asked how sure of himself he was when the secret ingredient of a craft beer was revealed, he tipped his hand to show the ace up his sleeve. "I do it often, it's kind of fair game working at the Sidestreet and having 50 of them at my disposal. I do really enjoy doing it! I just made an amazing one the other day with Collingwood whiskey and Dark Swan sour ale from Lagunitas. I used that with a couple muddled oranges and a dash of Angostura. I did a splash of Chambord and Aperol to round out the fruitiness and bring out the depth in it. The sour ale that I used is a deep purple color, and while it's sour, really sour it has a bit of a fruity finish to it like Duchess does. So that tart kombucha-esq flavor really rounded it out and let it hit the whole palette! I make a pretty mean gin IPA cocktail too! As long as it's a more citrus-forward IPA anyways."
So if you are getting a little bored with just a beer and a bump, why not bring both together in the same glass and seek out mixologists like Andrew, who are excited and ready to pump up your IPA with some extra floral or citrus notes, add some extra nut or fruit flavors to your favorite stout or porter, or use your favorite sour in a delightfully unique whiskey drink.
Of course you can always play around at home as well. A simple internet search for beer cocktails will pull up dozens of recipes for you to use as starting points, but always remember that it is important to respect the increased alcohol content versus a regular glass of beer.