​Boundary Waters Box: Summit brings one back, adds a new beer
by Chris Larson | .(JavaScript must be enabled to view this email address) | Beer Snob | June 28th, 2017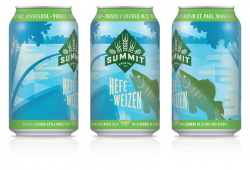 If you plan on celebrating the Fourth of July with friends and family in Minnesota lakes country, the new Boundary Waters Box twelve-pack sampler by Summit Brewing is a worthy companion for any of your summer adventures.
Newly released this spring, it brings two special beers alongside Summit's most iconic summer beers, and is boxed up in a package of cans that features new summer-themed art in an easy-open box.
Both the cans themselves and the Boundary Waters Box are loaded with fresh, feel-good imagery that speaks directly to those with an affinity for summertime adventuring in the Upper Midwest. While the packaging is all-around impressive, it's the beer inside the box that is even more exciting, especially for longtime fans of Summit Brewing.
Returning for the first time since 2011, Summit's Hefeweizen is still boasting that great flavor combination of German Pilsner malt, US wheat, and the banana and clove hints that are common to hefes. This beer is now wrapped in a beautiful blue and green lakes scene with a rod bending off the end of a boat as it reels in a fish. While I do find the banana and clove a bit less aggressive than some of the big names in Hefeweizen, on a hot summer day this beer goes down easy and still satisfies a crave for flavor.
The newest offering by Summit appears in the Boundary Waters Box and it seems, only in the Boundary Waters Box. A tribute to agriculture, the brand new Wit Bier comes in a sky blue and yellow can that features a scene depicting hay bales, big fluffy clouds, and cattle on the farm. The beer inside the can is unlike any Wit I've had before and perhaps it's because the brewmaster, Damo, chose to use 100% mandarina hops as well as an obscure strain of Belgian white yeast that delivers aromas and flavor hints of bright citrus, as well as peach and apricot. These touches add to the refreshment level of this beer and no one flavor seems to dominate the others.
In its second year as a Summit beer, Keller Pils returns in cans for the summer and still delivers a crisp, light blend of crackers, lemon zest, and malt. This beer is incredibly true to style and in my opinion one of the easiest drinking pilsners on the market. While there is nothing extra special about this beer other than its perfect depiction of the traditional pilsner style, that's just fine by me. Toss one of these to your friend or family member that is always dissing craft beer and watch the smirk disappear from their face.
Summer Ale is exactly what the name suggests. This sessionable Kölsch-style beer is crisp and clean but has a nice mellow bitterness that could appeal to fans of both American craft beers and traditional German beers. With an aroma that is slightly fruity and even a bit floral, it delivers smoothness like a light beer but has enough body to not be lacking in flavor. Seems a bit more hoppy than a traditional Kölsch, though not as hoppy as some of the new ones coming from other craft brewers -- but with a clean finish that doesn't leave you overwhelmed with bitterness. It's quite easy to crush a can in the hot sun.
With a diverse lineup of very easy-drinking beers that aren't all that "crafty" or aggressive, the Boundary Waters Box by Summit is ideal for sharing and should be especially pleasing for fans of beers that don't stray too far from traditional styles.