​Cooking with beer (not just in your hand)
by Chris Larson | .(JavaScript must be enabled to view this email address) | Beer Snob | April 26th, 2017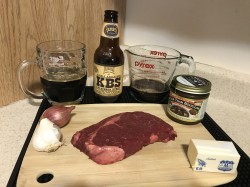 If you are at all like me, you have been itching to fire up the grill and get down to some outdoor cooking. If you and I are really alike, you probably almost always have a beer in one hand when there's a grilling utensil in the other. Why not be a bit adventurous and add some extra flavor to your food by cooking with beer?
There are countless different ways to enhance your culinary creations with the flavors of your favorite beers, and searching online will easily yield a wide variety of ways to use beer in your next recipe.
This week I will mention some of my favorite ways to add beer to your recipes and also a recipe that features beer that I myself just tried for the first time last weekend.
I recently found myself overloaded with a cellar and fridge of stouts and in particular, barrel-aged stouts that are always great with a cigar but not always my first choice as the weather warms. Inspired by abundance, I took to the internet to find creative ways to use what I already knew was a style of beer that paired quite well with a nice cut of steak.
Having recently acquired a few bottles of Founders KBS, I began to drool at the thought of whiskey, coffee, chocolate and roasted malts in a nice sauce and quickly found an easy recipe for a demi-glace that featured a stout. With very simple and common ingredients of olive oil, shallots, garlic, butter, and beef stock, I knew this recipe wouldn't add too much to take away from the flavors I hoped the beer would bring and thus would fit my needs well.
I was not at all disappointed in both the ease of preparation and how well the weight of the bold barrel-aged beer came through in the finished demi-glace. I have included the recipe for you to try your hand at. Feel free to augment at will but I suggest using shallots or at least avoid overly powerful onions.
Maybe you aren't a big stout drinker and rarely have one on hand but you do usually have a light- to medium-bodied ale or lager taking up space in your fridge. Maybe it's of the nearly flavorless variety that came in a box with twenty nine canned companions and you will probably never have much desire to drink it.
BEER BRATS! A favorite summertime meal for many begins with boiling some brats in a deep pan with a can of whatever light or medium bodied beer you have an abundance of. A perfectly simple way to add slight malt and hop flavors before you toss them on the grill and a great way to use a beer that might be a day or two past its sell date. My "crafty" suggestion is to try using a mango or tropical fruit ale to balance the spiciness of brats that contain hot peppers.
Which brings me to the most common way I use beer for cooking at home. While it's not something I do a lot in the summer months, I'm already anxious to get some chili cooking in the crock later this week and I would be surprised if there aren't a few more dreary days where spring weather alludes us.
Much like with spicy brats, a flavorful mango or tropical fruit IPA can really add some great depth and interesting nuances to your chili pot. The chili I plan to make later this week will probably contain venison. Using a mid to high alcohol IPA instead in place of water, if you use dry chili spices, can also help tenderize the meat and help it absorb the other flavors as well.
Chocolatey, malty porters and stouts can often help to balance heat and provide incredible character to a chili but I am always careful to not overdo it when using anything that has an abundance of chocolate flavor.
However you choose to cook with beer, taste frequently and remember to make sure it has cooked long enough to be alcohol-free if serving to anyone under 21.
Recipe:
KBS beef demi-glace sauce
1 tablespoon olive oil
2 cloves of garlic, pasted
1 large shallot, finely diced (can use a mild onion)
½ cup Founders KBS (or any stout beer)
¾ cup beef stock
4 tablespoons of butter
Salt and pepper to taste
Cook the shallot with olive oil on low until the shallot softens. Add garlic and stout and cook until reduced by half. Add the stock and reduce by half again. Strain if desired. Salt and pepper to taste. Before serving, heat the sauce and remove from heat. Whisk in the butter and serve on the side as a jus or on top of the dish.