​Junkyard Beer Review
by Krissy Ness | .(JavaScript must be enabled to view this email address) | Beer Snob | October 16th, 2014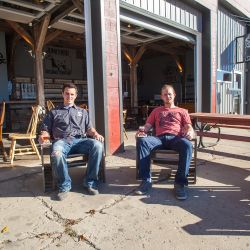 Junkyard Brewing Company has officially opened its stellar new taproom on First Avenue in Moorhead. We're delighted to present a special HPR Beer Snob review of all things Junkyard.
Hatchet Jack (ABV 7.2%)
This Baltic Porter is deep in color and provides a beautiful, tan fluffy head. The aroma is potent yet nutty, with hints of chocolate. There is an undeniable taste of coffee that really brings this beer full circle.
Hop Habit (ABV 6.2%)
An abundant white fluffy head sits atop this pale ale, which is deep orange in color, with a floral and citrus-forward scent. A strong carbonated mouth feel adds to the enjoyment of drinking this beer. Although it smells of citrus, there is a hint of earthiness that creeps underneath making this a well-rounded pale ale.
Free Candy (ABV 10.2%)
This "Moorhead style" quad ale has a strong scent of fruit that is underlined by a hint of warmth. The body is deep copper in color, provides a decent head and effervescent feel. Free Candy finishes sweet but potent.
Scrounger (ABV 6%)
A cream ale that is light in color but provides an abundant head. It is smoother than a typical ale but still packed full of flavor. This beer goes down smooth and has a surprising finish. The prickly mouth feel awakens your taste buds.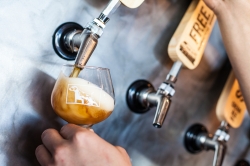 Prairie Shawman (ABV 7.6%)
A medium-bodied beer and straw yellow in color, this English IPA has a subtle floral scent that doesn't fully do justice to the flavor. It begins smoothly, but the overwhelming earthiness escapes this brew and finishes crisp and clean.
Double IPA Simcoe hop (ABV 9.2% IBU 160)
Bright orange in color, this beer provides a refined head. Surging from the double IPA are huge traces of mango. Really rounding out this beer is a massive punch of citrus, which lingers indefinitely. A full body, highly carbonated, and massive bitterness, due to the Simcoe and Nugget hops, proves this beer is worthy of a taste or two -- or three.
Pub Ale (ABV 4.8%)
Poured on nitro this Pub Ale provides an impressive head and great lacing on the glass. A biscuit-forward scent escapes this caramel colored beer. Very light carbonation and body, with hints of malt, and a tingling mouth feel makes this beer an easy drinker.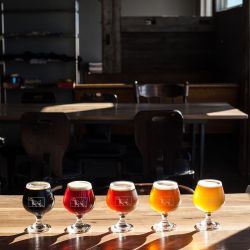 **Junkyard's taproom does not serve food, though patrons are welcome to bring meals in from other restaurants. The staff also encourages ordering outside food from inside the taproom.Junkyard has been served and may be found at these local restaurants and pubs: Red Hen Taphouse in Dilworth, Blackbird Pizza in Fargo, Mick's Office in Moorhead, Skal in Vergas, Minn, Zorbaz in Detroit Lakes, Rhombus Guys in downtown Fargo, Sidestreet Grille and Pub in Fargo, Hotel Donaldson in downtown Fargo, Brick and Barley in Grand Forks, Cambria Hotel in Fargo, Wurst Bier Hall in Downtown Fargo, Bar 9 in Fargo, JL Beers South, West, and Downtown Fargo, Beefsteak Club Downtown Fargo, Gastropub Fargo, Blue Moose in Grand Forks and People's Organic Fargo.
IF YOU GO:
Junkyard Brewing Company
1416 1st Ave N, Moorhead
Tues to Thurs: 4 to 9 p.m.
Fri: 4 p.m. to 12 a.m.
Sat: 12 p.m. to 12 a.m.
junkyardbeer.com