​Junkyard Brewing now available in off-sales
by Chris Larson | .(JavaScript must be enabled to view this email address) | Beer Snob | May 10th, 2017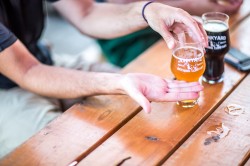 There are certain brewery names that are constantly requested by customers in the local metro area. Many of them, like New Glarus, Yuengling, and Dogfish Head will probably never become available for purchase at your local retailers, though these days we have been seeing more and more of the commonly requested breweries launching into the local market.
While it's always great to see some heavy hitters giving our smaller market a bit of attention, we really love our local beer and often get far more excited about whatever is next for our hometown beer heroes.
For the better part of three years now, consumers all over the metro area have been begging their local liquor stores to sell them Junkyard Brewing company beer and the time has finally come.
Late last week, the folks at Junkyard Brewing were driving around the metro area unloading cases of "crowler cans" of Simcoe single hopped double IPA. This "dank" double IPA is hopped completely with simcoe which has both piney and tropical fruit characteristics and a fairly clean finish that isn't overly bitter. This 8% abv brew is available in 750mL big cans with a great camouflage can with their hop-grenade rocket launcher logo on it that signifies this beer as the "rocket-propelled hop-grenade of double IPAs".
The response was, as to be expected, immediate and many of the customers who were buying them from our store remarked how delighted they were to pick up a can or two extra to share with friends or family.
Some had been able to make it out to one of the many different can releases that were previously done in the tap room only and almost always drew long lines around the block of thirsty patrons grabbing as much as the brewery limit or their financial limit would allow.
Some were buying their first ever cans of Junkyard beer and lamented about never being able to get away from work in time to snag a can before they were gone. Most asked if we knew when their beloved "Peanut Butter Bandit" would be back.
While there are no immediate plans for "the Bandit" to make an appearance in liquor store coolers, Aaron did mention looking forward to perhaps placing the next Shake-O-Matic in off-sales and there is talk of grapefruit being the next in their experimental IPA series with fruit and lactose.
I know they are also getting pretty excited about their new "Peanut Butter and Jelly" series which is halfway between their Bandit and their King Size as far as stouts go and will feature different fruit as the Jelly. Currently, the version on tap in the taproom has cherry in it and is getting rave reviews.
Expect to see one or two different cans being released per month and while there may be another store or two that gets in on the action next time around, for now you can find the Simcoe double IPA at both Bottle Barn Liquors in Fargo and West Fargo, Brookdale, 99 Bottles, Bernie's in Fargo, Bridgeview, and all Happy Harry's (including Grand Forks).