​Mezcal: Tequila's history makes a comeback
by Chris Larson | .(JavaScript must be enabled to view this email address) | Beer Snob | May 3rd, 2017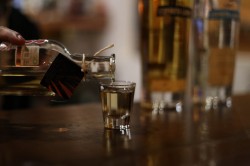 Until very recently, there was probably only one option for those who were interested in tasting non-tequila mezcal. The Mexican heritage spirit that was responsible for the creation of the subcategory of tequila was very poorly represented most places, but especially in North Dakota.
For many of us in this part of the world, the only non-tequila mezcal we knew had that nasty little worm in the bottom of the bottle and was typically purchased as a gag gift or a dare.
That is very rapidly changing due to a renewed interest in the traditional mezcal that has been driven by consumers' desires to drink craft spirits that are rich in not only flavor but also have a rich family history and deep-rooted connections to community.
Mezcals, and in particular small-production, single-village craft mezcals, fit this bill extremely well and are seeing ever-increasing presence on local liquor store shelves and restaurant bars.
I recently tasted a handful of single-village mezcals by the Alipus distillers in Oaxaca, Mexico, and was pleasantly surprised at not only the superior quality but shocked at how incredibly different each of their mezcals were.
As I dug into the story of these great spirits, I began to understand that each was so distinctly different because they are truly unique expressions that take on characteristics from the specific varieties of agave espadin that is grown around each village.
Since we are most familiar with the mezcal known as tequila, I wanted to take a brief moment to explain the differences between tequila and small-production, single-village mezcals.
Tequila is a very specific mezcal distilled from 100% Weber blue agave plant that must be produced in the state of Jalisco and limited municipalities in the states of Guanajuato, Michoacán, Nayarit, and Tamaulipas.
The word "mezcal" is roughly translated to mean oven-cooked agave and therefore, tequila is a mezcal, but there are other mezcals that are produced from a variety of around 30 different types of the agave plant, though all the ones I tasted came from the agave espadin around the villages near Oaxaca.
Since 1995, mezcal has been designated as a spirit of origin and, as such, must be produced in one of only 8 regions in Mexico to be called mezcal. The 8 regions are Oaxaca, Durango, Guanajuato, Guerrero, San Luis Potosi, Tamaulipas, Zacatecas, and Michoacan.
Aside from these differences, most commercially available tequilas and other mass-produced mezcals are made by first roasting the heart of the agave plant in a large commercial oven, whereas small production mezcals are roasted in a clay oven over a pit dug into the earth.
This 400-year-old method of preparing the agave for distillation will typically infuse the spirit with the intense smoky characteristics that have grabbed the attention of both mixologists and fans of craft spirits and even scotch whisky.
So let's talk about the Alipus single-village mezcals from the Oaxaca region. Currently, there are four very different expressions available at local retailers. I know that Bottle Barn in West Fargo has them for retail sale and Barbacoa proudly pours and mixes cocktails with the Alipus line.
The villages represented include: San Andres, San Juan, San Luis, and Santa Ana del Rio. All four bottles have a similar label but different colored labeling and the village name is prominently displayed on a stamp placed on the neck of the bottle. The liquid inside each bottle is equally clear in color but what's inside is so utterly different that it is a great lineup to perfectly illustrate the beauty and charm that is mezcal.
Mezcal Alipus San Andres is considered by many to be the most "feminine" of the lineup with a nose packed full of floral notes and citrus and spice. Slight hints of smoke linger in the background and seem to tie together the abundance of sweetness and spice.
Mezcal Alipus San Juan is perhaps the most "masculine" of these products and delivers an extremely heavy if not almost overwhelming amount of smoke. There are notes of banana and dark fruit and a touch of coconut but mostly this mezcal hits you hard with lots of the smokiness that mezcal has become known for.
This smokiness can be quite appealing, especially to fans of single-malt scotch, but those who are used to tequila may need to work their way into such a bold mezcal.
Mezcal Alipus San Luis is much more mild than the San Juan but less floral than the San Andres. Applewood barbecue flavors mingle with limey citrus in a very pleasing way and there is a touch of peppery spice that hits throughout the tasting but is tempered by a nice sweet barbecue finish. One of the most complex offerings from Alipus, this one has a lot going on and it's all very impressive and satisfying.
Mezcal Alipus Santa Ana is the least smokey of the lot, but what it is missing in smoke it makes up for with a solidly fruity, floral, and even piney flavor. The fact that it is the least smokey (even less than the San Andres) would make it a great place to start easing yourself into drinking mezcal and the abundance of fruit and floral notes make this an excellent mezcal for mixology.