Tour de Froth
by Chris Hennen | .(JavaScript must be enabled to view this email address) | Beer Snob | May 8th, 2014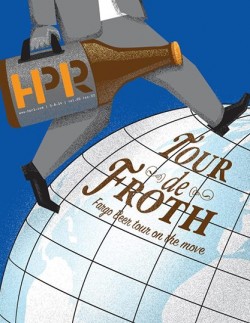 Fargo craft beer enthusiasts can get their fix of around 100 beers from over 27 breweries this weekend when the Fargo Craft Beer Tour comes to the Hilton Garden Inn. It's the brainchild of event promoter Christian Medford, a Fargo native who has done similar events in St. Cloud and sought to capitalize on the growing craft beer market in the Fargo-Moorhead area. To that end, two of the breweries featured will be local: Fargo Brewing Company and Junkyard Brewing Company.
For a $25 general admission ticket, beer lovers can sample unlimited two-ounce glasses of beer from the featured breweries from 2 until 5 p.m. For an extra $15, attendees can become VIPs and get an extra hour of sampling, from 1 to 2 p.m.
"It's really just all about the beer," Medford said. "It's about getting to know your next favorite beer, getting to know what kind of beer you actually like. Because once upon a time you tried a dark beer and you went, 'Oh, that's terrible,' and you never tried one again. Well, they are not all the same."
What types of beers will be available to sample? Many kinds, of course, from dark to light to everything in between.
"There's going to be some lagers, there's obviously a majority are going to be the ale version," Medford said. "There are, I just counted, 30 different pale ale versions, whether that is an American pale ale, IPA or double IPA. There's also variations with that."
Two breweries will be doing specialty IPAs just for the event, with Fargo Brewing Company bringing a double IPA called 1.21 Gigahops (a nod to "Back to the Future") and Empyrean Brewing Company handing out a specialty Mango IPA. In addition, cider beers will be featured.
"I have two cider breweries that are going to be there, Angry Orchard and Woodchuck, which the cider always go really well at these events," Medford said. "Whether you are a cider fan or not, it's always kind of nice to cleanse the palate with something nice and crisp after you've had something a little dark and heavy or maybe even something you didn't care for."
Empyrean Brewing Company was founded in 1990 in Lincoln, Neb. Ben Matya of Empyrean told HPR about the explosion of the craft beer industry in recent years.
"It's been pretty amazing to think that when we started brewing there were less than 1,000 breweries, and now we're approaching 2,500," Matya said. "And you are seeing a lot of local, regional players start to pop up and you see that the larger breweries everywhere from Miller, Coors to Anheuser Busch creating craft style beers. Consumers are really just looking for new and unique beer styles out there. It's really interesting because there's not as much I would say brewery loyalty. You maybe have a go-to brewery, but you see more style loyalty so if you drink IPAs that's your go-to drink or if you enjoy Porters you enjoy every Porter out there, so it's a lot of fun."
Fargo Brewing Company co-founder Aaron Hill explained how the demand for craft beer in Fargo has been continually growing.
"We've had an explosion in the last six months of new bars and restaurants. You are seeing a lot of them; they want craft beer. Craft beer is an important part of their business," Hill said.
"I always tell people it's really fun for us to be at the forefront and maybe helping move that along, moving the craft beer industry along in this area, which has kind of been a big part of our goal and our mission — not just to make and sell beer but to develop this craft beer enthusiasm."
State law mandates these type of events last four hours, and the beer is unlimited within that timeframe. Medford told us that he recommends showing up a half hour before you want to enter to allow enough time to get carded, but said lines shouldn't be that long inside because the breweries are spaced out well.
Event planners are also offering $5 tickets for designated drivers and free shuttles starting at noon from Shotgun Sally's, where an afterparty will happen featuring local country band October Road.
With the Fargo Craft Beer Tour happening the same weekend as the Fargo Marathon, Medford wanted to be clear that it's a complimentary event timed so people can do both.
"What I am really trying to tell people is it's after the marathon," Medford told HPR. "So if people are going to the marathon, by all means go, cheer everyone on and then come celebrate with us."
Medford has been doing events like this in St. Cloud for years, but once he started, his aim was always to eventually bring them to his hometown.
"It's always kind of been my goal to bring it back home because I am obviously a beer geek," he said. "And I know that Fargo is a growing beer market and it's just a great market for this type of event."
IF YOU GO:
Fargo Craft Beer Tour
Hilton Garden Inn, 4351 17th Ave. S.
Saturday, May 10, 1 to 5 p.m.
Tickets at Bottle Barn locations, online atwww.fargocraftbeertour.com or at the door
$25 general admission in advance, $30 at door; $40 VIP in advance, $45 at door; $5 for designated drivers