​Twist: A new concept for downtown
by Chris Larson | .(JavaScript must be enabled to view this email address) | Beer Snob | January 25th, 2017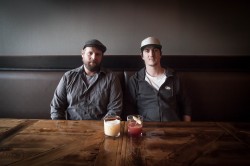 When Dan Hurder and his staff were coming up with the food and drink menus for a rebranding and relaunch, a singular word seemed to dominate their discussions and descriptions of what they wanted to offer, and so that simple word became the name and concept of their latest downtown offering: Twist. It is a different take on typical bar food, and a focus on traditional cocktails "with a twist". It is a concept focused on creativity and flexibility, which should allow them to easily respond to trends in both food and drink. While there was support for Sazerac Alley and the melting pot flavors of New Orleans, with this new concept comes a broader appeal and opportunities to create new and exciting twists on popular entree and small plate recipes and to bring back or reimagine old favorites from Monte's, Barbacoa, and yes, some favorites from Sazerac Alley.
With the same staff on hand, the drink menu retains its focus on thoughtfully crafted cocktails, and their pick-your-poison section still encourages customers to challenge mixologists like Jason Laub to tease and please your palate based on flavor profiles you suggest. On this evening, my wife went for one of her favorites, the classic Sazerac cocktail because she feels Jason makes the best in town. I opted for a peach bourbon creation that was expertly mixed to deliver peachiness without burying the flavors of Old Forester bourbon. The impressive selection of whiskey hasn't changed at all and those looking for a dram of extremely allocated Rip Van Winkle 10yr or Sazerac 18yr would be interested to know there was still some left to be savored.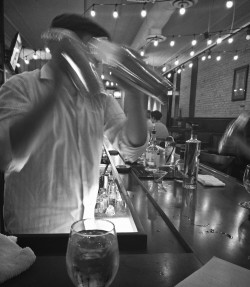 While the look and feel of the room that used to be Sazerac Alley hasn't changed much, if at all, the menu concept is fresh yet familiar. Interesting and playful small plate offerings like a deconstructed French onion soup presented as a grilled cheese sandwich bursting with French onion flavor or their lobster ravioli are already getting a bit of a buzz. On this particular night, the Portuguese mussels were sold out early, perhaps because of their Happy Hour half price small plate special that runs Monday through Saturday from 3pm to 6pm. The bacon-wrapped brussel sprouts came out as a surprise and were a welcome replacement. The basil and balsamic aioli dipping sauce seemed perfect for the slightly salty, slightly sweet caramelized morsels.
Their weekly calendar is packed with specials and events including special vegan menus and vegan wine on Mondays, a bring your own wine night on Wednesdays, and "Bags, Bubbles, and Bingo" on Thursdays. Beginning at 8pm sharp participants will compete in three games of bingo for a bottle of bubbly, a designer handbag and an entry into a drawing for a $6000 diamond necklace from Crown Jewels. They also feature live music every Wednesday from 8 to 10pm and future events include a February 1st appearance by Pat Lenertz and Travis Atwood.
You can find their full calendar of events, including monthly wine education nights on their facebook page or by emailing info@twistfargo.com.