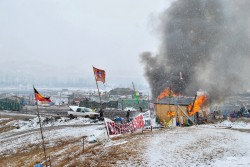 FARGO - Militarized police armed with emergency declarations, beanbags and bullets, zip ties and presidential orders, have scattered most of the camps pitted against the Dakota Access Pipeline, but local hatred against the movement remains.
And it's being promoted across the state, from rural farmer to urban politician.
As the activists' camps consolidate to its last bastion, Sacred Stone Camp, where the movement originally began, no one has been killed. Many have been injured, and more than 750 have been arrested in what was once North Dakota's tenth largest community.
"What this past year has exposed is the ugly underbelly of North Dakota," Tom Asbridge, former Democratic candidate for the House of Representatives in North Dakota, said. "We are as much or more racist and authoritarian than the Old South. It is inescapable. Our Christian values have not stood the scrutiny of our actions. I have been ashamed of my state in ways I never imagined I could be. Certainly our entire religious community must be challenged."

Now, North Dakota political leaders, bolstered by the Trump Administration, are more concerned with falling oil prices and returning to a "whiter" America by toughening its stances on protesters and immigration policies. North Dakota State Legislature has proposed and recently passed an unholy trinity of draconian bills targeting protests -- a fundamental right protected by the First Amendment.
After passing the House, the Senate voted 33-12 in favor of a measure to criminalize adults wearing masks, and increasing penalties for "rioting" and trespassing were passed by wide margins. The bills were amended by the Senate and will return to the House for a final vote.
If the bills become law, protesters could be sentenced to 10 years in prison and a $20,000 fine, which is double the current penalties. Protesters involved in smaller "riots" would be charged with a felony and possibly serve up to five years in prison and a $10,000 fine.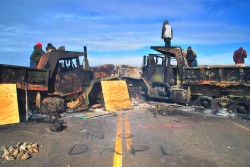 A bill that would have essentially legalized murder by car against protesters was killed mid-February. In essence, the state is saying with these propositions that protesters and those helping activist camps are "terrorists" and "paid protesters."
Other politicians and local media stations have targeted refugees, saying they carry tuberculosis, and they're proposing laws meant to say that they're not welcome in the Peace Garden State.
"You know what we're sick and tired of?" Scott P. Garman of Unity-USA said in an editorial. "People who think minorities can be guilty of racism in the same way that members of our dominant society often can be.
"Racism is prejudice plus power. I know this stark reality may sound harsh, but keep in mind that this fact is not up for debate, it is a clear and real definition."
Morton County's militarized police force is something that Jennifer Cook of the ACLU of North Dakota is concerned about.
"I've never seen anything like it," Cook said. Using binoculars, she watched as police moved into the camps on February 22 and 23. "For a movement that has been largely nonviolent, it raises a lot of red flags."
Behind the scenes, the ACLU pushed "very hard" throughout January to have law enforcement adopt different rules of engagement, she said. Cook believes that the ACLU and many other organizations involved in the controversy played an important role in curbing Morton County's apparent appetite for "less-lethal force."
"It's a marked change from what it was before. I think the pressure from a lawsuit from us, a lawsuit from the Water Protector Legal Collective/National Lawyers Guild, I hope had an impact on that. And that was part of our goal was to have that change, because we certainly don't think less-lethal weapons should be used in the manner that they had been used out at Standing Rock."
The public outlash comes from fear, according to Shiyé Bidzííl, a Standing Rock Sioux activist, who has spent the winter months at the Oceti camps. Fear of the unknown, fear of things not understood, fear of change, which leaves few options how to react: learn or reject. On the day before the main camps were evicted, he took a moment to share his personal experiences during the long months since April 2016.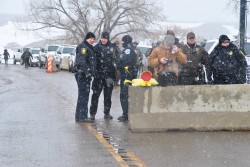 "There is a difference in me, I have gained a more spiritual knowledge of myself, and what I've got to do," Bidzííl said. "I found my purpose."
He conquered his fears after two masked white men threatened to attack him outside a Bismarck hotel, he said: repression leads only to resistance.
"As long as a person can believe in the good and in the bad, it's what empowers us to do greater in this life, to see all the evil in this world, and in a way this is evil and this is bad." Bidzííl pointed to the police waiting along Highway 1806, overlooking the former Oceti Sakowin camp. "Again, invading our treaty territories, and not respecting our treaty laws and our rights as indigenous people here."
Garman, of Unity-USA, said privilege is the power to be ignorant of one's privilege, and it is the enemy of truth.
"The truth is this, in our 21st century, multicultural world, many people have a subconscious fear of losing their privileged status," Garman said. "They usually don't realize that this is the case, but deep down, somewhere in their heart of hearts, they know that the world is not fair, but this unfairness is especially true for minorities."
And when such narratives are supported by those in power, the truth is lost, Bidzííl said.
"They try to come in and portray it as something different, and they think that is the story. The real stories are people like me, all these live streamers here, and all these warriors, and the true story is we're here to protect the mother and her waters to flow freely for all the people to be free and to drink, to quench our thirst of what we want to do in this life."
Dozens of police cars lined both sides of Highway 1806, closed off months before to the north. Some police are silent, leaving piles of sunflower seed shells on the pavement. Bureau of Indian Affairs agents cracked jokes about "DAPL Juice," or "Warrior Juice," a methamphetamine and Gatorade mix they say activists are known to drink. Police from cities like Fargo, Kenmare, and sheriff's department across the state sat bored, watched dashboard clocks as the 2pm deadline approached. Behind the rows of sedans and SUVs, the North Dakota National Guard in their Humvees and Bearcats approached.
"There's so much militarized force here, but that's how much fear they have in them," Bidzííl said. "They have to show their superior force to make them feel okay with themselves. In that way, we already won."
Before signing off on a live feed on Sunday from an undisclosed location, Bidzííl thanked all the haters who "stalk" him online. "A message to all my haters, to all my trolls, I want to thank you. If it wasn't for all the trolls out there we wouldn't know all the pain and the hate."
The camps may be mostly emptied, but according to activists, the fight is not over.
In early February, a masked activist released a video to Shaun King of the New York Daily News.
"They call us militant, they say we are violent, that we are not here in prayer… but there is prayer in our actions…and for the next seven generations we will be here for the water. We will not stop until the black snake is defeated. We shall remain until we are free in this world, or free from this world."
Jennifer Cook believes that the hatred in North Dakota doesn't have to be permanent.
"It can change. Tensions are high right now on both sides, and that much is very obvious. Is there some trickle-over in some communities that aren't near Bismarck, or events that are happening near Bismarck? That very well may be."
As the policy director for the ACLU of North Dakota, Cook is familiar with most of the incidents that have occurred lately in North Dakota. The best tool to combat hatred is education, she said. "Sunlight is the best disinfectant."
"It is essential to our democracy, even speech that we abhor, unless it is an imminent threat, like fighting words to someone, we need to be able to protect them. If you push that type of speech underground you won't be able to see it. How do you know that it's happening then? How do you know those feelings of racial tension are there?
"We want to bring it to light. We want to talk about it."
Cultural competency training, community outreach programs, social cultural events, and advocacy to state and law enforcement leaders must occur in order help define what appropriate behavior is. When all else fails, the ACLU turns to litigation to help change state and federal regulations.
"We need to address issues as they pop up," Cook said. "One of the best ways to handle these things is to not sweep it under the rug, bring it to light, and do it in a way that is educational to others.
"That's one of the great things about the Standing Rock movement; it has given us an opportunity to talk about this."