​GOP optimism turning blue
by C.S. Hagen | .(JavaScript must be enabled to view this email address) | News | January 17th, 2018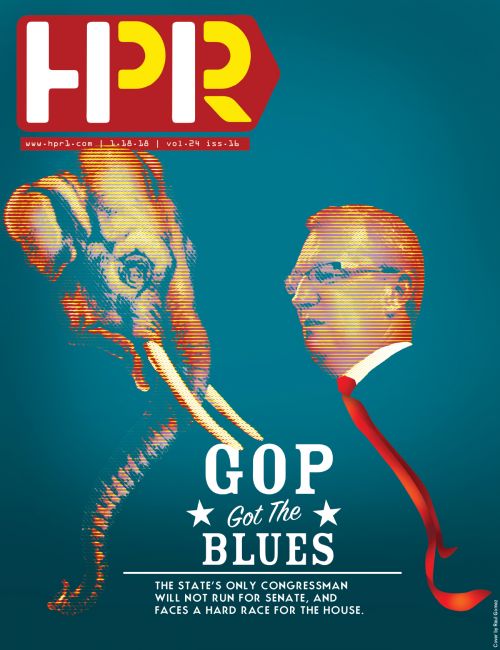 FARGO – Republican optimism for enlisting Senate candidates is suffering blow after blow. Democrats have flipped eight Republican-controlled state legislative seats across the nation, from Roy Moore's loss to former federal prosecutor Doug Jones in Alabama, to elections in Florida, and to Virginia. The GOP's majority grip is slipping.
The day after President Donald Trump's inauguration, the Republican Party had a majority in the Senate of 53 out of 100 Senate seats, but now defend the Senate by one seat. If Republicans lose 24 seats in the House of Representatives this year – a loss that is predicted by many – then their majority in both legislative bodies will disappear.
"The president's party nearly always loses seats in midterm elections, regardless of how well the president is rated by the public," a statement from Gallup Poll reported. "Since World War II, only Clinton in 1998 and Bush in 2002 saw their parties gain seats in a midterm."
As of January 14, Trump sits at 38 percent approval rating, which is the lowest approval for any president since 1954, according to Gallup News.
Last week, the Republican Party took an uppercut when Congressman Kevin Cramer R-ND, despite Trump's urging, announced he would not run against Heidi Heitkamp D-ND, for her Senate seat in 2018, but would run again for the House. The announcement came days after he was attacked for nepotism and using taxpayer-funded Congressional resources to further a possible bid for a Senate seat, allegations, which were laid out in a formal complaint to Office of Congressional Ethics by the North Dakota Democratic-NPL.
Cramer will attempt to keep his seat in the House of Representatives, and will run against "hard-charging Democrat opponent," Ben Hanson.
"He [Cramer] is seeking reelection to the U.S. House," Jason Stverak, Cramer's deputy chief of staff said. Stverak also confirmed Cramer will not be running against current Senator Heidi Heitkamp, D-ND.
Hanson, 31, is running a grassroots campaign, with more than 500 unique individual donors, 75 percent of whom are from North Dakota, and believes he has a fighting chance. Hanson is a commercial broker with Archer Real Estate Services in Fargo, and was elected District 16's North Dakota House of Representatives as well as serving as the House Caucus Co-Chair.
"I've been talking about the issues that impact our state, and political process stories like this don't have any affect on that," Hanson said about North Dakota Democratic-NPL request for the Office of Congressional Ethics to investigate Cramer.
"By pretending the rules don't apply to him — by treating his position in Congress like his own personal megaphone and campaigning for himself with our money — Congressman Cramer is showing North Dakotans just who his priority is," Hanson said on his Facebook page. "And it's not veterans like me, and it's not the taxpayers who pay for him to represent North Dakota. It's himself."
Cramer, in his third term, is heavily sponsored by big oil lobbyists, with his largest donation of $31,050 from Energy Transfer Partners, the oil company behind the controversial Dakota Access Pipeline. Cramer also received a $20,000 donation from the Freedom Project during his reelection campaign in 2016. The Freedom Project is an affiliate of the John Birch Society, and calls Common Core an "absolute appropriation of Soviet ideology and propaganda," and that it is "mainstreaming homosexuality, promiscuity, and other practices," according to The Washington Post.
Other out-of-state companies supporting Cramer include arms giant Northrop Grumman and Syngenta, an agribusiness company cited by the United Nations for influencing policy makers.
The allegations filed by the North Dakota Democratic-NPL stem from Cramer's response to a tweet posted by Mike McFeely, a North Dakota columnist and radio host, which stated "I find this hard to believe, that @RepKevinCramer leads @SenatorHeitkamp in polling. I'd like to see Cramer's and Heitkamp's internal polling."
Cramer's reply sent from his official site: "It would break your heart to see our polling @MikeMcFeelyWDAY," Cramer wrote a minute after McFeely's first post.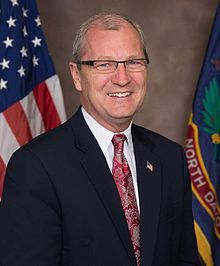 "In direct violation of federal law and the Rules of the House of Representatives (the 'House Rules'), on December 30, 2017, Representative Cramer tweeted about political polling numbers, apparently to promote bid for the United States Senate, using what appears to be his official House Twitter account," a letter from McNeil to the Chief Counsel and Staff Director, Omar Ashmawy, of the Office of Congressional Ethics, stated.
The Office of Congressional Ethics was established by the House of Representatives in 2008, and is an independent, non-partisan organization charged with reviewing allegations of misconduct concerning House members, staff, and refers matters to the Committee on Ethics, according to the Office of Congressional Ethics website.
"Members of Congress are clearly prohibited from using official resources for campaign and political purposes. Federal law states that official funds are to be used only for the purposes for which appropriated, which does not include campaign purposes. The laws and rules that prohibit the use of official resources for campaign purposes reflect 'the basic principle that government funds should not be spent to help incumbents gain re-election."
The Democratic-NPL filed the complaint on January 8, further mentioning that Cramer has a long history of using campaign funds for personal gain, to the tune of a total of more than $350,000.
"Congressman Cramer has a clear pattern of unethical behavior – ranging from paying himself to essentially running a family business through his campaign committee – but now he's taken his swampy behavior to a whole new level by using taxpayer dollars to boost his own campaign," Democratic-NPL Executive Director Scott McNeil said.
"To hold Congressman Cramer accountable for his misuse of taxpayer dollars, the non-partisan, independent Office of Congressional Ethics needs to get to the bottom of just how excessively Congressman Cramer disrespected hard-working North Dakota taxpayers by using the Congressional office they fund for his own political gain."
Some of the payments include $18,000 with an additional $827 in reimbursements to Cramer's wife, Kris, in 2017, according tostatisticsfiled by the Federal Election Commission of the United States of America. She received $23,000 in 2016, and was reimbursed $6,157.31 by Cramer's office. In 2014, Cramer's wife's salary was higher, with $1,500 per payment adding up to a total of $31,500, with reimbursements of $4,188.50.
Cramer reimbursed himself $16,697 in 2017, $34,439.35 in 2016, including paying himself for a fundraising breakfast costing $2,500. According to the Federal Election Commission, Cramer has reimbursed his family members more than $150,000, and himself more than $200,000.
Cramer's daughter, Rachel Wegner, is listed as an administrative consultant, and received $1,100 in 2017, and $2,340 in 2016. In 2014, Wegner is listed as a salaried employee and received a total of $5,392.56. Other family members have received approximately $12,000, including $327 for babysitting to one of Cramer's daughters.
Cramer's son Isaac received $802.50 in 2016. Cramer's daughter Anne Senne, co-owner of family-owned video production company, Reel Love Videos, or Reel Love Films according to the company's Facebook page, received $2,265 in 2016 and 2017. Reel Love Videos has received $11,334.45 since 2014, according to the FEC.
According to Federal Election Commission of the United States of America statistics, Cramer spends an average of $17.50 a meal.
"Congressman Cramer, who habitually skirts the lines of ethical behavior – including not only routinely paying himself but also his family members and their businesses more than $350,000 over the years from his campaign account – last year voted behind closed doors to gut the Office of Congressional Ethics and remove Congress from any independent oversight that could hold him accountable for the behavior he's demonstrated," the North Dakota Democratic-NPL stated in a press release.
Cramer's office promised a reply, but did not offer any statement.
The allegations have some wondering if Cramer dropped the Senate race because of the possible investigation into his expenditures.
"Congressman Cramer chose to forego a tough U.S. Senate race against a popular incumbent with a strong record of reaching across the aisle, building consensus, putting North Dakota first, and getting results," McNeil said.
"Congressman Cramer might think that running for re-election in the House gives him the best opportunity to continue running his campaigns like a family business and using political donations to line his wallet," McNeil said. "But given his disastrous record – voting to rip health care away from tens of thousands of North Dakotans, supporting the intentional sabotage of health insurance marketplace, and blowing up the deficit to give tax break to corporation and the rich – Representative Cramer won't be able to avoid being held accountable by countless North Dakotan who are sick and tired of the swamp and the politicians who sustain it."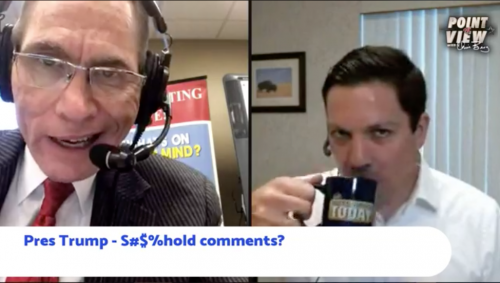 Racism as a "nothing burger"
Cramer also holds a weekly "Radio Town Hall" with Scott Hennen, conservative radio host for AM 1100 "The Flag," and is frequently on television with KVLY's "Point of View" host Chris Berg. Both media personalities frequently invite Cramer to speak on their shows, but Hennen and Berg also collaborate to further their own agendas.
The day after Trump called 54 nations of Africa, El Salvador, Honduras, and Haiti "sh*thole countries," Hennen and Berg defended Trump's comments in a podcast they called "Frank Friday."
Trump's statement during a bipartisan meeting on immigration issues, has been condemned by national leaders and human rights organizations around the world as blatantly racist.
"There is no other word one can use but 'racist,'" United Nations High Commissioner on Human Rights, Rupert Colville, said in media reports. "You cannot dismiss entire countries and continents as 'shitholes,' whose entire populations, who are not white, are therefore not welcome."
"Really, this is consuming all of Washington and our government right now?" Hennen said.
"We got a president now who is going to shoot from the hip…" Berg said. "Here's the bottom line, did he use the right language? If he indeed, now he's denying it today, if he indeed used that 's' word, clearly not the best usage of the word."
"Now, can I stop you there?" Hennen tried to interrupt.
"Let me finish real quick. Why are Somali refugees coming to America? Why are people leaving Somalia in droves?"
"Because it's not a good place," Hennen said.
"Because it's a stable government?"
"It's not a good place," Hennen said. "And by the way, everybody who is outraged that he's used this word to describe those towns, should get a one-way ticket to live there."
"And I wrote that on my Facebook page," Berg said.
"Here's what bothers me: we get sucked into that vortex, and this criminal enterprise, this criminal fake news enterprise that is just nothing other than an arm for the Democratic Party because they can't stand Donald Trump or his politics and who they really loath is us," Hennen said. "Those of us in Flyover country that think like he does. They then, funnel this outrage over a word he used, and we are missing really important things. We're having to defend their stupidity."
"They want to go to the term racist," Berg said. "That was the furthest thing from my mind."
"I don't think it's racist at all," Hennen said. "This is ridiculous. The President of the United States, for one – politically – is not hurt by this, he's helped by this. He's speaking the public's language.
"It doesn't matter… Give me a break… I don't care; it's not the story of the day… I'm just tired of them winning."
"What do you think people at a bar in small town North Dakota said when they saw this?" Berg said.
"I agree," Hennen said. "I agree… it's a nothing burger."
The Krenz connection
While a former case manager for the Spirit Lake Tribal Social Services is under investigation by the Stutsman County State's Attorney's Office for allegedly faking adoptions of Native American children, Cramer's office has remained quiet.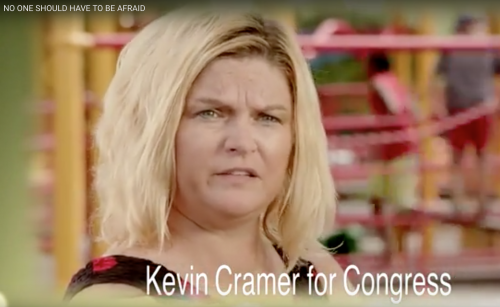 Cramer included Betty Jo Krenz in a 2014 campaign advertisement entitled "No One Should Have To Be Afraid," and when asked for comment about Krenz or why Cramer included her in the video, his office offered no response.
Krenz, from Woodworth, North Dakota, became a trusted advisor of Autym Burke, an Oregon resident, who is one of the women claiming Krenz faked adoption proceedings and solicited funds. Her self-advertised relationship with Cramer, and with Ben Carson, the United States Secretary of Housing and Urban Development, helped build that trust, she said.
After months of what Burke calls lies, her family slowly began seeing the truth.
"This guy [Cramer] should not be representing the people of North Dakota," Burke said in a Facebook post. "I live in Oregon, but was scammed badly by a woman he has worked with, and used in his ad campaigns in the past. Betty Jo Krenz. The FBI is involved and charges will be brought… and yet even with this knowledge, Kevin Cramer won't publicly admit that his office screwed up by aligning themselves with her and placing at risk people in the path of a criminal. She has a long criminal record, what happened to background checking people you put in positions of authority?"