WOODWORTH, N.D. – Autym Burke spent months preparing a nursery for the child she thought she was to adopt.
Living in Oregon, she'd seen pictures and videos of the Native American baby she planned to name "Ruby." The paperwork seemed to be in order, at first, the caseworker seemed legitimate. After all, Congressman Kevin Cramer, R-ND, included her in a campaign video.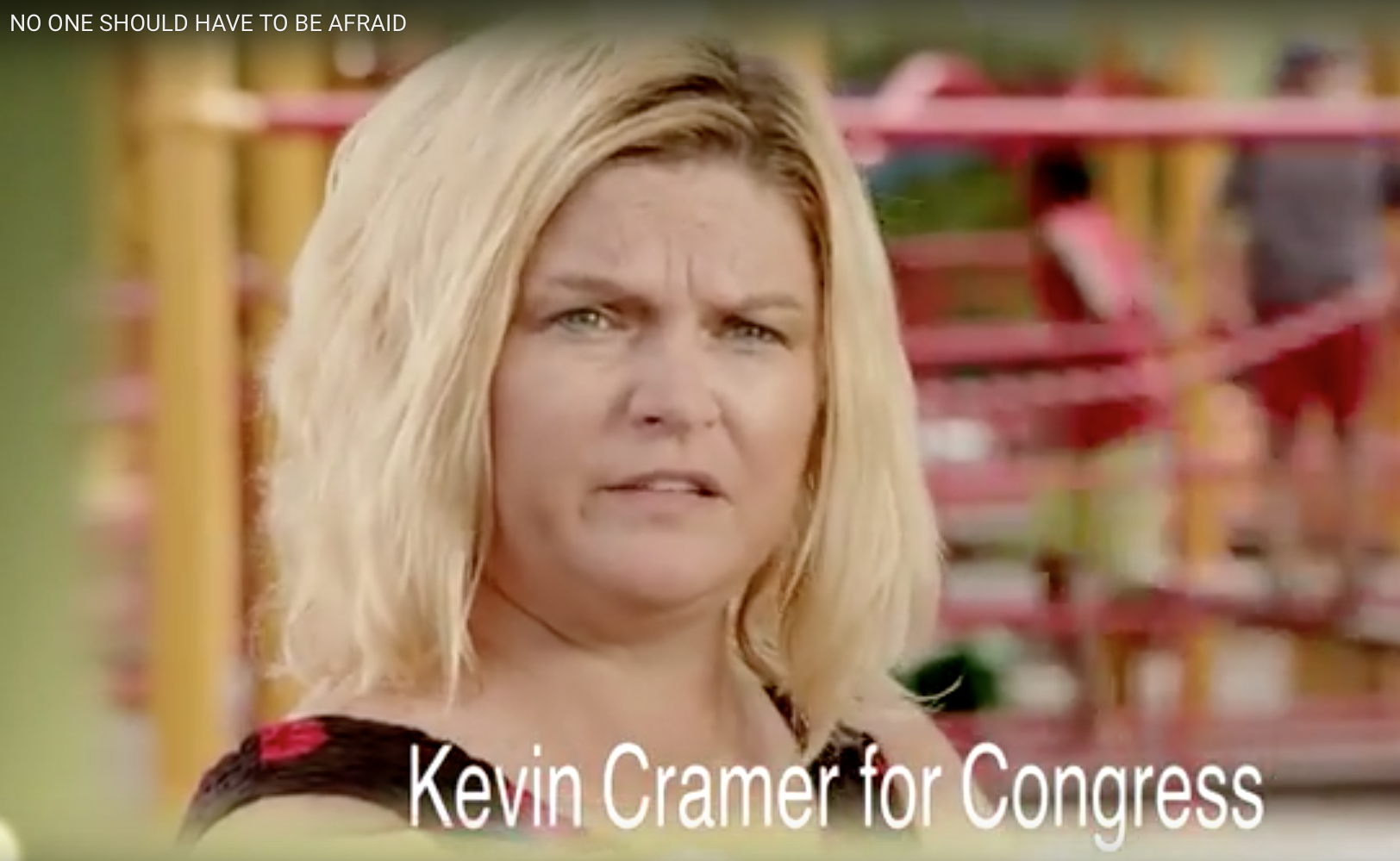 The reported caseworker, Betty Jo Krenz, was included in a 2014-campaign advertisement approved by Cramer. She also spoke at a congressional subcommittee meeting involving Cramer, and bragged about her relationship with the North Dakota congressman and a presidential candidate, Burke said.
"In the beginning she did mention her tie to him [Cramer] several times," Burke said. "She also said she was a friend of Ben Carson. It was really only in the beginning. I'm sure it was to gain our trust."
Burke spoke of Carson, the neurosurgeon, and former presidential candidate, currently the United States Secretary of Housing and Urban Development in the Trump Administration.
Krenz also said she was a nominee for the 2017 L'Oreal Paris Women of Worth Award, Burke said, for which anyone can be nominated but only 10 finalists are accepted. Spokespeople for the prestigious award affirmed Krenz had been nominated, but was not selected.
"Embarrassing that we fell for this nonsense," Burke said. "But when I checked out the Congressman Cramer thing, it was legit."
Cramer was contacted for comment repeatedly by telephone and emails. Cramer's Communication Director, Adam Jorde, replied saying, "Congressman Cramer is unavailable for your interview request."
Krenz, approximately 46, was a former caseworker for Spirit Lake Tribal Social Services until she was fired in 2011, and is currently under investigation for fraud and being involved in fake adoption proceedings by the Stutsman County Sheriff's Department. Krenz has a long criminal record involving forgery and bad checks under her current surname and a former surname, Edland, from 1998 until 2015, according to North Dakota court records.
She appeared in Cramer's campaign ad entitled "No One Should Have To Be Afraid" in 2014. Three years later, the video had 314 views and 15 subscribers on YouTube.
Approximately 1,500 miles away in South Dakota, "Ruby's" birth mother, Jodie Blackboy, a registered member of the Spirit Lake Nation, knew nothing about her infant daughter being a candidate for adoption. Her baby's real name is Julissa, and said in a Facebook post that the scam continued behind her back for eight months.
"I did not know Betty Jo Krenz was using my daughter's pictures for her own gain," Blackboy said. She discovered what she called a scam through a Facebook post from Burke.
"My daughter was never up for adoption and I'm not going to jail for drugs," Blackboy wrote in a public September 23 Facebook post. "I trusted this woman for years, almost let her take my child, thank God I didn't, I would have never got her back, and only to find out she was in it for my child."
The same day she posted a picture of Krenz and titled it: "Human child trafficker alert."
Another Facebook conversation written by Amber Jo, who claimed to be Krenz's daughter, said her mother is "as corrupt as the person who fired her, and as far as I'm concerned, she should not be around children herself. I know her well, I'm her own blood, and this lady has no right to be around those children."
The alleged long con
A family friend who wishes to remain anonymous introduced Krenz to Burke in February this year.
"First contact with her was over the phone," Burke said. "Before this ordeal was complete, we had communicated by phone, text, Messenger, and she even came to my home in Oregon to conduct what we now know to be a fake home study to make sure we were qualified to adopt this little baby girl. She inspected our home and spent a great deal of time with us over the course of a week."Even though Krenz came with a high personal recommendation, Burke did her due diligence, she said. Krenz seemed well connected, and said she loved the Native American people. Her apparent relationship with Cramer played a "huge role" in believing Krenz was credible. She was an apparently fierce advocate for women and children and helped find homes for the children of birth mothers who didn't want to or couldn't raise their children, Burke said.
"I have to say, there are very few people I have ever liked as much as I did Betty Jo upon first meeting a person," Burke said. "She was so great."
Day by day, Burke's dreams of adopting a baby girl slowly melted away.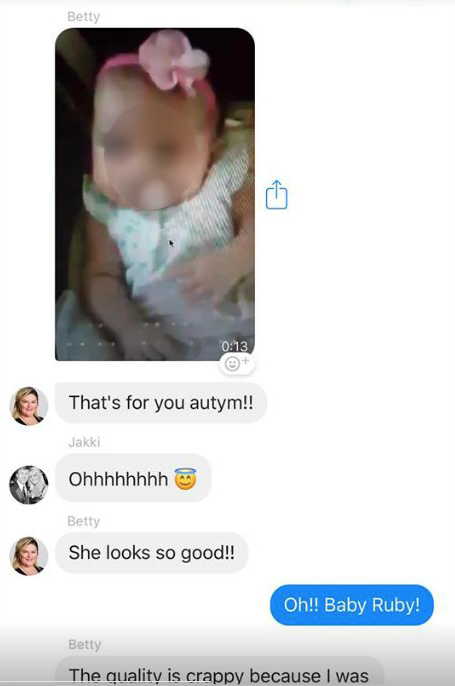 "There were a few things throughout the whole process that caused a slight amount of doubt here and there," Burke said. "However, she told me many times that I have lived under a rock my whole life and just don't get how the system works. She is very convincing. It wasn't until the very last week of August that I knew she was lying to us, and that this baby, who we had named Ruby, was never coming home to us. It was a heartbreaking process getting to the end of this and uncovering her lies one by one. Very, very painful."
The most poignant proof Burke had about what she calls a con was the lack of proof.
Weeks of delays were followed by excuses. Judges had full court schedules. Paperwork needed signing.
"Something in my heart was telling me that she was lying," Burke said.
Burke, who has no natural children, and her husband, who has two boys, began demanding proof of the documentation they were promised. They wanted to stop relying on Krenz's word.
"When she couldn't produce the proof over the course of the last 48 hours of this ordeal, we knew it was all lies," Burke said. "And then I confronted her with her lies and she didn't even deny them."
Krenz is still under investigation, and has not been arrested at this time. Repeated attempts to contact Krenz have not been successful.
"I can't explain how painful this realization was for us," Burke said. "Of course I know now that this sweet little baby was never meant to be ours, but it was still a heartbreaking blow to our family. I know my husband and I never held her, but she truly was in our hearts."
The Burke family didn't seek out a Native American child to start with, she said.
"Our hearts were open to any child from anywhere," Burke said. "However, when this came into our lives without us seeking it out, it felt very meant-to-be at that time."
Knowing little about Native American adoption issues, they accepted an explanation that their baby-to-be was not eligible for enrollment in an indigenous tribe. The Indian Child Welfare Act of 1978 gave a strong voice to tribal governments concerning child custody hearings involving Native American children, by giving tribes jurisdiction on a reservation.
An indigenous child is considered a ward of the tribe. The act was enacted due to the excessive removal of indigenous children – approximately 35 percent – from traditional homes into non-Indigenous and religious groups.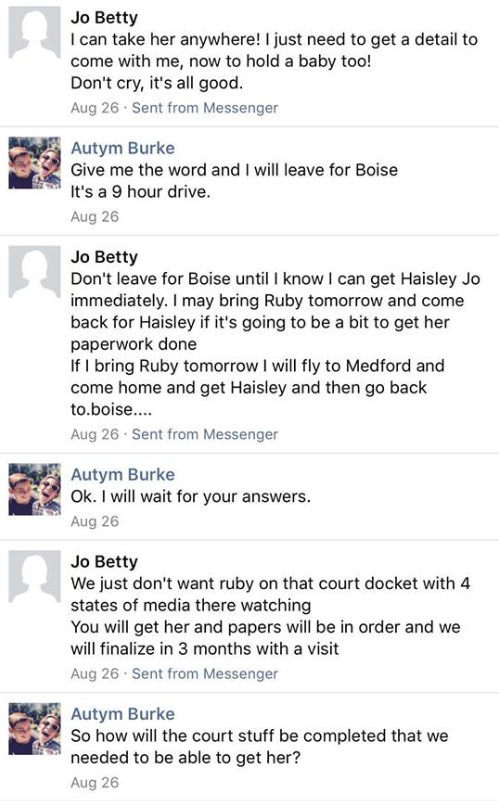 Krenz has numerous GoFundMe accounts, including one that is now now closed, which raised $16,544. Another account Krenz is credited with being involved with is called a math camp for Lakota children and raised $4,470. Krenz was also involved with the Kind Hearted Woman Dream Shelter, in Jamestown, with Robin's House, a shelter for women and children, and with a blog called Restless Spirit Blog, last updated in 2015. On a September 2016 YouTube channel, Krenz discusses a $2,000 micro grant she planned to use to help women for Damsel In Defense, an empowering women organization.
Three years ago, Krenz issued a public statement on Disqus.
"Well, I am proud to say I am a birth mother of a baby girl I chose to place up for adoption 22 years ago, and I can assure you I received nothing and paid my own medical expenses," Krenz wrote. Punctuation and grammar have been altered for editing purposes.
"Adoption fees go to the place that does the legal work involved in name changing and other court work involved. Legitimate adoptions thru agencies such as The Village do not pay the birth mother a penny. I know nothing about surrogate mothers, but I have seen children sold on a reservation and it's nothing that I care to see legalized in this state."
"We are very sad at the heartache this had caused for Jodie Blackboy as well," Autym Burke said. "I never would have reached out to her if not just to try to protect her and Julissa from Betty Jo. Honestly, putting this behind us would be the best way to begin healing, but we felt she needed to know. We felt she too was lied to. And as sad as this loss is, we truly are so glad that it ended where it did and did not go further, and that Jodie and Julissa are together and doing so well.
"We will stand by them as long as it takes to shine the light bright enough on this issue to make sure no one else is victimized by Betty Jo Krenz. And maybe more people will come forward if they hear our story."