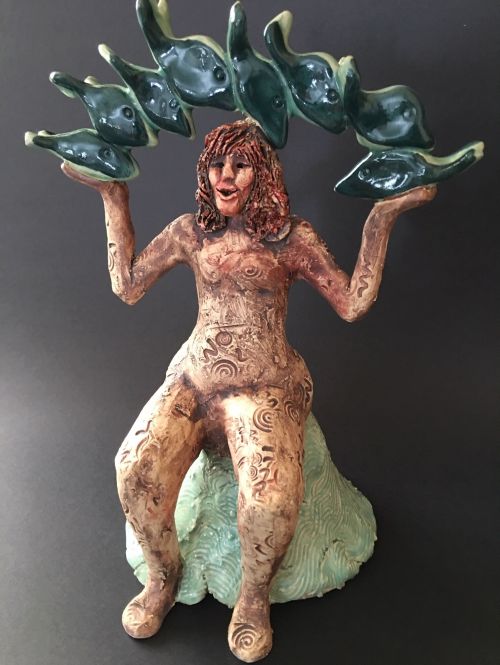 Two local art exhibitions had their opening receptions last week, the first one being at the Spirit Room last Thursday. Their current exhibition, "Wonderful Works of Whimsy," will be displayed until April 13th, free to view during the hours of 1 p.m. to 5 p.m. Monday through Saturday.
"Whimsy" celebrates the fanciful nature of creativity, with bright colors, surreal images, and unique designs. Food and drink were served as some of the artists present gave talks on their pieces. Three works of art, chosen by local artist McCal Joy, were awarded best-in-show ribbons.
In Gallery I, a set of eye-catching sculptures are placed near the door to greet patrons as they walk in. This includes Rose Shindler Cunningham's "Cat," a fired ceramic vessel with handmade glass eyes. One of the artists at the forefront of this gallery is Kristen Rehder, who described her oil painting "Wild Horses" as "a celebration of color and light" in her artist statement. Alongside Rehder's pieces are the vivid acrylic paintings of Emily Williams-Wheeler, who has an endearing portrait of a dog wearing a party hat entitled "Party Animal."
In Gallery II you'll find "Wine, Divinity, and Eggstasy," a series of chicken, duck, and goose eggs intricately painted and assembled by Mary Jo Cayley. During her artist talk, Cayley offered to provide personal readings based on the participants' favorite eggs.
Last Saturday, the Red Raven's 8th Annual Erotic Art Show had its opening reception, complete with raffle drawings, specialty drinks, and Valentine's Day-themed baked goods. Proceeds from the raffle went towards Planned Parenthood, while participants went home with CDs, artwork, and tickets to local events.
The exhibition's imagery could easily appeal to a diverse audience. For example, a photographic collage by Anjali Karna entitled "It's in All of Us" displays human bodies of different shapes and sizes, showing them to be equal in terms of sex appeal. "Self Portrait," an acrylic painting by Erik Ryder, portrays a tattooed transgender man holding up the trans pride flag. "Elegance," a photograph by Adam Bursack, depicts a beautiful black woman as a welcome subversion to the Eurocentric beauty norms that dominate American media.
In addition to the usual frames and canvases, this exhibition also displays some unusual art mediums. The best examples of this are the collages of Laura Forgie, who prints images on sheets of organza fabric, then embroiders them to highlight certain aspects of the images. Her pieces are entitled "Barely Legal" and "Sasha Grey & Deep Throat."
The Red Raven will keep this display at least throughout the month of February. Their hours of operation are 9 a.m. to 11 p.m. on weekdays, 10 a.m. to 11 p.m. on Saturdays, and 11 a.m. to 11 p.m. on Sundays.