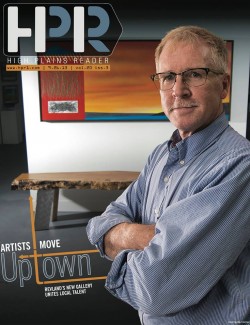 By Diane Miller
It seems that each day, Fargo's downtown is becoming more chic, elegant and modern. The trend continues with this Thursday's grand opening of The Uptown Gallery, a fine looking space for gifted local artists to display their work.
Owner and CEO Steve Revland, 60, was born and raised in Fargo. For nearly 40 years, he has been designing and handcrafting is own high-end wood furniture.
Naturally, Revland has also gathered and maintained relationships with other veteran artists from around the area. So the initial idea behind The Uptown Gallery was to have a go-to space for these artists' work.
"There are 18 of us right now and 15 of us that are kind of in my age bracket," Revland said. "So it was very easy to tell them we are going to have a gallery for us."
Some of the well-known Uptown Gallery artists include Deane Colin Fay, Deborah Mae Broad, Brad Bachmeier, Jon Offutt, Susan Boyd and Kay Ornberg.
"Then I started being approached by some younger artists and I thought, 'Well, we need to also support younger artists,'" Revland said. "So now we are starting to do that. We've got Dan Francis and we've got Warren Kessler and couple of other younger folks.
"So what initially started out as a place for us has now morphed into a place for just fine art and nurturing young artists, giving back to the community – being philanthropic."
Truly, this new downtown hot spot will have some of the best local art by the best local artists – continuously.
"We are not going to do solo exhibits. We are not going to take up half our gallery with a solo show," Revland said. "We are just going to have group shows, probably quarterly."
So rather than feature one or two artists with one or two different mediums at a time, there will always be a variety of images, sculptures, textiles, etc. to view or purchase.
For example, people can buy some of the area's finest handcrafted leather bags at The Uptown Gallery. Susanne Williams, the gallery's executive director, has her own line of leather handbags, jewelry, wearable art and fine art. It's called Willi Nilli.
"I consider (my art) pieces of sculpture but you can touch it and use it and bang it around and make it your own," Williams said.
"I'll be moving my production studio space into the back of the gallery so when I'm here everyday I can be working on my art as well as doing everything we can to move the art and bring it over to the community."
Before pursuing art full time, Williams worked at two of our area's major universities, North Dakota State University (for two years) and Minnesota State University Moorhead (for 10 years). She taught communications and, at MSUM, she was President Roland Barden's assistant in communications.
"(Williams) has all the brains behind the outfit here," Revland said. "Susanne knows how to create brand, take that brand and take it to the next level."
Revland said they are currently looking at a 10-to-15-year business plan. The two will work diligently to keep the gallery's momentum continuously spinning by having events, participating in community art events like Cork and Canvas and actively partaking in social media.
The grand opening this Thursday is expected to be huge.
"We are kind of hyperventilating with how big we think it is going to be," Williams said.
All the artists will be in attendance, there will be an official ribbon cutting and Revland will say a few words. Everyone is welcome. Art enthusiasts are especially encouraged to attend.
"The fact that the community is so welcoming to artists, I think feeds the fact that more artists either choose to stay here if they were born and raised here," Williams said. "It even draws people from the outside because they see and hear about the reputation that Fargo is a very supportive community for the arts."
IF YOU GO:
WHAT: Uptown Gallery Grand Opening
WHERE: 72 Broadway, Fargo
WHEN: Thurs., Sept. 26, 6-9 p.m.
INFO: facebook.com/TheUptownGallery