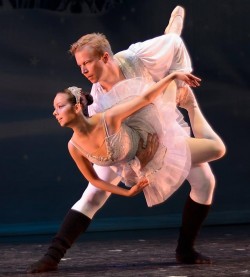 Artistic director Matt Gasper has some stellar goals for the Fargo-Moorhead Ballet, a blooming and somewhat young dance company housed by (but separate from) Gasper's School of Dance and Performing Arts.
"The main goal of it is to become nationally recognized as a leading dance company in the Midwest," he said.
The organization is taking a number of "baby steps" to reach this highly attainable aspiration. When the company started more than five years ago, it had only six dancers and a small budget. Today, the ballet has 18 dancers, professional-level talent and heightened community support. Also, just this month the company has been accepted into the MidStates Regional Ballet Association.
While this centuries-old form of theatrical dance is still a foreign concept to many, the FM Ballet is certain that it can be enjoyed by almost anyone.
"I've had so many friends who've just come out of support for me to see it and they're surprised that they actually like it," said Mara Brust, an FM Ballet principal dancer. "They (initially) think it's stuffy and just about looking at something pretty and then they are entertained by the story of it and they didn't expect that."
Perhaps some people assume they won't enjoy a ballet because it tells a story without actual dialogue. The story is told just through the music and visuals.
"I think that Matt does an excellent job of taking the choreography and making it accessible to audiences so they are not confused – so they understand what's happening," said Mikal Kenfield, an FM Ballet principal dancer. "'Cause it can be sort of a shock that there's no talking, like, 'How do you know what's happening?'"
Gasper added, "With dance, costume and pantomime, it's easier to tell a story – sometimes words just get in the way."
This makes a full-length ballet unlike any other performing or viewing experience. It's like a supposedly plotless theater production with added sophistication, grace, beauty, athleticism and alternative communication.
To stay connected with the community and help bolster and diversify our area's arts scene, the ballet has teamed up with other arts organizations in town.
For its big production in December, "The Nutcracker," there will be a live orchestra featuring some of the best symphony players in town. The ballet has also teamed up with the FM Opera, Jazz Arts Group and Theatre B in the past.
This Sunday, FM Ballet is partnering with the area's new artist/maker magazine Wolftree to perform at its Celebrate Fargo event at 2 p.m. at Island Park. It's free and everyone is welcome. "We are trying to do this visual parts piece with movement and things like that – inspired by movement," Gasper said.
Next Thursday, Oct. 24, FM Ballet will be offering its Halloween dance services to small business, corporations and anyone interested in learning Michael Jackson's choreography to "Thriller." All the proceeds will benefit the ballet. This event is open to the public but is geared more toward a 16-plus audience.
Gasper's School of Dance will turn into a haunted maze on Oct. 27. It will be kid-friendly from 1 to 2 p.m. But from 2 to 4:30 p.m., enter only if you dare. Again, all proceeds will benefit the ballet.
Volunteers and other arts organizations have a lot to do with the growth and success of the FM Ballet, said Gasper and the dancers.
"We do have amazing parents and amazing volunteers that donate a lot of their time. We are millionaires on donated time," Gasper said.
Principal dancer Gabriela Baierle-Atwood added that she's been able to connect with more and more people because of her dedicated involvement in the FM Ballet.
"You get to know what's going on," she said. "You see the parents who are the ushers and you get to see – you know, 'Oh you go to that school? That's really cool. I went to that school.' And it's a just really amazing way to get to know the community in and of itself."
Those interested in learning more about the FM Ballet can visit fmballet.org.