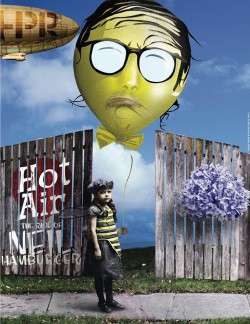 Anyone hungry for a greasy new hamburger?
Los Angeles comedian Neil Hamburger might be able to feed your greasy fix with his slick comb over, oversized glasses, spiffy tuxedo, whooping cough and potty mouth this Saturday, Oct. 12 at The Aquarium.
We interviewed the comedian to talk about his experiences in Fargo-Moorhead, his severe distaste for Steven Tyler and his website dilemmas.
He did not miss a single beat.
High Plains Reader: Hey, Neil. How are you doing today?
Neil Hamburger: Good, good. How are you?
HPR: Good. I'm just pleased to be interviewing you today.
NH: Oh good. We have a lot of great answers in store for you today, I hope.
HPR: So where are you talking to me from currently?
NH: I'm actually in Palm Springs. We did a benefit here last night for this guy whose kidney has failed. He needs a new kidney. So we came to here to Palm Springs to try to help out the guy.
It could be any of us – and of course doing a benefit like this in a bar means that everyone at the bar will have kidney failure themselves pretty soon cause there was quite a bit of, shall we say, mixed drinks that were available there. But anyway, that's where we are.
HPR: So you've been to Fargo before. Do you know how many times it's been?
NH: I'd say certainly half a dozen. Certainly more than Carrot Top has ever, you know. I don't think he takes the time to get out there, but I certainly have.
And of course in addition to several shows in Fargo, I've also done a couple in Moorhead. So I've certainly made the effort to go out and entertain the folks and I've always had a great time doing it.
HPR: Can you think of any funny insights that you remember about your visits to Fargo-Moorhead?
NH: Well, I remember this much. I made a mistake once and ordered a huge meal. It was at an Indian restaurant there that's very good. We've gone there many times. And some years ago I placed an order to pick up some food, but I was actually down in Sioux Falls and there was an Indian restaurant there that I like as well, and I called to place the order for pick up and it turned out that we misdialed and I actually dialed the number of the one in Fargo. And of course they had the meal prepared for us hundreds of miles away and we were never able to get there and get that meal and I feel horrible about it.
But that's just one of the mistakes that happens when you're out on the road and out of your mind, usually and drinking some of the garbage liquor that some of these places serve. I'd say it's one step up from rubbing alcohol.
But you know we've always had a great time. Now I always thought that it would be nice to do a show on that bridge there right on the border of Minnesota and North Dakota and I could do the set up of the joke in one state and the punch line in other state. You know what I mean? I don't know if that's ever been done. …
I guess you'd have to battle as to which state gets the punch line and which state gets the set up. But that's something that the governors can work out amongst themselves, or maybe some of your state senators.
HPR: Well, North Dakota usually seems to be the butt end of jokes around here.
NH: Well, I wouldn't be making jokes about the places themselves. That's in poor taste. You get these garbage entertainers, some of these crap people, somebody like a Steven Tyler of Aerosmith will come to a town and the first thing that comes out of his mouth is "Goddammit I hate this sh***y town. F*** all of you." And then he plays music and people are supposed to have a good time after that?
I would never dream of doing something like that. When you come to a town, you need to do what you can to learn about this town. …
Somebody like Steven Tyler, he's like a rat crawling out of a sewer and sh*** all over these local towns and sprays his tainted seed into some of the local women so they end up with diseases and this is what he thinks entertainment is. And I'm sorry but it just isn't.
HPR: You don't have an official website or Facebook page. How come?
NH: Well, because I'm on the road doing these shows I don't have the time to put together one of these goddamn websites.
Now we've got some lunatic in Mesa, Arizona named Boni Jergen. She's a fan you know and she's got these two dogs though and that's the problem is that website she does for me – free-of-charge and I do appreciate that she makes the effort – but half the website is about her dogs. And the dogs are in very poor health and I've met these dogs and they are not nice dogs. You know, they jump on you and knock you down and it sticks its tongue and your mouth …
People go to my website to get information about my tours and she's got photos of the dogs and information about the dogs and she puts ads on the website looking for free food for the dogs. I guess she had a deal with the local Olive Garden. She knew a dishwasher there or something and he was giving her big bags of spoiled pasta for the dogs and that all ends up on the website.
So people complain to me. They say, "Neil, I just wanted to know when your new album comes out and I had to read about these dogs."
Well I say this, I don't have the time to do the website and this lady does.
Now I do go on Twitter, because that's easy … and then Facebook, I mean that's run by – you know, that's a cult. And then you get on there and the next thing you know they are watching you go to the bathroom. They plant a virus on your telephone that activates your camera on your phone. So if you have the phone in the bathroom, Facebook people are watching you go to the bathroom. So I don't think that anybody should go to that website.
HPR: You've been labeled as an anti-comedian. Would you agree with that label?
NH: Well let me ask you this, if you have a plumbing disaster in your kitchen and the garbage disposal breaks down and the sink is backed up and there's shredded food that's overflowing onto the floor and some plumber shows up and repairs it all, are you able to call him an anti-plumber? No.
And this is the thing. I go into these towns where laugh is needed. And I tell the jokes and people laugh and have a great time. I don't see why they call this anti-comedy. To me, anti comedy would be going to see a heavy metal band or going to see Luciano Pavarotti, the opera singer not alive anymore. That's not a comedy show, is it?
An anti-comedy show would be going out for pizza, Chuck E. Cheese. Why? Because there's not a comedian. No jokes. Or an anti-comedy show is getting your car washed. There's not a comedian. No jokes.
I come into town and I get on stage in a tuxedo and tell jokes one after another and hopefully people laugh. There is nothing anti about it. It's strictly legitimate. And that's how we like to look at it.
And some of these weirdo journalists will say anything to sell a paper and I think that's what's going on there.
HPR: But some of the funniest parts of your comedy are when people heckle you or boo or hiss and then you come back at them. Do you go into shows hoping some people will act this way?
NH: No, no. This is nothing we ever plan for. Sometimes on the spur of the moment something will happen that is extremely unpleasant and sometimes we turn it into something entertaining for the audience.
If some sick weirdo drunkard druggie says some horrible things to me, I will respond. And sometimes that becomes very entertaining but it's certainly nothing that you'd go out of your way to encourage.
You know, it can be very demoralizing when you are trying to put together a show and entertain folks and you've got some smart ass who is just bellowing stupidity. And a lot of times what the hecklers are doing is hollering out what they think the punch line might be and it's just not funny cause these are not professional comedians – they aren't even professional human beings. A lot of these people can't tie their own shoes or feed themselves properly. So to expect that they would say something funny, you know it's a long shot.
And so that's the problem. I do think that if you had a smart heckler who had something funny to say, I'd be glad to turn the show over to him and he can entertain the people but we just never get those types of hecklers. We just get – I would have to call them losers, people that make the whole room an unpleasant place to be for everybody.
HPR: I read an older interview where you said you read USA Today to stay current with your jokes. Is that still true?
NH: We do look at that cause it will tell you what's going on. A lot of times it's out of my price range and we'll find out when the recycling program is going on in the local community and we'll go out in the morning and look for a whole weeks worth of newspapers out in the blue bins out in the streets.
HPR: Do people give you a hard time for being a vegetarian when your last name is Hamburger?
NH: Well the fact is a lot of the hamburger out there is tainted. It's spoiled food. And I don't think anybody wants to eat spoiled food. When you are traveling and doing a show every night, you can't afford to get food poisoning for a week. Then you have to cancel shows and I can't afford to cancel shows.
So I would stick with eating sterilized types of food. That canned fruit cocktail is very good. I travel with a case of that in the trunk of my car and some plastic forks and that has all the nutrients that you would need. Canned peas, you can get at an electric frying pan at a thrift store and get some oil and you sauté the canned peas and put some mint jelly in there with the peas and you've got a very nice meal.
And that's the type of thing that prevents sickness.
You know, you go eat at Taco Bell or KFC and you're sicker than anybody and puking and that type of thing, and I just don't have time for that.
HPR: Yes, you tour a ton. How many shows do you do a year?
NH: Well, we do – how many days are there in a year?
HPR: 365.
NH: We do 366. I mean we do not screw around. You see, we keep doing these shows because honestly that's what people need is laughs. And there is so much misery turning up day after day. Without us out there doing this you might have people falling into despondency. And you don't want that.
HPR: Well thank so much, Neil Hamburger. You were wonderful to interview. Is there anything you'd like to add or say to your Fargo fans?
NH: Just please come to the show. It would be really depressing if you didn't. I mean, what else is going on in town that night? Probably some dirty degenerate rock pigs playing at some crappy horrible venue. Or else maybe sitting around eating buffalo chicken wings at some sports dump. Or staying home? And sweeping? And vacuuming? That's not good either.
So I think given those options, this is the best option. The show isn't for everyone but I do feel if you are in need of a laugh you'll enjoy what we have to bring to the region, especially when I'm bringing along Major Entertainer Mike H who is another top-flight entertainer.
IF YOU GO:
WHAT: Neil Hamburger w/ Mike H. and Timmy Williams
WHERE: Aquarium, 226 Broadway
WHEN: Sat., Oct. 12, 10 p.m. (doors @ 9:30 p.m.)
HOW MUCH: $10 @ ticketweb.com and Orange Records