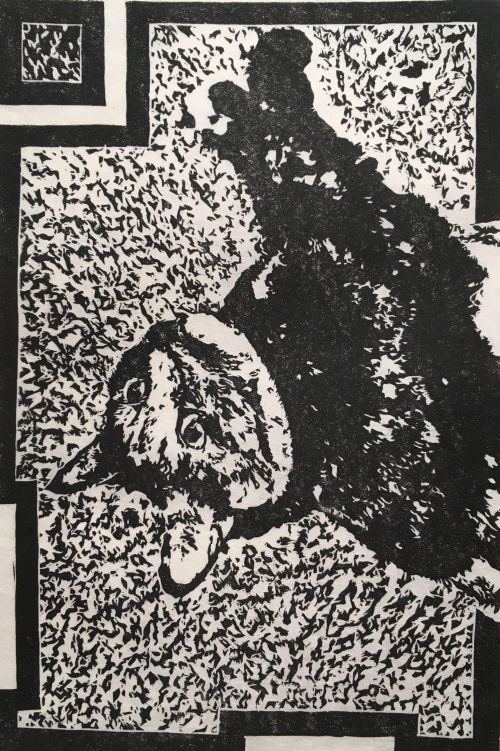 Shared passions can lead to lifelong partnerships, and that is certainly the case for Cameron Peterson and Annette "Nettie" DuBord. The two are not only husband and wife as well as MSUM alumni, but each are talented and successful printmakers in their own right, whether working together or striking out on their own. DuBord's most recent undertaking is the art show "It's Always Something", currently on display at the Rourke Art Gallery and Museum until October 13, where Peterson happens to be exhibition coordinator and facility manager.
"Annette DuBord's work is a wonderful display of reverse abstraction," Peterson said. "She starts off free-spirited and works little pieces of reality back into them. A reference to a bone, heart, or skull. It gives off a feeling of being at an archaeological excavation site." DuBord said, "My show at the Rourke, "It's Always Something", comes from my early love of Saturday Night Live and the late Gilda Radner. Like Roseanne Danna, I start with a plan but by the end it's usually completely different from the original idea."
The medium DuBord works extensively in, is polymer plate lithography, which is a nontoxic take on traditional lithography. Tools of the trade in her artwork include everything from oil-based lithography ink, Sharpies, Bic Atlantis pens, and hard litho crayons. For her Tusche washes, which she considers her specialty, she also incorporates photocopy toner, denatured alcohol, and dish soap. "I then paint on the washes and manipulate the image until I am happy," she said. "The plate is then baked on my makeshift buffet hot plate with an old cake pan on top to create an oven." She continued, "I like to think of the process as a combination of chemistry (a subject I failed at) and magic."
On top of creating and exhibiting art around the area, DuBord and Peterson are also the creators and owners of Funhouse Press. "Funhouse Press started as Annette's idea," said Peterson. "I asked her what she would call her studio if she had one. She said, 'Funhouse Press, because serious would not fit me.' Beginnings were slow, we did not obtain a press until 2011 which we set up in the Spirit Room Studio." Time and circumstance led the press to then relocate to the basement of the Rourke Art Gallery, though Peterson considers their home their main base. Through Funhouse Press, the couple have been able to judge and teach at the All Dakota High School Fine Art Competition held by Dacotah Prairie Museum in Aberdeen, South Dakota and be published in Design & Living Magazine.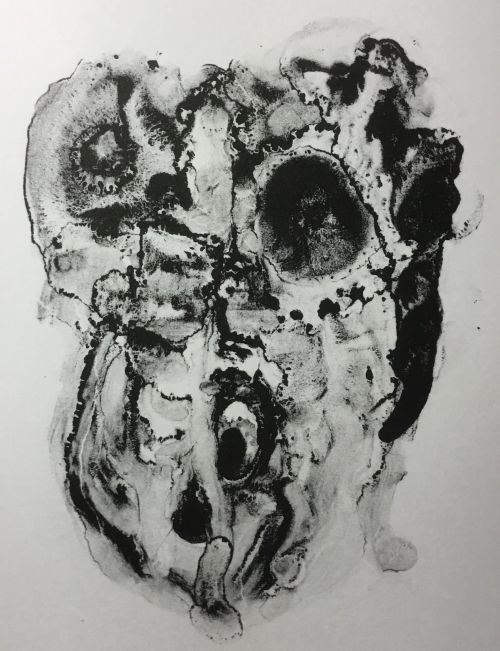 That certainly does not detract from the fact that DuBord and Peterson have daunting artistic resumes on their own, as well. Peterson has 10 solo exhibitions to his name since 2005. His work has been exhibited as far away as Salina, Kansas and works of his have been published in works from MSUM and The Spirit Room. DuBord also has numerous group shows and print exchanges to her name as well.
"Being a couple and both artists is not that big of a deal to us," Peterson said.
"We both have different aesthetic strengths," DuBord said. "We usually do not directly collaborate. Most of our collaboration is done in discussion. When one gets stuck, we will ask the other their opinion. Cameron keeps me focused. His insight, advice, and support are invaluable to me."
Peterson has his own exhibition coming up in the near future shortly after DuBord's. On November 8th, his exhibit "Nowhere is Somewhere" opens at the Rourke. The show will consist of prints of the fifty states with their flowers, new detailed linoleum cuts, and older hit pieces. The exhibit is meant to embody Peterson's idea, "Even if you feel like you are going nowhere, you are indeed still somewhere." These two exhibits, "It's Always Something" and "Nowhere is Somewhere" are certainly not the last the Fargo-Moorhead area will see of the prolific work of this dynamic artistic couple, and appreciators of the art form of printmaking would do well to keep track of the exploits of these two in the future.