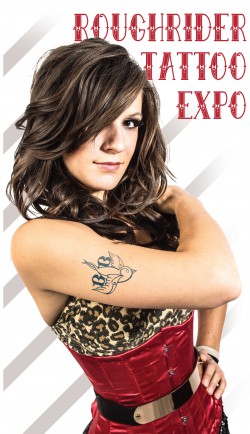 It's been a crazy fall so far. George Clooney got married, Amanda Bynes is back in the tabloids and, most important, Fargo's very first tattoo convention is coming to the Fargo Civic Center. The two-day event will feature some of the best local artists and a few significant celebrity artists including Corey Miller of "LA Ink" and TV personality and former pro wrestler Brett "Big Schwag" Wagner.
The Roughrider Tattoo Expo will kick off on Friday, Oct. 24 at 4 p.m. and will include Blue Belle's Burlesque as the lovely Sailor Jerry Hula Dancers, awards for the best back piece, best sleeve, best portrait and the tattoo of the day. A collaborative art piece will be made that day in which six artists each get 10 minutes to work on a canvas that will be rotated for 60 minutes and displayed the duration of the event. Live music will be performed by Pretty Boy Thorson and the Falling Angels at 9 p.m. followed by an after-party at The Aquarium featuring In Defence and Continental, which features a founding member of the Dropkick Murphys.
The Civic Center will be filled with talented artists from North Dakota, South Dakota, Minnesota, Wisconsin, Nevada and more. The list includes 46 and 2, Addictions, Golden Needle, Below Radar, No Coast Tattoo, Dead Rockstar, Independent Ink, Mona Lisa Tattoo, 3 Lions Tattoo, Chrome Gypsy, Altered Ink, Body Canvas, Trademark Tattoo Studio, Empire Tattoo and Diamond in the Ruff Tattoo Co.
"We've wanted to do a convention in town for a long time now," says Trent Balvitsch of Addictions in Fargo. "It'll be great to be able to see so many other artists from the area at work all in one place."
Tattooing will be available on-site both days of the event, so if you were looking to work up the nerve to finally get that Tinker Bell tat you've wanted since high school, this would be a great time to get it.
Saturday's events include a Q & A and meet and greet with Corey Miller and tattoo awards for best old school, new school, color and black and grey tattoos. Artists will compete in a contest to see who can best revamp the Pabst Blue Ribbon can in an hour's time. The winner will go on to compete in PBR's national Paint the Can contest.
A "Pound of Flesh" contest will be judged by Corey Miller to see who can draw the best Sailor Jerry logo on an artificial hand, which will later be auctioned off. Proceeds will go towards the Boys & Girls Club of Red River Valley.
Dead Rockstar owner Chuck Kesler will have a discussion on modern piercing and branding, and, yes, there will be more hula dancing from the Sailor Jerry's Hula Dancers. The Cold Hard Cash Show, a Johnny Cash tribute act, will perform following the conclusion of the expo at the Sidestreet Grille and Pub.
This event is a must-see for tattoo enthusiasts and anyone interested in watching very talented artists at work. It is the first event of its kind in the Fargo-Moorhead area and hopefully won't be the last. So come out and say hello to the artists and (if you're brave enough) get some work to show off to everyone at work on Monday, because life is too short to not get that tattoo you've always wanted.
IF YOU GO:
Roughrider Tattoo Expo
Fri, Oct. 24, 4 to 10 p.m.
Sat, Oct. 25, 11 a.m. to 10 p.m.
Fargo Civic Center
www.roughridertattooexpo.com18+