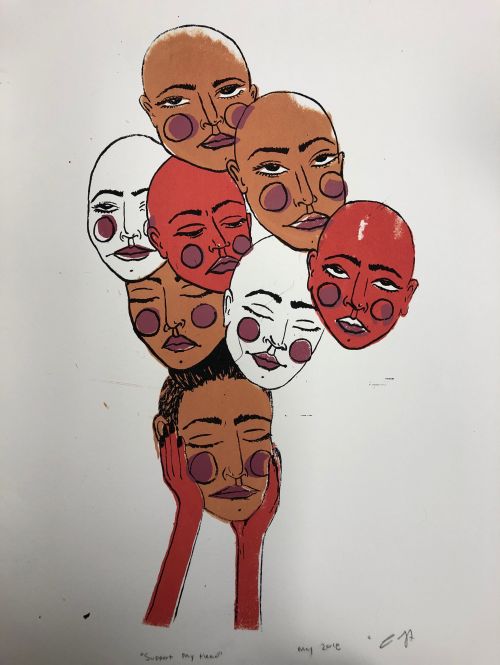 by Emma Garton
emma.garton@icloud.com
For being a relatively small city, Fargo is not lacking in local artists of all kinds. One of such artists is Amanda Frost, a junior at Minnesota State University Moorhead specializing in printmaking and graphic design. Some of Frost's artwork is currently on display at The Red Raven Espresso Parlor in Fargo and will be up until the end of December.
Art has been a part of Frost's life since the very beginning.
"I have always enjoyed being creative ever since I was young," Frost said, "I get that bone from my mother who was an art minor."
Frost has always been encouraged to express herself creatively. After taking art classes throughout high school, she decided to go to MSUM to study graphic design and fine arts with an emphasis on printmaking. As a double major, Frost has about two years left at school, during which time she plans to build her portfolio and continue to be involved in local shows and sales. She also does as much freelance work as she can, all while balancing school and a job.
Graphic design and printmaking aren't the only things filling Frost's list of interests. She also loves skateboarding and going to local underground concerts.
"I love both these scenes so much and they have both given me opportunities to utilize my art, whether that was painting a skateboard deck, making show fliers or creating band art for merchandise or album art," Frost said.
Frost has plenty of goals for her art in the near future, hoping to do enough freelance work to support herself after graduating and holding a booth at the Red River Market downtown in the next few years. After graduation, Frost will likely stick around Fargo for a bit to start tackling student loans, but of course, if opportunities arise in a bigger city, those will certainly be on her radar.
Growing and developing in a smaller city certainly has its pros and cons for an artist.
"Fargo is a great city that promotes anything local, whether that be art, food, businesses, etcetera," Frost said. "I have found that local artists are really supportive of each other and it is a great atmosphere to allow for growth."
Despite the great support network, Fargo can be a tricky place to sell artwork. It can be hard to sell some of her more expensive works and seeking out that demographic that wants to invest in fine art.
For Frost, it's important to create art that holds meaning, even if that means it won't be as easy to sell.
"I want to be able to sell more of my art that holds a deeper meaning that will spark an emotional response in the viewer," Frost said.
IF YOU GO:
Amanda Frost opening reception
Friday, December 21, 7-10pm
Red Raven Espresso Parlor, 916 Main Avenue, Fargo