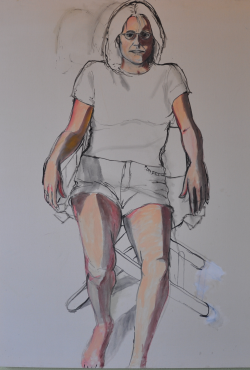 Kim Bromley dips into numerous cups for inspiration to make art. Whether it be showcased in his Monet-esque "Pond Series" featured in the Spirit Room Gallery, "The Moby Dick Series" exhibited at The Plains Art Museum in 2013 or even his series of billiard balls that he was commissioned to paint for Fargo Billiards and Gastropub. For his latest body of work, Bromley is focusing on a series of portraits, drawing inspiration from pieces created by Rembrandt, Picasso and Chuck Close.
"The art historian Ernst Gombrich said about looking at a Rembrandt painting, that Rembrandt could look straight into the human heart," Bromley said in his artist statement. "When I look at Picasso's portraits, I enjoy the freedom with which he painted them, and it's the mystery of color and magic, which Chuck Close draws me in when looking at his work. In my portraits, it is a little bit of all these things I strive to incorporate."
The portraits in the exhibit are of friends, family and students. Each one displays strong individual personality and was painted from life. With each of his subjects in a sitting position, Kim got to know them a little more, which not only created great insight to their form but also within their being. The viewer especially has the opportunity to see Bromley's talent for expressive line work and abstract representations.
Kimble also teaches painting and drawing at North Dakota State University where he and his students often have access to a live model. Many schools offer live drawing courses, but Kim has a very different approach that involves hypnotization to aid in the student's creative process. The students create three different paintings and note the progress on each one. Though hypnotism does not work on everyone, most of the students appeared noticeably more relaxed. (I have had the privilege of working as an art model for more than one of these hypnotic sessions. I was intrigued and entertained as I snuck back into position before the students came out of their hypnotized state prepared to paint.)
Kim has done a significant amount of research regarding the correlation between hypnosis and creativity. He and his co-researchers published, "Hypnotic Enhancement of Creative Drawing" in the October 2007 issue of The International Journal of Clinical and Experimental Hypnosis. He also offers Creativity Enhancement Workshops where he acts as creative consultant.
IF YOU GO:
Kim Bromley's "Portraits"
Opening Reception: Sept., 18 5-7 p.m.
Avalon Event Center, 613 1st Ave N, Fargo