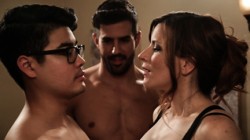 By Brittney Goodman
The Fargo-Moorhead LGBT Film Festival, now in its seventh year, will be showing a variety of LGBT-themed films this weekend, Friday-Saturday, Sept. 11 and 12 at the Fargo Theatre.
Raymond Rea, film studies professor at Minnesota State University Moorhead, has been leading the festival since its inception in 2009. The festival brings people together from all aspects of the Fargo-Moorhead community. According to Rea, the festival seeks "to celebrate lesbian, gay, bisexual and transgender-lived experience through the visions of innovative film and video makers." The festival organizers look for films to program that "enrich, entertain and encourage a sense of community." This festival also hopes to recognize the diversity of local, regional, national and international LGBT communities.
Rea sees the festival as important to our community because it "screens images and stories of LGBT-lived experience that can't be found anywhere else." He points out that most of the films are not (yet) available on Netflix or in stores.
Rea thinks that "seeing your own life reflected on screen empowers the viewer … something that straight and cisgender viewers take for granted," and that this festival offers that experience to the LGBT audience. He also appreciates that this LGBT cultural event is screened at the beloved, historic Fargo Theatre, and that it admits youth ages 17-21, as well as older adults.
This year's festival has a trio of screenings with unique programming, and three sessions offer a distinct experience. The first screening is 8 p.m. on Friday, Sept. 11. The second screening begins at 3 p.m. on Saturday, Sept. 12, with the final slate of programming at 8 p.m. on Saturday, Sept. 12.
Each program includes several short films, including animation, fiction and documentaries, in addition to a feature. Friday night's headlining film "S&M Sally" is "a very funny comedy about BDSM and polyamory," according to Rea. Saturday afternoon's headliner is a soulful feature narrative called "The David Dance," about "the spaces in which we allow ourselves to be ourselves." Finally, Saturday night's feature film, "Game Face," is a hard-hitting, moving documentary about LGBT people in the world of athletics. Compelling trailers for all three features can be seen online.
Throughout its history, the F-M LGBT Film Festival has held special moments of significance for Rea. Rea recalls how he felt when, in 2011, the festival gave Jared Kellerman its first local filmmaker award for his documentary "Being Me," about Kellerman's coming out process in North Dakota. "When I saw Jared's mother and father sitting with him in that loud audience, and knew that they had come to support him despite some discomfort, I was touched by it," says Rea. He also will never forget how he felt when he was standing up front as the lights came up after Stu Maddox's "Gen Silent." "You could have heard a pin drop."
Rea's advice for audience members is to "come with an open mind and come ready to see some great films." He asserts that all allies are welcome, saying, "You don't need to be GLB or T yourself to enjoy the festival. The community welcomes straight and cisgender allies. Always."
Tickets ($7 per screening session) will be sold at the door or online: http://fmlgbtff.com/tickets.html
IF YOU GO:
7th Annual F-M LGBT Film Festival Friday, Sept. 11 (8 p.m. show) and Saturday, Sept. 12 (3 p.m. and 8 p.m. shows) at The Fargo Theatre $7 each screening session http://fmlgbt.com