​A Reel of Tomorrow's Filmmakers: MSUM's Annual Senior Seminar Film Showcase
by Gabrielle Hersch | .(JavaScript must be enabled to view this email address) | Cinema | May 8th, 2019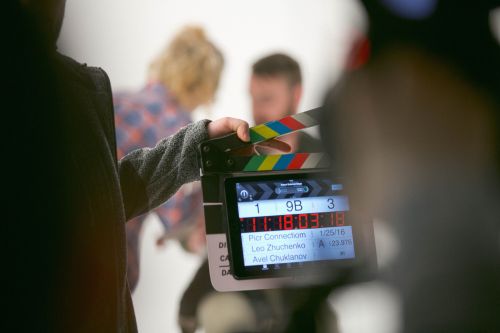 The spring semester is coming to a close for college students across the FM area. For MSUM film production students, the semester culminated in a public screening of the short films they've spent the last several months creating.
MSUM's annual senior seminar film showcase is one of the area's premiere film screening events – and it's full of original, locally produced work from promising young creatives. This year's showcase opened last Friday, May 3rd, to a full house of cinephiles, alumni, faculty, and students excited to premiere their hard work.
As one of the sole 4-year film production programs in the Midwest, MSUM's department of media arts and design takes the responsibility of fostering the next generation of filmmakers very seriously. And it shows. Students go on to enter their films in festivals across the country, some even internationally, and many get in.
Anyone can have a great idea, but without planning, assembling a crew, scripting, location scouting, finding actors, and, oh yeah, funding, movies don't get made. But these ones had to. Imagine your final thesis grade depending on the help and dedication of a whole bunch of other people.
But that's exactly what MSUM's film production program teaches and promotes: collaboration. Each year, the film students pitch their scripts, crew on each other's sets, and work together through the process of making a film. They're not only building their reel, they're gaining the real-world production experience.
Eight student films were screened at this year's event: "The Tortoise and the Birds," "Yellow Jacket," "Among the Brambles," "In My Eyes," "No. 19," "Not the End," "(In)dependency," and "Fated."
"In My Eyes," directed by Vincent Dorazio, follows a female directing student through the process of finding her artistic style. The short film takes a heartfelt look at the struggle of putting yourself and your work out there for all to see… and critique.
The horror/thriller "No. 19," directed by Rodrigo Costa, stood out for its beautiful cinematography (shot by Malia Bantz), a strange and eerie narrative, and thought-provoking conclusion. "There was a lot of pre-production involved in order to achieve the visuals we intended," Costa said.
Of course, making a film on a deadline in this upper Midwest climate was no cake-walk either. "I think the worst thing about the production process was this year's harsh winter," Costa said. "We almost had to change some of our shooting dates because of it."
After the difficulty of scheduling viable outdoor shoots and the work involved in seeing an idea through from conception to completion, there's still more preparation to be done before screening night.
"The Senior Sem Showcase is the equivalent to a thesis for other majors. So, it's really important to be ready for that night, with a finished movie in your hands and ready to answer questions from the average audience member but also from other filmmakers," Costa said.
After the films were screened, the Senior Seminar Showcase ended with a Q&A, where filmmakers answered questions from the audience and other students about their film and the production process. While many majors end their senior year with a capstone presentation of their work, there's something about creating art that makes public presentation seem that much more daunting. So, kudos to the filmmakers behind this year's Senior Seminar Showcase, and congratulations on the premieres of your films.