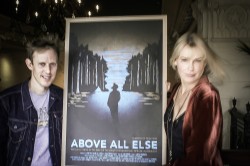 What makes the average, everyday person become an activist? How does a Texas landowner go from everyday worries to fighting multinational corporations?
These are questions explored in the new documentary "Above All Else," which debuted at the SXSW Film Festival this month.
The film follows the story of David Daniel who began to battle the southern portion of the Keystone XL pipeline in east Texas after he found stakes in his land before he even knew about the project.
A former circus performer, Daniel eventually resorted to a treetop blockade to try and stop construction of the project when he felt his voice wasn't being heard. Actress and environmental activist Daryl Hannah ("Kill Bill," "Blade Runner") is the executive producer, who herself has been arrested for protesting the Keystone XL pipeline.
We had a chance to speak with both Hannah and director John Fiege at SXSW about the film and how they became involved.
Fiege came to the story after he developed cancer and began looking into the causes of why he got the disease.
"About four and a half years ago I got cancer and I started developing a film about the impact of the oil industry on our economy and our culture. The only cause was environmental causes, and I really wanted to do a story about this world we're living in now that is just saturated with fossil fuels and the chemicals that come from it," Fiege said to HPR.
"The BP oil spill happened and I started developing a film there, and then my cancer came back and I continued to fight it. And toward the end of that process, I started to hear about the Keystone XL pipeline protests. For me it was a real sea change in our approach towards trying to deal with climate change and how to fight the battle.
"So I really started hunting for stories about people who were engaged in this fight and who they were, why they were engaged in it and how this one pipeline was turning regular citizens, people in the middle of the country, farmers, ranchers, everyday folks into activists, citizens who were really engaged in this process of conversation and debate about these big issues that impact everybody."
Hannah had already been involved with protesting the Keystone Pipeline when she learned of Fiege's work on the film and decided to become involved with it.
"I had also participated in standing in solidarity with some of the communities like the Lakota Sioux Rosebud nations, different groups in Nebraska and people who had been fighting the eminent domain abuses on the northern route," Hannah said to HPR.
"When I heard the southern route was fast tracked and it wasn't really being reported, I was definitely interested in going down there and somehow giving some voice and support to the communities who were fighting down there."
Hannah naturally found out about Fiege's work through her own.
Fiege said Daniels tried traditional methods of protest, speaking with politicians, organizing and rallying with neighbors, even going to Washington D.C. as a part of a tour and becoming a national voice against the Keystone XL pipeline but none of it seemed to work.
"His last option from his perspective was to get set up in a tree and prevent the physical construction from happening. And you know the really fun and interesting part of the story is he is a circus performer ... And he's a carpenter, so he made all the platforms that he used, and he was able to do all the rigging himself and put everything up in the top of 100 foot trees," Fiege said.
Hannah said the most outrageous part of Daniel's story is how his right to speak out was completely scuttled.
"...They've trampled on these peoples first amendment rights, their freedom of speech," Hannah said.
Fiege concurred and added: "It wasn't my intention from the beginning, but by the end it became very obvious that this is a story about the unbelievable wealth and power of large corporations, particularly within the oil industry. And we see person after person crushed by that power."
"And so I think one of the important parts of the film, and David says this himself in the movie, he says it's important we understand what we're dealing with. And we understand what's happening. Because I think a lot of folks don't realize the almost unchallenged power that these companies have to do what they want and that becomes very visceral and very experiential in the process of this story."
While the southern portion of the Keystone XL pipeline was fast tracked, the Obama Administration is still considering approval of the northern portion of the project that would run through Montana and Nebraska. Both Fiege and Hannah said, while they would like the pipeline stopped, it isn't necessarily the goal of the film.
"The film obviously doesn't have any advocacy or political goals. Our intention is to tell the story of these people who decide to fight. And we tell their story from a very intimate perspective," Fiege said.
"But our hope is that this film help sparks further conversation and further awareness of the issues. There are several studies that have been put out recently by I think Pew and Stanford University that over the last year the percentage of Americans who approve of the Keystone XL pipeline has been diminishing quickly, and the percentage of Americans who think it should be stopped has increased."
Hannah said the film shows "the human side" of the pipeline.
"It's not to say we have to do this or we have to do that. But me personally, I hope the pipeline is stopped, of course. And not because of the pipeline, because of tar sands expansion," she said.
"It is a conduit to tar sands expansion. If they can't get that oil out, they have said in so many words, TransCanada and the oil companies invested in tar sands expansion … they will not be able to expand the tar sands, which they have planned to multiply it times five. It's already the size of the U.K. They have plans to expand it to the size of the state of Florida. And it will not be expanded if we don't give it that avenue to get to the global market."
Fiege said his process of choosing subjects, which affect social change is deliberate and that in telling those stories, his hope is to uplift those who are trying to do good versus trying to achieve specific policy changes.
"I think the process in itself is a political act of lifting up the story of somebody who's trying to make the world a better place. And for me as a filmmaker, that is my main goal. It is to tell that story," Fiege said.
"And of course I pick stories that I personally care about a lot and they are connected to my own story. But once I find the character and once I find the story, I want it to be about them and about what their process and experience has been and what their goals are. It's no longer about what my goals are. So once I was in this story, I just wanted to do it justice and to be able to truthfully and honestly and powerfully tell the story of why these people decided to fight and what happened."
Hannah feels it's important for people such as herself who could do virtually any film project to use their fame to give back and affect social good.
"I've always loved movies. I think they are an incredible tool, not only to inspire our imaginations, but to help us find that compassion and empathy and live through someone else's experience. And to me there's no use at all for any kind of notoriety unless you use it to shine a light on people who are doing good work and doing things that are of importance and need a voice. So that's a way I try to take advantage of that position I've been put in."
There's no word on whether "Above All Else" will screen in the Fargo area yet, but with so much regional interest in the Keystone, it would seem likely it should.
The good news is SXSW marked the three year anniversary of Fiege's last cancer surgery, and it is in remission.