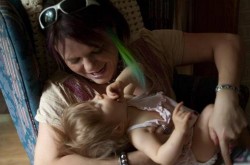 Whether at a brat camp, in lock up, in a recovery center, at home or sleeping in empty train cars, barns or under bridges, Sarah Chatelain has had tremendous difficulty dealing with life.
The young Fargo-Moorhead resident used to see her unhappiness, inability to gel with her family and inability to feel accepted in society as being something she needed to escape from – as fast as possible – rather than something to deal with. Drugs, particularly meth, crack and cocaine, provided that temporary relief for her.
"Drugs were just a way to run away from life," Chatelain said to High Plains Reader.
"But at one point, my answers to running away from all my problems became my life's problem."
The documentary film, "My Sister, Sarah," screening this Thursday at the Fargo Film Festival, takes a very personal and emotional look at Sarah's story of addiction – and recovery – with the support of her whole immediate family, including her mom, dad and brother as commentators and her sister, Elizabeth, as the filmmaker/director.
Before shooting the film, Elizabeth Chatelain, a University of Texas MFA graduate of film and video production, was not very close to her sister. After high school, Elizabeth moved out of state for college and did not visit home often. And while they both were in grade school, Sarah was often sent away, getting treated or punished.
Elizabeth Chatelain shot a few other documentaries as a film student before and considered doing one on her sister when she had started getting clean (about six years ago). Though it was the death of Sarah's husband, Jimmy, who was an also addict and had just relapsed, that drove Elizabeth to start filming the documentary back in 2011.
Elizabeth Chatelain does a stellar job of presenting her family's story as genuinely and truly as possible, as tough as it was for all of them to relive their hardships exacerbated by Sarah's drug problems, which she started having at the age of 15.
As viewers, we see old home videos of the Chatelains and relive happy memories. We follow Sarah in present day, working as a single widowed mother who dearly misses her husband. We see the mom and dad speak openly about what may have gone wrong and how they struggled as parents. We listen to her brother talk about how he felt when Sarah ran away.
"It was very emotionally challenging," Elizabeth Chatelain said to HPR. "A lot of things came out that I didn't realize about my family so those things were really hard to deal with.
"I would usually come up a couple weeks at a time, multiple different trips over two years. Every time I'd come back, I'd have to recover."
Listening to the Chatelain family talk about its struggles and watching its home videos is perhaps what makes the film seem like such an anomaly. While many of us associate meth addicts as coming from dirt-poor homes with extraordinarily unstable parents and bratty siblings, "My Sister, Sarah" is wild proof that nasty drug addiction can come out of any family.
In fact, Sarah Chatelain said when she first started used meth she was on a scholarship at Concordia for bio-chemistry and psychology and had been completely clean from drugs.
"I was just this all-achieving student just trying to get my finals done before Christmas vacation," she said.
Not long after, Sarah was raided by the police and kicked out of school.
As a result of this documentary, the Chatelain family and viewers are able to develop a greater understanding of addiction and how much it can hurt anyone it encounters.
"(The film) definitely brought my sister and I closer together. I understand her a lot more," Elizabeth Chatelain said. "Whereas when I was teenager and in junior high I just thought, what is wrong with her? Why is she ruining our family and doing all these things?"
Indeed, Sarah Chatelain was aware that her addiction hurt others, which only made her feel worse at the time.
"At the end of my disease I was trying to commit suicide," she said. "I was hurting everyone around me so much that I honestly thought the world would be a lot better of a place without me … I didn't see myself as having a disease, as saw myself as a disease."
Sarah has completely turned around since then. She sponsors recovering addicts, regularly attends meetings with other recovering addicts and someday hopes to be an addictions counselor because she knows how important having a support system is.
The one thing she likes to relay to struggling addicts is: "You are not alone. You're really not alone. There's that lame statement … one day at a time. Some days you can't do it one day at a time. Sometimes it's got to be one moment at a time."
IF YOU GO:
WHAT: "My Sister, Sarah" screening and Q&A
WHERE: Fargo Theatre, 314 Broadway
WHEN: Thurs, March 6, 7 p.m.
INFO: fargofilmfestival.com