​All that's fantastic
by Sabrina Hornung | .(JavaScript must be enabled to view this email address) | Cinema | September 18th, 2019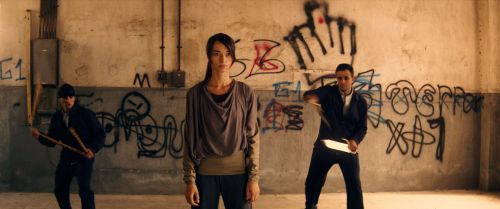 The year 2019 ushers in the 17th annual Fargo Fantastic Film Festival, which will be featuring over 250 films this year alone. The festival not only features filmmakers from over 40 countries, it holds a special section for local talent from all levels of expertise. We had the opportunity to speak to Tony Tilton, the man behind the Fargo Fantastic Film Festival and Mr. Valleycon himself.
High Plains Reader: Can you tell us the origin story of the Fargo Fantastic Film Festival (FFFF)--Was it originally part of Valleycon? What's the connection?
Tony Tilton: The FFFF was formed shortly after the Fargo Film Festival (I am also one of the founders of the FFF) and debuted in conjunction with ValleyCon but with showings at the Fargo Theatre. It was a film fest for an under-served section of the film world, namely genre films sci-fi, horror, fantasy, action/thriller, etc. It was a perfect tie-in to ValleyCon and at the time there weren't many genre film fests around. At number 17, we're one of the older ones!
HPR: Can you tell us a bit about the local filmmaker's highlighted program?
Tony Tilton: That is highlighted showings on Saturday night, starting 6:30pm to showcase local and regional filmmakers. We are also starting a filmmakers academy starting this spring and summer for filmmakers of all ranges, but especially for kids. We want to encourage local filmmakers to produce work and continue to grow as artists and storytellers so anything we can do to encourage it, we will!
HPR: We also see that there's a Roger & Julie Corman Award. Can you tell us a bit about the award?
Tony Tilton: We created the Roger and Julie Corman award to reward particularly intrepid filmmakers.. ones who have little money but produce outstanding work. This year it goes to Pinki, an outstanding film made on a shoestring!
HPR: Did I see that there's another extension of FFFF in the spring--but for kids. Can you tell us a bit about that?
Tony Tilton: We started the KIDS FFFF in the Spring but decided to wrap it into the larger FFFF to encourage more participation. Starting this Spring, we will be conducting a filmmakers academy with summer activities as well at Moorhead Community Access Media and TV, which is one of our sponsors and the only access station in the region with a full studio for production. Those filmmakers will have their work highlighted at next year's KIDS FFFF!
HPR: Whoa--So the films shown at the Kids FFFF were made by kids? Can you tell us a bit about that?
Tony Tilton: Part of the KIDS FFFF that is so cool is that many if not most of the films are made by kids--with some help from adults, and there are some really outstanding pieces showing. Films cover a wide variety of themes but with a fun genre twist generally. There are films on teen bullying and self-esteem as well as out-and-out comedies!
IF YOU GO:
FFFF 19
Thursday, September 26, 6:30-11 p.m.
Friday, September 27, 12 p.m.-11 p.m.
Saturday, September 28, 10am-11pm
Fargo Theatre, 314 N Broadway, Fargo
www.valleycon.com/filmfest